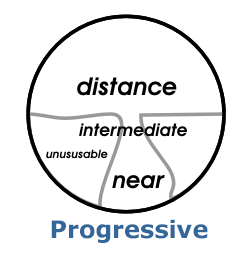 Oct 30, 2015 2:04:24 PM
You probably get a lot of questions in your practice. Many questions come up about the different types of lenses. Many people are asking questions about the difference between bifocal and progressive lenses. If your patients are asking the same questions, here are some suggestions on how to answer that will help eliminate their confusion, and hopefully, provide you with some additional revenue. That's a win-win!
First, let's set the stage. Multifocal lenses typically address the needs of your middle-aged to older patients who are starting to feel the effects of aging. Many start to experience presbyopia, which is the gradual loss elasticity of the eyes and the resulting difficulty to focus on objects close up. This condition is very natural, but often annoying, and usually becomes noticeable in people in their early to mid-40s. It may continue to worsen until around age 65.
It's at this point people need something more than a single vision lens in their prescription eyeglasses. They're going to need additional magnification in part of the lens to help the eye focus on up-close objects.
Read More