myIcareLabs Is Your Complete Customer Portal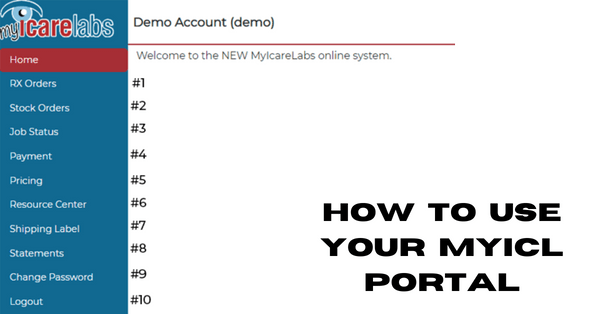 Our myIcareLabs.com customer portal is your one stop shop for everything your practice needs to be able to run smoothly. This gives all of our customers direct access to everything you'll need for your account.
Built in-house by James Payne in 2008, the simple and friendly user interface gives you complete access to every benefit you receive by being part of the Icare family.
This blog post will be your handy guide to all of the functions available on your account. Feel free to bookmark it in your browser for easy access as you get accustomed to doing things the Icare way.
Click any of the blue hyperlinks to be taken to the blog post that goes into greater detail for each function. They correspond with the blue functions box on the left hand side of your screen when logged in (pictured above):
Here you'll be able to place your orders 24/7. This allows us to help keep our prices low and cut down on order entry errors. Once you click "Send Order", uncut jobs will begin processing immediately. Frame to come orders will be started as soon as we receive the frame. This ensures proper cutout.
Here you will be able to see the full availability of our uncut stock lenses and order them as needed. We keep several of the most common ranges of clear CR-39 and polycarbonate lenses at the lab. All other stock lenses typically take 1 day to arrive from our warehouse before being shipped. You can also view our full stock frame offerings and order them as needed.
Once your orders are placed, you'll be able to come here to track your orders as they are being processed in the lab. You'll also be able to find all of your completed jobs archived under the "Jobs Completed" tab. The "Tracking" tab will provide your package's tracking details from UPS or USPS.
Here you can process your eCheck payments to your account 24/7. You're also able to view your current balance and remaining statement balance.
This function will allow you to search and find the availability and pricing for every lens/material combination we carry. They're updated constantly with new products as soon as they become available. You'll also be able to find availability for older products such as glass options not listed on our regular price list.
Check out the latest and greatest information on any new or existing lenses. This resource center carries almost any information that you can ask for regarding lenses, ECP marketing tools, dispensing guides, sales aids, and so much more!
Here you will be able to print out flat rate pre-paid UPS labels as needed to send packages from your practice to IcareLabs.
This function will allow you to view a PDF for your Icare statements. The prior month's statement is generated automatically on the 2nd business day of each new month. You'll also have older statements archived here for your convenience.
9) Change Password
This function allows you to change your account password at anytime by entering your old password and then your new password twice. Customer service can reset your account password if needed. If it's your first time logging in to your account after any password reset, you'll need to come here to update your password before you'll be able to use other functions.
10) Logout
This will end your session and log you out of your account.
We now offer no hassle, remakes and redos for all Icare customers.
All of our customers love how simple and easy our customer portal makes their lives. We hope you feel the same once you've had a chance to try it.
You can always reach out to our customer service for any assistance. They are available Monday through Friday from 8 am till 6 pm EST. You can also use the "Live Chat" option in the top right hand corner of our portal.
The topic we are often questioned about from new Icare family members is about our customizable shipping. If you'd like a refresher on how that works, CLICK HERE.
All eye care professionals also have access to our Resource Center which gives you digital copies of brochures, sales aids, layout charts, blogs, availability charts, and so much more. This is available 24/7 and at no cost to you, regardless of having an Icare account or not.