Cut Down On Lab Errors With Fully Integrated Online Rx Ordering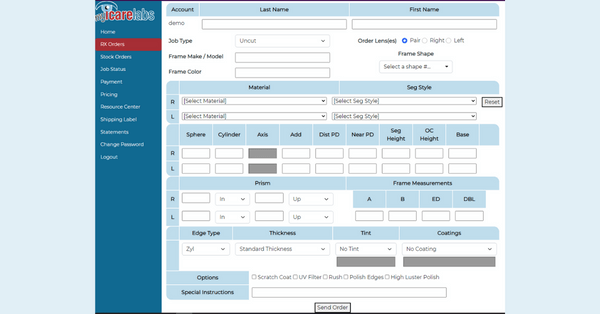 As we have mentioned before, IcareLabs has been at this for 50 years now and has seen it all. We pride ourselves on finding solutions to problems and then implementing them.
One problem all labs and lab customers have experienced too often is input errors on phone and fax orders. As hard as we tried we could not come up with a phone or fax system that met our stringent accuracy standards.
So we created our state-of-the-art myIcareLabs online ordering portal: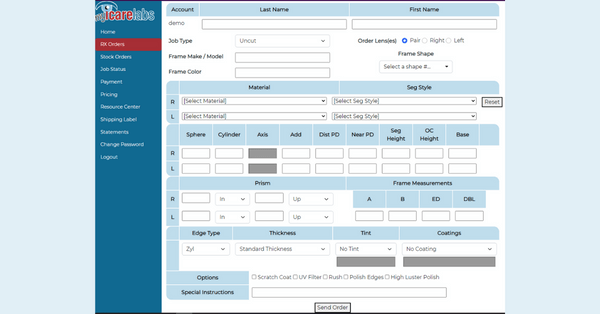 Created in 2008 by our somewhat famous IT Director (who is also one of our owners), James Payne. Many of our daily use programs that James has created are the envy of many of other labs.
James started with us during his freshman year in high school and single handily launched us into the 21st century. He continues to amaze us with cutting edge technology that keeps us ahead of our competition.
While we benefit from all of his systems, we are most proud of his easy to use, multi-purpose online order system.
While phone in orders can allow for errors through misunderstandings (we're all human, right?). Our online ordering allows you, the ECP, to input your orders directly into our system.
You are able to verify that everything is correct before submitting and that's EXACTLY how it gets surfaced.
It is also intuitive and will catch many mistakes before you do!
For instance, if a cylinder power is entered without an axis or bifocal/multi-focals without a seg height, you will receive an error message prompting you to correct the error before it's submitted for processing. It will even alert you to unlike sphere power signs.
These features assure you that once an order is placed it will be moving right through our lab. Less delays and callbacks.
Not sure what progressives are available in 1.67 Xtractive? Not a problem! Simply choose this material combination and only lenses that are available will show up on the style drop down.
Need a specific base curve? Just use the base curve drop down after you have chosen seg style and it will give you the available options.
Once your order is placed, you can print it out or access it as needed via our website.
If you happen to catch an error shortly after the order has been placed, you can simply put the job on hold and note your changes.


Important things to consider when ordering one lens only:
When ordering single vision, flat-top bifocals, and trifocals, it helps to provide the OC height of the other lens.
On progressive lenses please supply us with the amount of equithinning prism.
Utilize the amount of prism read on your lensometer on the prism reference point of the lens that is not being redone
If there is any base-down prism that was not prescribed this is the equithinning prism and has to be matched in the new lens
These great features are just a few of the benefits our customers love about myicarelabs.com. Find out for yourself why IcareLabs is one of the fastest growing labs in America!
Subscribe to our blog and check back next week as I delve into another function IcareLabs and our myicarelabs.com customer portal can offer your practice!
CLICK HERE for our complete myIcareLabs customer portal overview. Don't forget, our newly redesigned Resource Center is always available for every ECP, 24/7. Learn everything we can do for you by visiting the IcareLabs Resource Center page too.