Stock Lens Ordering Is A Breeze With IcareLabs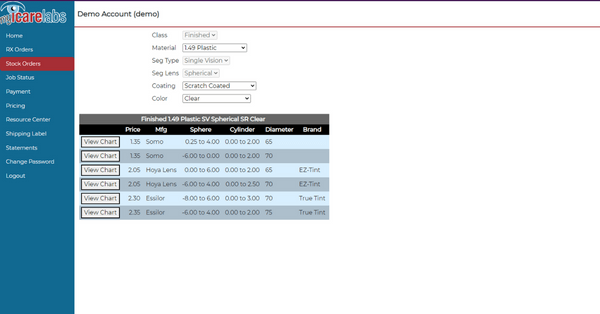 One of our most praised functions in the myIcareLabs customer portal is the ability to easily order your stock lenses.
IcareLabs is committed to making sure your practice has the lenses you need, when you need them!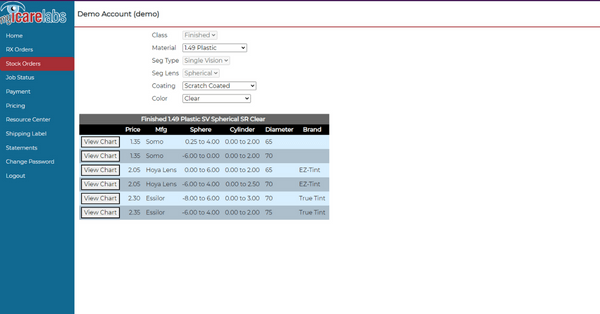 With an intuitive drop down menu, you'll be able to speed up your ordering process. By choosing the appropriate drop down, you'll find only the options that fit your specific parameters.
We offer stock lenses from Somo, Polycore, Shore Lens, Carl Zeiss, Hoya, and Essilor, just to name a few.
Our user-friendly drop down menus will only show you options that are available. You'll be able to see single lens prices and the sphere/cylinder range they are available in.
The diameter is also shown so you can make sure to get a stock lens that will cut out for the patient's chosen frame.
Once you have the stock lens options you're looking for you can click the "view chart" button to see our stock lens availability: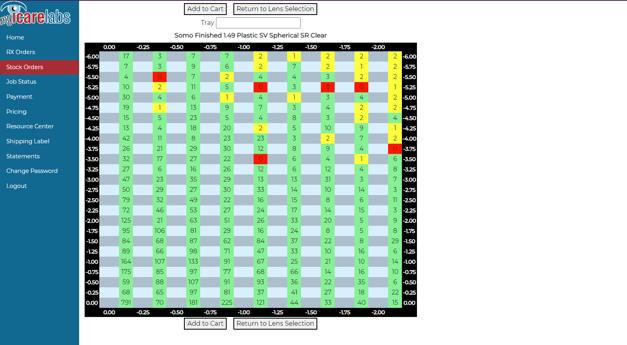 This handy color-coded grid gives you the sphere (vertical) and the cylinder (horizontal).
Green means we have plenty in stock, yellow means we're getting low, and red means we are out (our stock lenses are replenished frequently).
We do carry many of the standard ranges for clear un-coated CR39 and clear poly on-site, while everything else is housed at our warehouse and will ship out the next day.
Stock lens ordering is available for all of our customers for in-house edging. They're a great way to help increase your optical's revenue stream.
You can also order stock lenses with premium upgrades like Transitions or Crizal anti-reflective coatings allowing you to provide great pricing for your patients.
CLICK HERE for our complete myIcareLabs customer portal overview.
You can also access our redesigned Resource Center at no charge, 24/7!