The NEW IcareLabs Resource Center Is Here!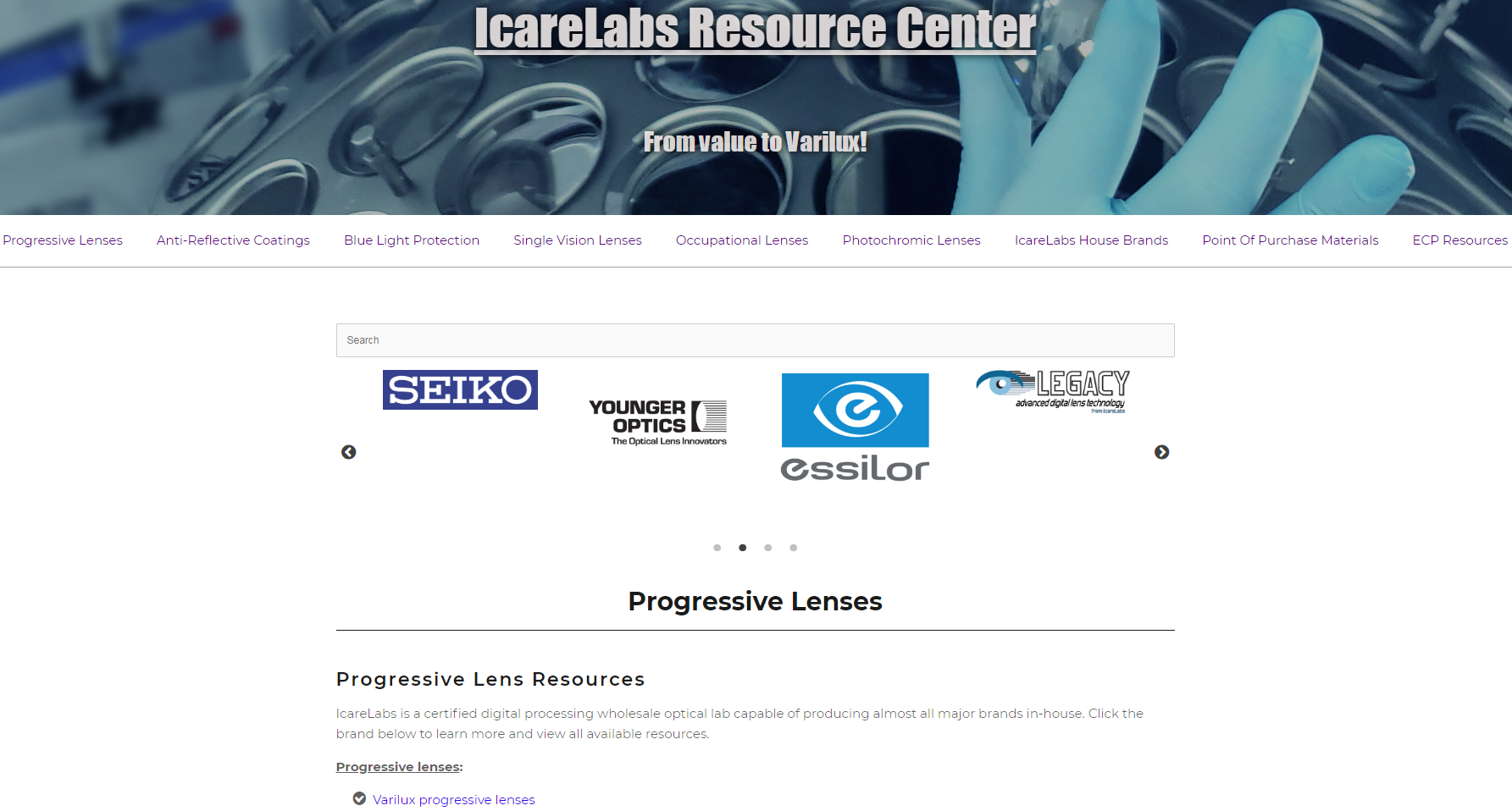 Here at IcareLabs we believe that every practice should have easy access to the resources they need whether they have an account with us or not. That's why we've redesigned and launched the new IcareLabs Resource Center. Your one-stop shop for all of your ECP and POP needs!
When I joined the Icare family 4 years ago I had zero optical knowledge. The only glasses I'd ever worn were 3D ones at the movies. I quickly realized the massive amount of products and selection in not just optical industry, but also here at IcareLabs meant most practices need a place to easily find and learn about what's available and/or how to best utilize them.
Our account managers listened to the most common needs of our customers so we could make sure they have a place to go 24/7 to quickly grab anything they want. Sometimes an optician needs a layout chart in a pinch or wants to find a sales aid to help close the deal with a product they may not be that familiar with.
The Resource Center allows you to quickly access:
Product Availability Charts

Layout Charts

Sales Aids

Brochures

Tech Data Sheets

White Papers

Product FAQs

Educational Videos
Let's take a look at how easy it is to use: on the Resource Center main page you'll find easy access to our progressive lens offerings, anti-reflective coatings, blue light protection, single vision lenses, occupational lenses, photochromic lenses, IcareLabs house brands, point-of-purchase materials, and ECP resources at the very top of the page. They allow you to jump right to the section you need with a click.
You'll also be able to go directly to the manufacturer's website by clicking any of the logos at the top of the page.
Already know exactly what you're looking for? Just enter it into the site search bar at the top of every page to go directly to what you need.
Under every section, you'll be able to click on the topic or brand you need more information about to be taken to that specific resource page. For instance, under progressive lenses, by clicking the Shamir option will be taken to the Shamir resources page allowing you to browse all available ECP resources, point-of-purchase materials, or browse educational videos to learn more about the products.
Click on any of the blue links to directly download digital copies of all availability charts, sales aids, layout charts, technical data sheets, consumer brochures, consumer pamphlets, dispensing tips, dispensing guides, products FAQ's, etc. If you are already part of the Icare family and want display ready copies of any POP materials then just let your account manager know. If available, we'll send them right out!
From value to Varilux, IcareLabs has everything your practice needs to keep your patients happy. As a certified digital processing lab for Shamir, Seiko, Kodak Lens, Varilux, and with full in-house Crizal anti-reflective coating capabilities, we're confident we can keep you happy. We also offer lenses from Hoya with a complete selection of value progressive lenses like the Shoreview, Navigator, and Younger Optics Image (just to name a few).
But like I stated at the top of this blog, our Resource Center is available for all eye care professionals regardless of having an active account with us or not. We know that happy patients are good for our industry as a whole, so feel free to grab what you need, when you need it!
Don't forget to bookmark the Resource Center in your browser to easily access it 24/7!
If you would like to join the Icare family and receive our full price list then click the button below to talk with one of our business development representatives today and see the Icare difference for yourself!