Kodak Lens Custom Prints For Your Optical Dispensary Now Available!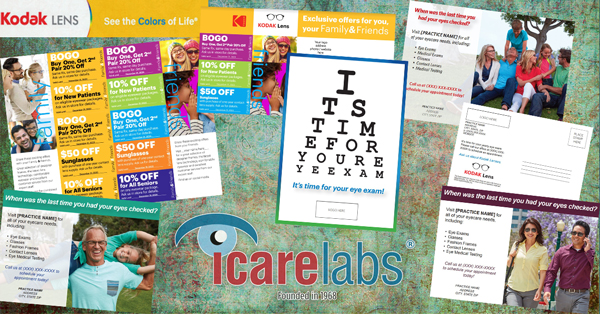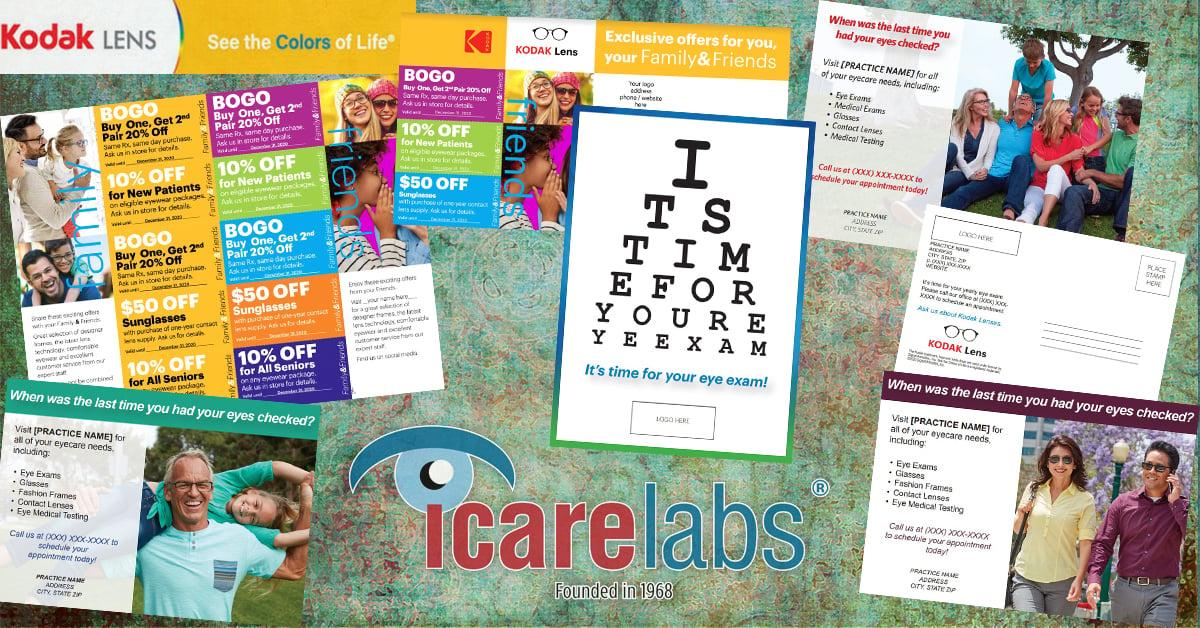 Kodak Lens now has several fantastic custom printed options that your optical dispensary can take advantage of. These tailored options allow you to remind patients about your practice and the multiple options provided by Kodak Lens. Let's take a look at a few of these choices to get a better idea of how they can help your optical business.
When recommending Kodak Lens to your patients there is no better way to do it than with a custom Rx pad. This allows you to dispense from the exam room and helps reinforce your branding to your patients. Your practice's info will be displayed on the top left with space for the doctor's information on the top right.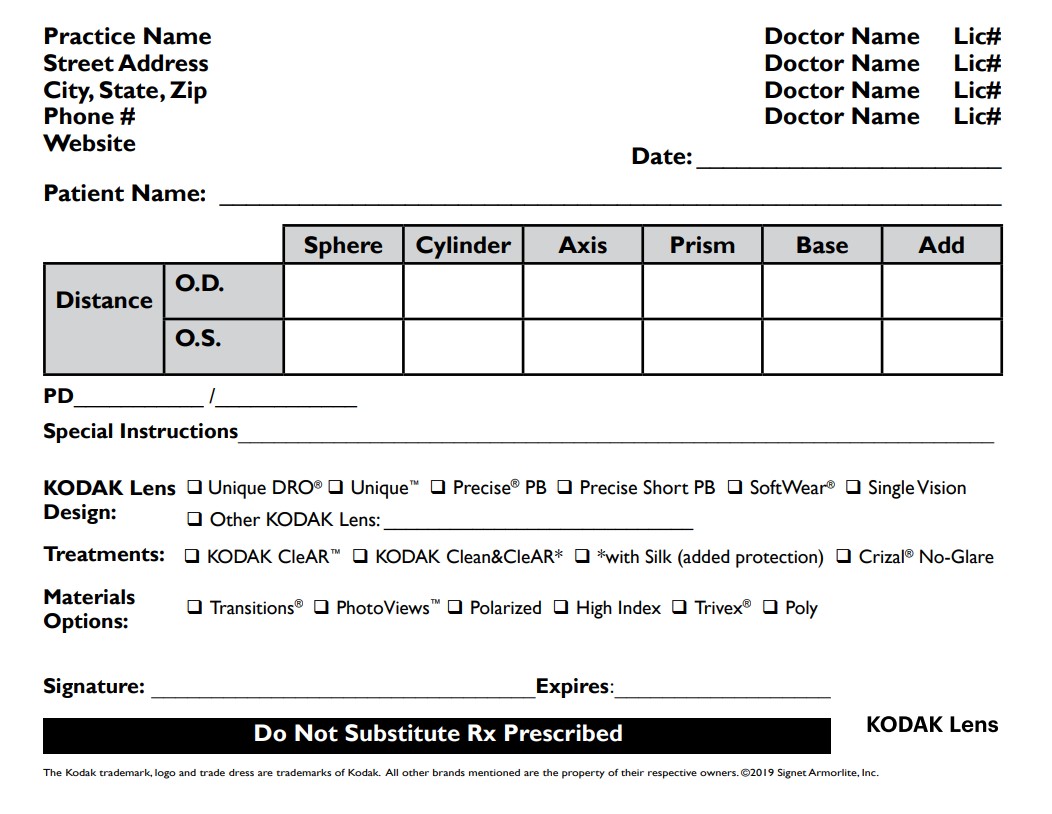 These should help you increase your optical sales by having all of the latest Kodak Lens designs including the Unique DRO and Kodak Precise. You also have the ability to recommend treatments like Kodak Clean&CleAR with Silk or Crizal no-glare treatments that will help protect your patients' investment while also increasing patient satisfaction. Material options include Transitions, polarized, high index lenses, and more to help further boost patient satisfaction and sales.
Now let's take a look at some of the eye-catching mailers available to Kodak Lens practices. First up, we've got a great bifold mailer that can serve as a great reminder of their last visit and also be customized with exclusive offers for patients and their families.
Referrals from current patients (also known as word-of-mouth business) are consistently ranked as one of the top ways to drive new business. What better way to do so then with an amazing offer?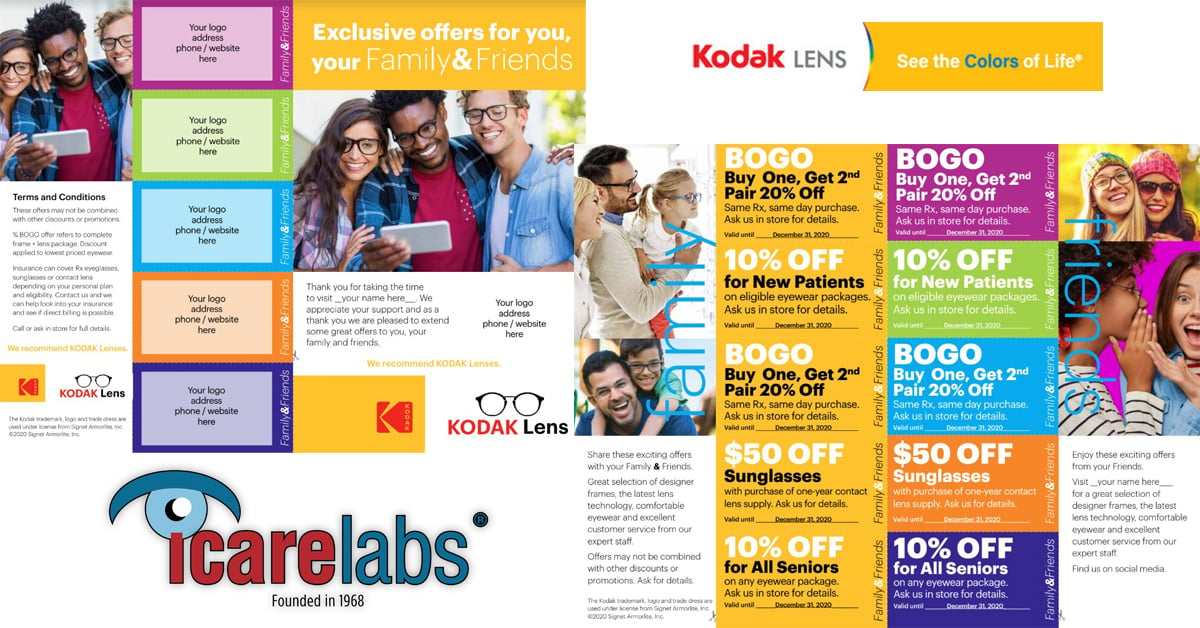 Staff can address these mailers throughout the day and they can be mailed throughout the year as part of your marketing strategy for 2020 and beyond!
They also have a postcard option that can serve as a mailer or handed out to happy patients upon completion of their appointments. These are another wonderful option to add some color to your front desk. Encourage staff to pass these out to anyone that is "just browsing" too!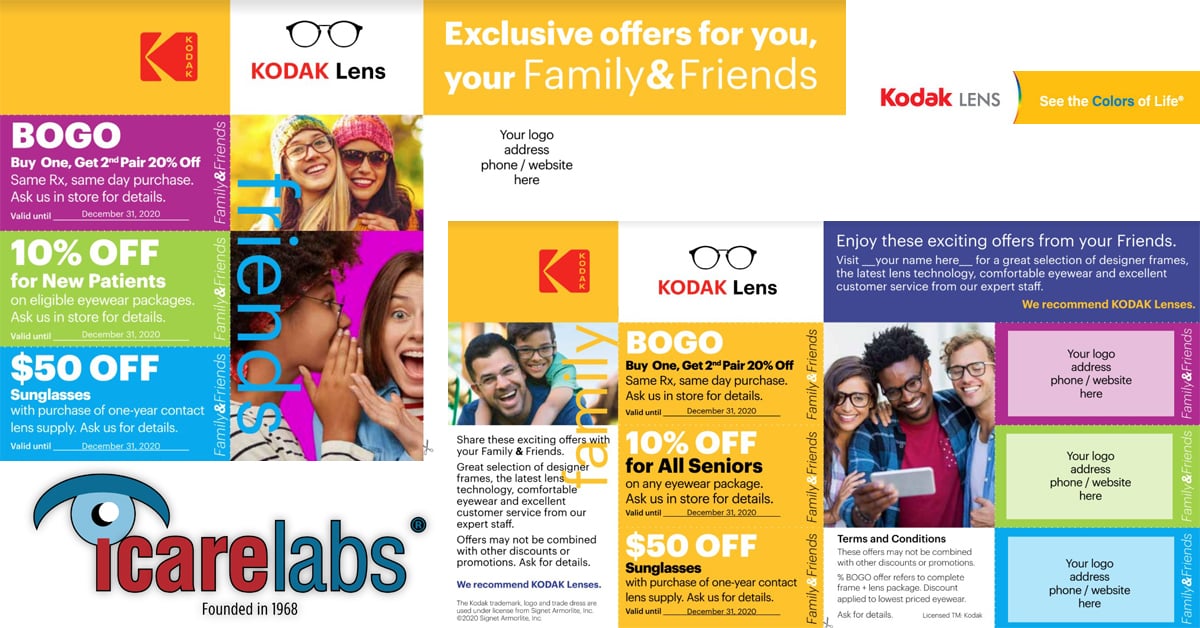 Finally, we've got some clever and practical reminder cards that can be used for appointments, annual eye exam reminders, and more. Having a consistent game plan to keep your practice at the forefront of your patients' minds is a key strategy for success.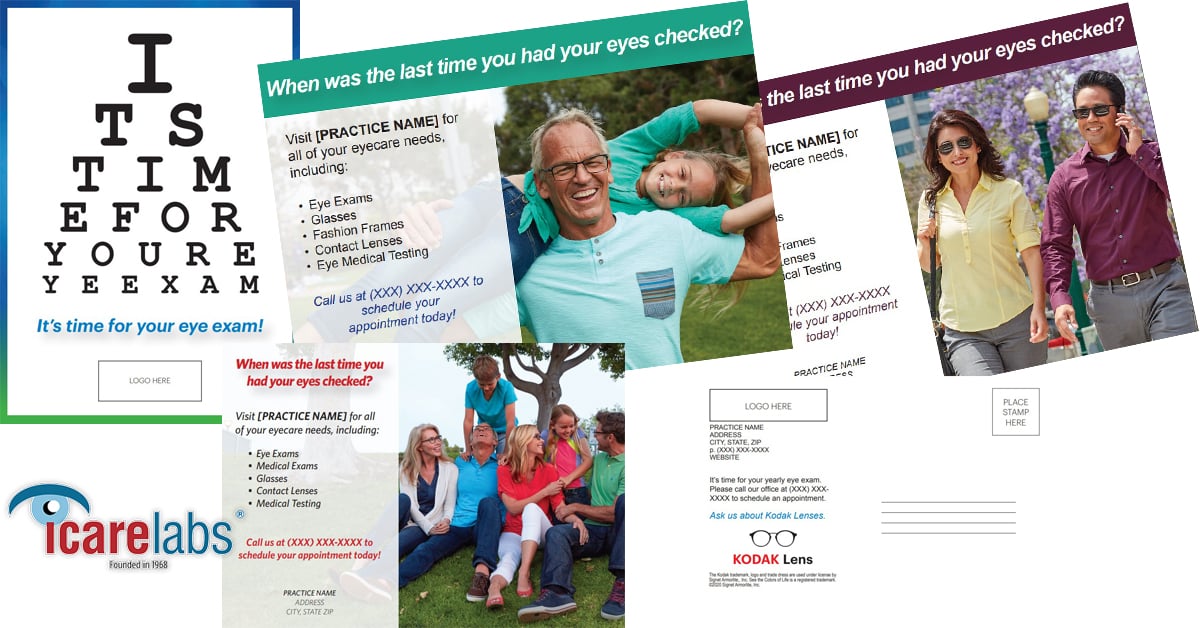 All of these and more are just a few of the many benefits Kodak Lens offers your practice. Coupled with the Kodak Lens Corner or the Kodak Lens Experience and the reliability provided to you from being part of the Icare family makes a combo that can't be beaten. Don't forget, everything shown above can be customized and personalized to fit your needs.
Reach out to your IcareLabs account manager or Kodak Lens brand rep for more information on getting these ordered for your practice today!