When To Use High Index Lens Materials For Your Patient's Glasses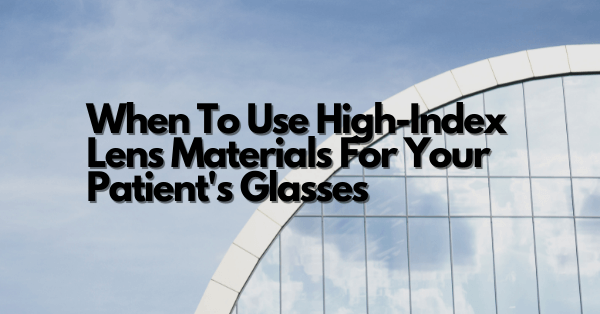 With all of the options available in lens designs and materials, we truly are working in the golden age of optics. Never has there been more options and custom designed products to cover the vast array of our patients' needs. From specialized Single Vision products for young readers to fully compensated digital progressives offering wide field of views.
While we get plenty of training on these new products I find that many of us question when to use high-index lenses and why. Many do not understand the benefits and fear the drawbacks.
In this brief article, I hope to clear up some misconceptions while giving you some parameters of when to use high index.

Benefits Of High Index Materials

:
We all know there is a lot of good associated with the use of high-index plastic lenses. Because of the higher index of refraction, the lenses will be thinner and lighter with an added benefit of being stronger and more impact resistant than standard CR-39. There have been reported cases of CR-39 lenses shattering from airbag deployment during an automobile accident. While not as durable and impact resistant as polycarbonate lenses and trivex lenses, high index lenses are strong and a solid option for drill mounts.
1.67 and 1.74 index lenses will be 35%-50% thinner than standard plastic. This also reduces weight and is much more cosmetically appealing for your patient. Cosmetics drive sales and offering a thinner lens option to your patient will often win the sale and increase overall patient satisfaction with their new pair of glasses.
One of the biggest issues for your patient with higher the +/- 4.00 is frame choice. Too much decentration will add thickness and weight. Using high index lenses allows for bigger frames which opens up more opportunities for these patients to wear the styles they want.
Drawbacks Of High Index Materials

:
With all of this good, there are also some drawbacks. Cost is a big one. High index lenses will simply cost you more and will drive up your price to your customer. Given the advantages of being thinner, lighter, and stronger, this should be an easy sale. Your customers are wanting better looking lenses so make sure you are offering them what they are looking for.
Another disadvantage is the lower Abbe value. This value is simply the amount of light being reflected out and not passing into the eye. Because light is sight this could be a big issue but it's not. By simply adding a good non-glare coating you can overcome these poor Abbe values. A quality AR coating will eliminate 99% of glare and allow for sufficient light to transfer through the lens.
When To Use High Index:

1.67 index lenses will be up to 40% thinner than CR-39 and 20% thinner than polycarbonate (listed as Airwear in the chart above). This allows for a flatter base curve with plus prescriptions decreasing "bug eye" and lens distortion.
1.67 preferred for prescriptions over +/- 4.00 sphere or cylinder above 3.00
1.74 index lenses are up to 50% thinner than CR-39, 30% thinner than polycarbonate and 10% thinner than 1.67. This is the ultimate in creating a thin pair of lenses. When paired with a quality AR your patient will have a great looking and clear pair of lenses.
1.74 is preferred for prescriptions over +/- 6.50 or cylinder above 5.00
In Conclusion:
Your patients are looking for the best-looking pair of glasses. In fact, a recent survey found that 75% of high prescription patients have a desire for more attractive and discreet eyeglass lenses. High Index lenses offer you the ability to give them the thinnest, lightest lenses they have ever worn.
This type of satisfaction will set you apart from your competition. Don't be afraid to give them the best option based upon their needs. Price will always be a factor but value is more important. Keep this in mind – A $700 pair of glasses will cost your patient less per day than a cheap cup of coffee.
IcareLabs is able to process all materials in-house for several of the top name-brand lenses and our house brand Heritage and Legacy freefrom digital progressive lenses. For more information on our offerings, visit our Resource Center or request our full price list by clicking below.