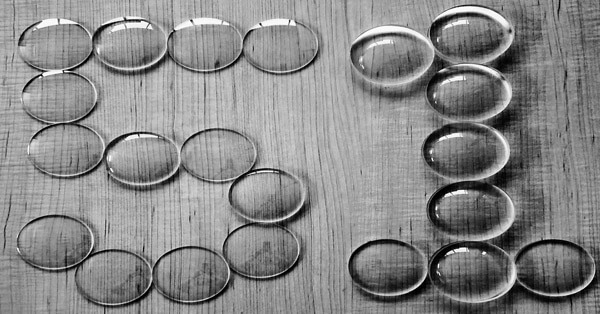 When my father started IcareLabs over 50 years ago, we had no idea just how far we would come all these years later. Our family moved to Florida to pursue my father's dream of starting an optical lab, with not only the best prices, but also the best selection. At the time, none of us knew just how drastically our lives were going to be forever changed.

On May 17th, 1968, it took almost the entire day to process our first two jobs. Today, we process more than 10,000 jobs a week! We celebrated our 51st anniversary yesterday so I'd like to take a look back at where we came from.

The technology we use is a core principal my father started the company with. We are always striving to be able to offer the latest lens technology while also giving our customers the best selection and price. Technology has played a pivotal role in bringing us to where we are today. My father also firmly believed that a company is only as strong as the bond between the employees. He showed me first-hand that going above and beyond for your employees directly translates into putting out the best possible products.
Business was a way of life for me and my brothers. Many employees that have become lifelong family friends have stayed at our home during their transition of moving to Florida to work with us. My mom was one of the most accommodating and caring women you could ever meet. She knew no stranger and that meant our business knew no stranger. That played a huge role in finding the right people and positioned us well for the coming years. By the time we entered into the 1970's we were already making huge strides and simultaneously making waves in the optical world, largely due to our people.

Building a company that's also a family was no small task. There were several bumps and growing pains along the way (even a couple of lawsuits from industry mainstays that didn't appreciate our approach). Through all of that though, my father never faltered in his vision for what we would be. He truly had a vision and gave us the real definition of building a legacy built off our heritage.
Not willing to compromise on what made us successful lead us right into one of the largest growth periods IcareLabs had ever seen. Second only to our current period of growth these last few years, the 80's saw the transition from the houses we originally renovated as our first lab/office into the building of our corporate office adjacent to our new lab. Both of which we still use (and upgrade) today.

As the technology grew alongside the company, we were able to expand in ways that never seemed possible in the early days. As we moved into the 90's, the optical world got turned on its head with the rise of One Hour glasses being made on site at the retail locations and for the first time in our history we seriously began to question what the future held for IcareLabs. My father taught us that making decisions based off of fear was no way to live. Instead, we expanded into the retail world with a new vision of being able to offer the best of both worlds.

While still taking the same ideals we were built on by putting employees first to ensure our products always met our high standards, we forged on upgrading the lab and expanding to a few satellite locations across the country. We were one of the first labs to aggressively offer interstate shipping and the new locations allowed us to pursue this even further.
This later became the basis for our customizable shipping which we still offer today. It gives our customers the flexibility and control of how and when their work is shipped. With the new millennium fast approaching, we were running on all cylinders and thought there was no slowing us down.

Sadly, on January 11th, 2000 my father passed on after living his life and loving his family to his absolute fullest. My brother Scott and I took the helm of IcareLabs and had to take a serious look at what was trending nationwide in the optical world. With the rise of digital technology starting to crop up we had to seriously consider not just our father's vision, but what was best for the Icare family.

Even though the early 2000's proved to be a bit bumpier than some parts of our past, we came through the other side not only stronger than ever before, but with a renewed dedication to both our heritage and future. The later 2000's saw the addition of our oldest children becoming official full-time employees of the family business we were all raised in. This directly led to our myIcareLabs.com customer portal being built by my nephew and our IT Director, James Payne in 2008.
We made the decision to base our wholesale business solely at our home office in St. Petersburg Florida. This lead us to close all satellite lab locations. At that point, we also had over 40 retail stores across Florida. We decided to focus more on wholesale and scale back the retail to a geographic region close to our home office. We also wanted to ensure even our smallest mom and pop customers were able to get the best prices on all of our lenses and services. After all, these are the same folks who helped us grow into who we are today.
Why should any small business owner be excluded from getting great pricing on their lenses simply because they don't have the higher volume some other business may have?
Since making those tough decisions, we have grown stronger every year. We continue to put our customers and employees first in everything we do, and it's because of you that we are successful. Today, we are making more lenses than we ever have before. One of our mantras in the lab is that "every lens tells a story". We know that behind every pair of glasses, there is a patient who depends on those glasses to improve their sight and that has such an impact on their everyday lives.
To see all of our offerings we now have available, take a look at our Resource Center which is full of useful information and free to all ECPs.
I hope you've enjoyed this brief stroll down memory lane with us and if you're already part of the Icare family I'd like to personally thank you for not only trusting us with your work, but hopefully allowing us to also be a shining part of your day-to-day lives. Everyone here at IcareLabs pours their heart and soul into everything we do because we know your business depends on us doing our jobs to the best of our ability.
- Skip Payne, President of IcareLabs