SNEAK PEEK: Transitions Gen 8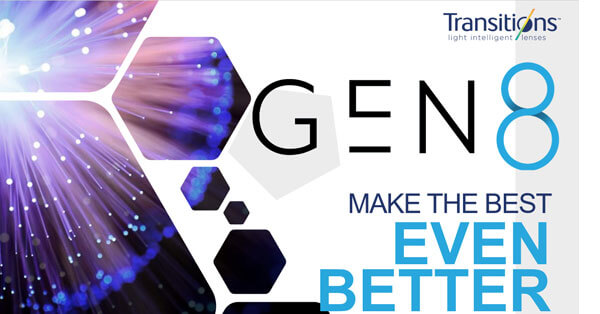 Transitions Signature 7 lenses made leaps and bounds over Transitions VI which launched a new era of photochromic lenses for patients to enjoy. Now the new Transitions Gen 8 is poised to revolutionize the industry once again!
(As of July 10th, 2019 Transitions Gen 8's first wave has launched, CLICK HERE to visit our recently updated blog post featuring the availability chart and more!)
Building off of the massive success of last years new Transitions 7 Style Colours and XtrActive Style Mirror options, your patients will now have the latest technology behind their new favorite pair of glasses.
Coupled with Essilor's Next Gen program that will help increase your optical sales through second pair purchases, 2019 can be your practice's best year yet!
Let's take a look at the roll out: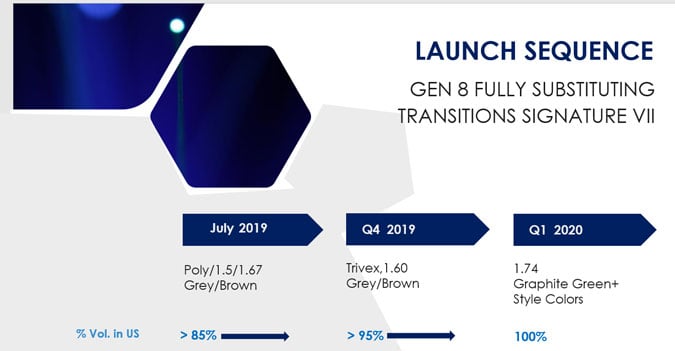 As you can see, by 2020 Gen 8 will completely replace all current Signature 7 offerings with polycarbonate/1.5/1.67 materials in grey/brown taking the lead in July 2019. These options account for 85% of the volume of Transitions sales in the United States.
4th quarter 2019 will bring us trivex/1.60 materials in grey/brown options which account for 95% of Transitions sales in the United States when combined with the first wave released in July of this year.
By the 1st quarter of 2020, 1.74 material and the Graphite Green along with the Style Colors will complete the move to full Gen 8 offerings.
The Transitions Academy is currently underway, with the official announcement of this amazing new offering along with educational courses to get ECP's on the best ways to boost your Transitions sales.
Being the culmination of 5 years of R&D, Chrystel Barranger, president of Essilor Photochromics and Transitions Optical had this to say in the official press release:
"Building on over 20 years of innovation, we are always pushing the limits of performance in our products; we are passionate about bringing the benefits of light intelligence to all consumers and are excited to bring a new generation of our most popular lens offering to the market."
Just as all previous generations have helped patients maintain optimal eye health, Gen 8 will provide your patients with harmful blue light protection and 100% UV protection!
IcareLabs is excited to be offering these new products as soon as they are available. Stay tuned for even more information regarding the new technology behind Gen 8 and full availability charts. Our customers will also have the latest POP material to explain these new benefits to patients too.
For more information on Transitions lenses, check out the Transitions page in our Resource Center.
Don't have an account? Give us a try and see what it's like being part of the Icare family.