The New Kodak Unique DRO PALs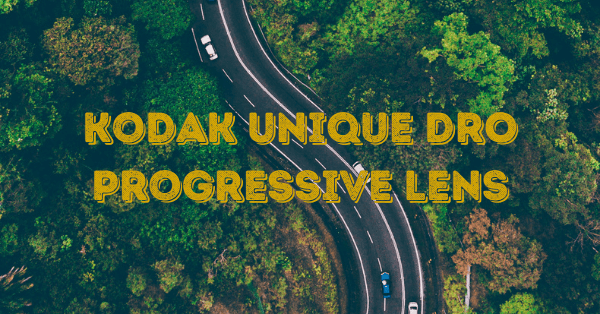 Kodak Lens recently released their newest version of their popular Unique lens with the Kodak Unique DRO progressive lens.
Building upon the ever change needs of modern presbyopes, reading habits continue to increase the time spent on mobile devices. Hours a day are spent using cell phones and tablets on social media, news, shopping, and driving directions.
The Kodak Unique DRO uses Dynamic Reading Optimization (DRO) that helps enrich and enhance the reading area.
They have built upon the proven technologies found in the original Kodak Unique lens design by adding the new DRO technology to improve the near vision zone. This provides a progressive lens design perfect for prolonged viewing in the near vision zone used for mobile devices.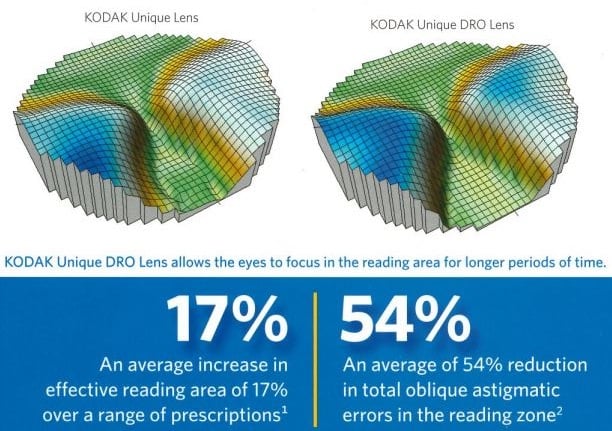 Available in the Kodak Unique DRO and Unique DRO HD designs, which both include proprietary technology:
Dynamic Reading Optimization

Vision First Design Technology

i-Sync Technology
Kodak Unique DRO offers the convenience of no extra dispensing measurements with a true variable corridor which will select the proper corridor length based upon the frame size, monocular PD, and fitting heights. This ensures the best overall visual performance for nearly any B measurement, large or small.
The Unique DRO is available in over 60 lens materials giving your patients the options they are looking for.
For those of you looking for full customization, the Unique DRO HD includes point-of-wear measurement capability. This will give you a more highly customized lens to fit your individual patient's viewing needs.
The HD stands for High-Definition and according to Kodak Lens, the Unique DRO HD fulfills this description.

The technology involved in Dynamic Reading Optimization starts by breaking down the into 3 regions: distance, intermediate, and near. The error correction required in each region is different. These differences are calculated for all 3 viewing zones.
Through compensation and digital processing the lens surface is now optimized in all viewing areas. This results in an average increase in effective reading area of 17% over range of prescriptions. There is also a 54% reduction in total oblique astigmatic errors in the reading zones.
All of this creates a better performing lens for your patients looking for more help in their near vision to help with mobile devices.
The Kodak Unique HD and Unique DRO HD are both Practice Plus approved.
For more information reach out to your Icare account manager today. If you're not already part of the Icare family, get our price list and open your account today!
CLICK HERE to view all of our Kodak Lens resources like availability charts, layout charts, point-of-purchase materials, and more!
Looking to learn more about lens design options? CLICK HERE