The Kodak Lens Experience And Your Practice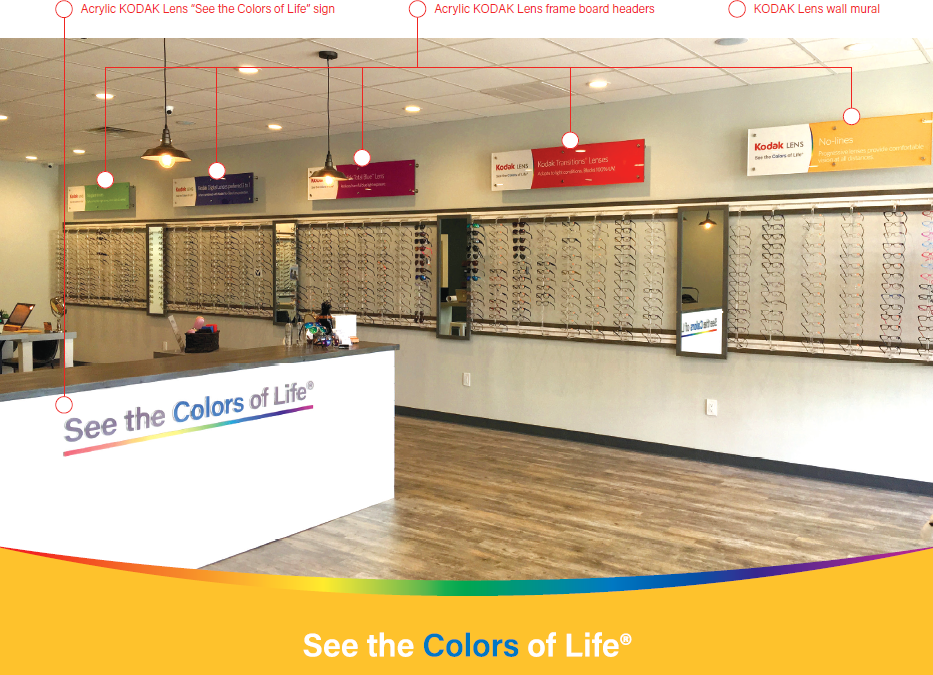 Kodak Lens now offers 2 options to help you upgrade your office and set your practice apart from the rest with one of America's best known brands and it's Kodak Lens Corner Educational Center or the Kodak Lens Experience.
Take advantage of the solution that best fits your practice's needs while helping drive patients through the door and give them hands on point-of purchase materials that help them understand the benefits of various lens upgrades.
Let's take a look at both options so you can see what Kodak Lens can do for your bottom line.
As we've talked about before, the Kodak Lens Corner is a great option for every practice with a minimal commitment (5 pair per week). You'll have a vibrant and easy to understand display that will allow patients to see and feel options such as no-line progressive lenses, no-glare lenses (anti-reflective coating), blue light protection e.g Kodak Total Blue, Transitions lenses, polarized lens options, and the difference in lens materials.
This also includes a window cling for display and a merchandising kit to help further explain the benefits of every upgrade in greater detail. The in-store Educational Center is also future-proof by providing you the option to swap out lenses and signage as needed.

As you can see, the Kodak Lens Corner can add a great value to your practice. For those of you wanting to provide even more of the WOW factor to your practice, you also have the option to upgrade to the Kodak Lens Experience. You'll receive all of the benefits of the Kodak Lens Corner and more great upgrades!
The upgrades include frame board headers, wall mural, and a Kodak Lens "See the Colors of Life" acrylic sign to help welcome your patients.
Not only will these bring some extra flair to your optical dispensary, but they'll help drive conversations that can lead to increasing your optical revenue. These tools will help drive premium branded sales that will increase your cost per sale, bottom line, and most importantly patient satisfaction.

You can see how these colorful displays can make any showroom floor pop! You can take advantage of tried and true Kodak Lenses like the Precise and Unique.
You can also focus on the latest technology with the Unique DRO that's now available and processed here in-house at IcareLabs! You can't go wrong with Kodak Lens retail solutions for your practice.
Signet Armorlite/Kodak Lens and IcareLabs have partnered up to bring you some of the best two-tier pricing available with the Practice Plus program and account promotions for the life of your account. If you'd like to find out more, click the link below!
CLICK HERE to view all of our Kodak Lens resources like availability charts, layout charts, point-of-purchase materials, and more!