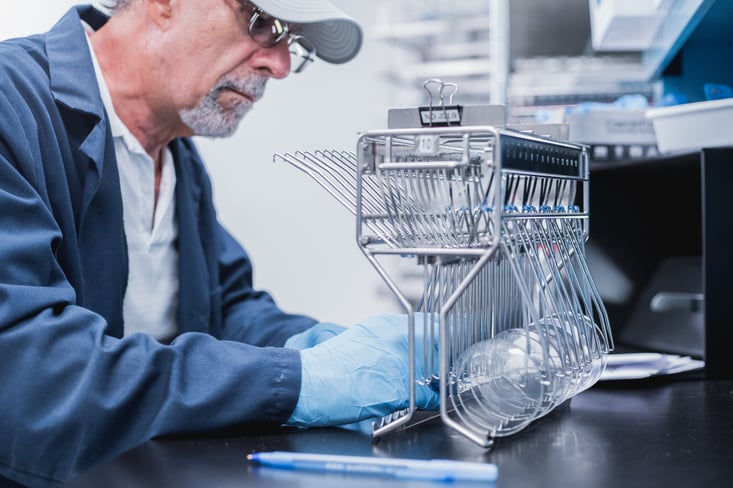 At IcareLabs we were founded with one simple goal in mind; to provide the largest selection of high quality lenses for the best possible prices. Over 50 years later we still believe this is one of our strongest selling points. We also understand that every practice needs to be able to offer options for every patient.
From the high-end, top of the line digital progressive lenses to value driven lenses for more budget-conscious patients. We know that the most successful practices are able to accommodate their patients needs and budget constraints. We strive to handle all of those jobs for you. Let's take a look at everything IcareLabs can bring to your dispensing table.
Over the years, we've gone through numerous upgrades and most recently we've upgraded to 100% single-point generating with soft polish. This allows us accuracy up to 1/100th of a diopter. Our AR capabilities have also been upgraded to allow us in-house processing of the full line of Crizal anti-reflective coatings including the Sapphire 360 and Prevencia no-glare treatments.
Many know us for our amazing pricing on the Varilux Comfort, but we also have fantastic pricing on the entire family of Varilux progressive lenses. This allows us to help your practice accommodate patients looking for those high-end lenses and patients that just want to get the lenses they've been in for years updated with their new prescription.
IcareLabs is also able to provide your practice the complete Shamir family of lenses. From the latest in cutting edge technology, like the new Intelligence lenses and the complete line of Autograph lenses, to their specialized lenses like the Workspace, Golf, or the Relax. Shamir has rightfully earned their reputation for cutting edge designs in the optical industry and we are proud to be able to help your practice offer them as well.
We are also very proud to be working with one of America's best known brands with Kodak Lens. We can process the Unique DRO lenses right here for patients wanting the latest and greatest. We've also been processing Precise and Concise lenses for years which means we have the experience to get the jobs done right. IcareLabs also offers Kodak's no-glare treatments processed in-house.
Seiko lenses are also processed right here on-site. From the Succeed to the Surmount, IcareLabs can make sure your patients' needs are met and their expectations exceeded!
We also offer several traditional and digital options of Essilor progressive lenses like the Definity 2+3 or the Accolade. We can also process several traditional Hoya progressives like the Hoya Summit ECP and CD.
We also offer 2 options for house brand progressive lenses with our newest Heritage line of lenses and our classic Legacy lenses which have received rave reviews over the years. Icarelabs understands many patients only want the best bang for their buck which our house brands can provide. We also have a selection of value progressive lenses like the Shoreview, Hoya Amplitude, and Navigator lenses for patients who just want the lowest price possible for lenses that simply work well.
We firmly believe that every practice should be able to meet the budgetary needs of every patient that walks through the door. Whether it's cutting edge technology, tried and true mid-range lenses, or value progressives. Any practice that only serves the needs of one of these types of patients is quite literally letting money walk out the door! Is your wholesale optical lab able to meet ALL of your progressive lens needs?
If you'd like to give the Icare family a try and get a complimentary Heritage lens for yourself, then click the button below to request our price list and credit application today.