Benefits Of Anti-Reflective Coatings - Crizal Avance UV

Crizal Avance UV anti-reflective coatings revolutionized the optical industry when it was introduced in 2012. It scored a 12.9 on the Bayer ISMT by providing some of the best scratch resistance across all materials. Even patients that are typically very rough on their lenses can now enjoy the benefits of anti-reflective coatings.
Crizal also launched backside UV protection for their full line of AR coatings. This helps absorb and prevent UV light transmission via backside glare. Let's take a closer look at exactly how the technology behind the coating has made such an impact.
In past blogs I've talked about the benefits of both Crizal Alize and Crizal Easy so you may be wondering just how to explain to your patients what this premium anti-reflective coating can do for them. Avance provides your patients with double the scratch protection of Alize.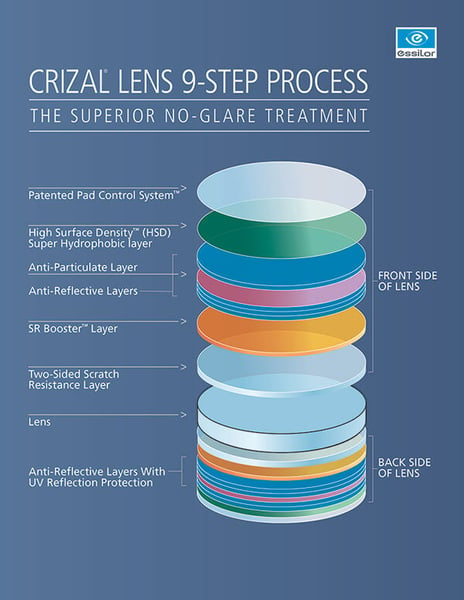 Avance's proprietary chemical makeup provides best-in-class protection from scratches, smudges, and repelling water. This allows your patients to keep their new glasses cleaner for longer. We all know a happy patient means good word of mouth for your practice and a much higher return rate for future purchases. That's just some of the many benefits provided by using a premium anti-reflective coating.
Here is a great video showing how Crizal coated lenses help combat the 5 enemies of clear sight:
The hydrophobic molecules minimize water adherence and Slide-FX™ technology ensures water drops roll into tiny balls and simply slide off without a trace.
Avance's patented HSD Process™ (High Surface Density Process) is a unique technology that optimizes the performance of the anti-smudge treatment while increasing the density of the hydrophobic and oleophobic molecules on the surface of the lens.
Being able to provide Crizal Avance UV™ as a premium anti-reflective coating for your patients is one easy way to help increase your optical sales. When you also combine name-brand progressives like the Varilux Comfort and other premium options like Transitions 7 it becomes a win-win for both your practice and your patients.
IcareLabs is proud to be able to offer all of these services and more so that your practice is able to accommodate the specific needs of each patient that walks through your door.
For more information on the entire line of Crizal no-glare treatments, check out our Crizal Resource Center page. IcareLabs process the entire line of Crizal coatings in-house, including Crizal Prevencia lenses and the best protection Crizal Sapphire too!
UPDATE May, 2021: with the arrival of Crizal Rock, Crizal Avance will be phased out.
For more information on all our lens add-ons CLICK HERE.