Benefits Of Anti-Reflective Coatings - Crizal Easy


In my new blog series for IcareLabs we'll be diving into the benefits of Anti-Reflective coatings, more commonly known as AR or no-glare treatments.
AR coatings have been around for a long time, so long in fact, a lot of patients and opticians who say they don't like AR have actually based their opinion from products that were used more than 2 or 3 decades ago!
Needless to say, there have been significant advances in the technology since the turn of the new century. In this post we'll be talking about Crizal Easy UV.
Crizal Easy is marketed as being easy to clean and durable. The reason for this is it was one of the first AR treatments on the market to be super-hydrophobic which means the lenses stay cleaner by repelling smudges, oils, and also help protect against scratches compared to ordinary lenses.
The unique formulation allows for 83% of the top layer to remain intact even after 20,000 cleanings!
Statistics can only go so far, the most important thing is being able to have your patients understand the benefits of having their lenses treated even if they had a bad experience many years ago.
Simply put, ask your patient if they've ever experienced a bright sunny day which made it harder for them to see. Or ask if they've ever driven at night and had trouble seeing the road due to headlights from oncoming traffic's headlights giving a "halo" effect. These are the exact things Crizal coatings can help alleviate!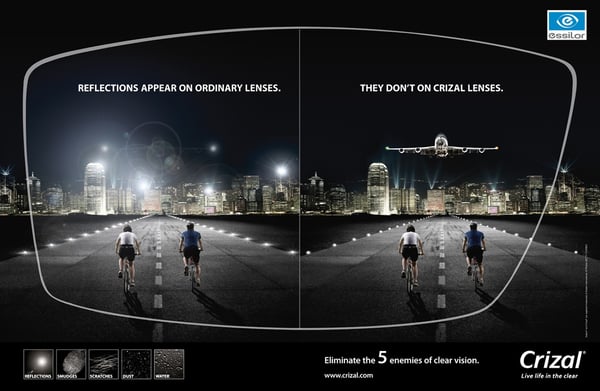 That's called "needs-based selling" which can not only help your patient understand the real world benefits for how their new glasses can help their day to day life, but also helps provide word of mouth and return business to your practice.
There are several treatments on the market, even within the Crizal family such as Crizal Alize and Crizal Avance. I'll be exploring all of the options we have available so make sure to subscribe to our blog with the button to the right to stay up to date on all of our posts.
If you'd like to open your IcareLabs account with no obligation, click the button below and we can show you everything we can do for your practice!
Feel free to also check out our new Crizal Resource Center page which has sales aids, digital brochures, availability charts, and much more all available at no cost to you.