Digital Transitions Availability Guide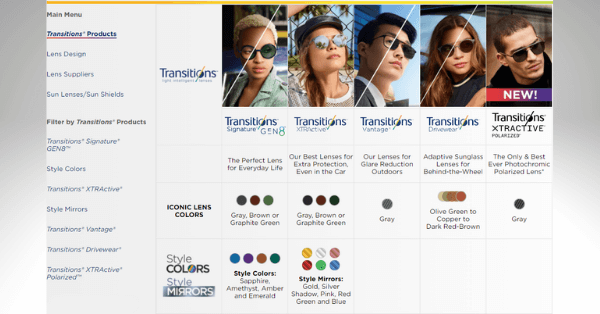 Transitions lenses have a new digital availability guide now available for all ECPs. This is an easy way to look up all of the amazing Transitions photochromic technology, right at your fingertips. With all of the different combinations currently on the market, it can sometimes be a bit confusing. Luckily, this online guide takes out all of the guesswork.
The new Transitions digital availability guide is easy to navigate so you can jump right to what you need. You'll see the main menu on the left-hand side of your screen which includes:
Transitions Products
Here you'll find an easy to read break down of all Transitions products including:
This new digital chart easily shows you color options, darkness, and various product features. This easily allows you to find the right product for your patient's needs.

Here you'll find complete availability for Transitions lenses in finished single vision, semi-finished single vision, digital, bifocals, blended bifocals, trifocals, and progressive lenses. After selecting the desired lens option, you'll be brought to a complete availability chart for the selected lens with all available lens suppliers.
You'll also see the "Filter by Lens Design" section on the bottom left-hand side of your screen which allows you to jump to the needed lens design at any time.
Lens Supplier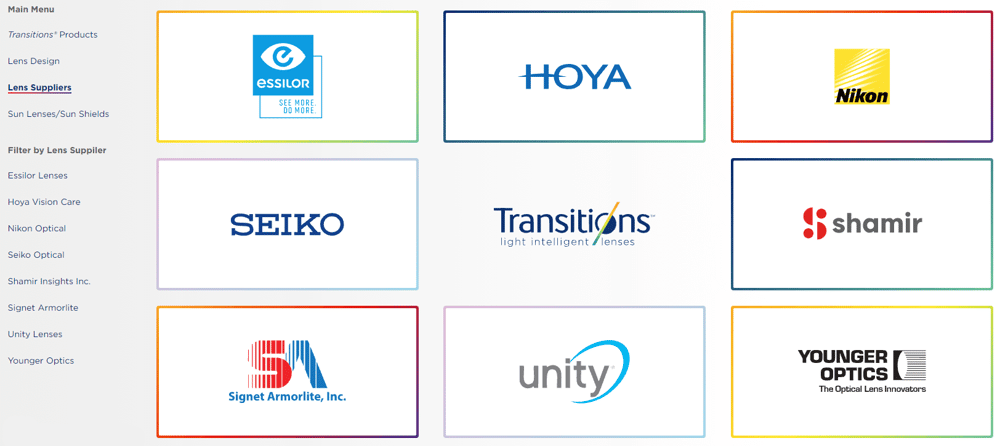 Here you can search by all of the available lens suppliers including Essilor/Varilux, Signet Armorlite (Kodak Lens), Shamir, Seiko, Younger Optics, and Hoya.
After selecting the lens supplier, you'll be brought to a complete availability chart showing all of the lens options available with Transitions products.
Sun Lenses/Sun Shields
This section provides a breakdown of available "light intelligent" lens options, sun shields, and sunglasses. These lens options are geared towards outdoor activities like various sports.
Sun shields (not available at IcareLabs) are great for motorcycle enthusiast which provide them with a motorcycle face shield that automatically adjusts their level of darkness to optimize their vision while riding day or night. These sun shields are made in partnership with SHOEI and KLIM motorcycle helmets.
Light intelligent sunglasses are made in partnership with Oakley, and light intelligent ballistic grade sunglasses are made in partnership with ESS.
The new digital layout is easy to use and should make finding the right Transitions lenses for your patient a breeze!
Looking for the classic Transitions Availability Chart? CLICK HERE
Need more information on Transitions lenses? CLICK HERE
Looking for more lens add-ons? CLICK HERE