NOW AVAILABLE: Transitions XTRActive Polarized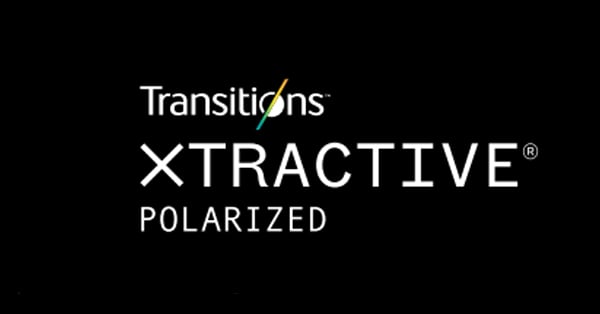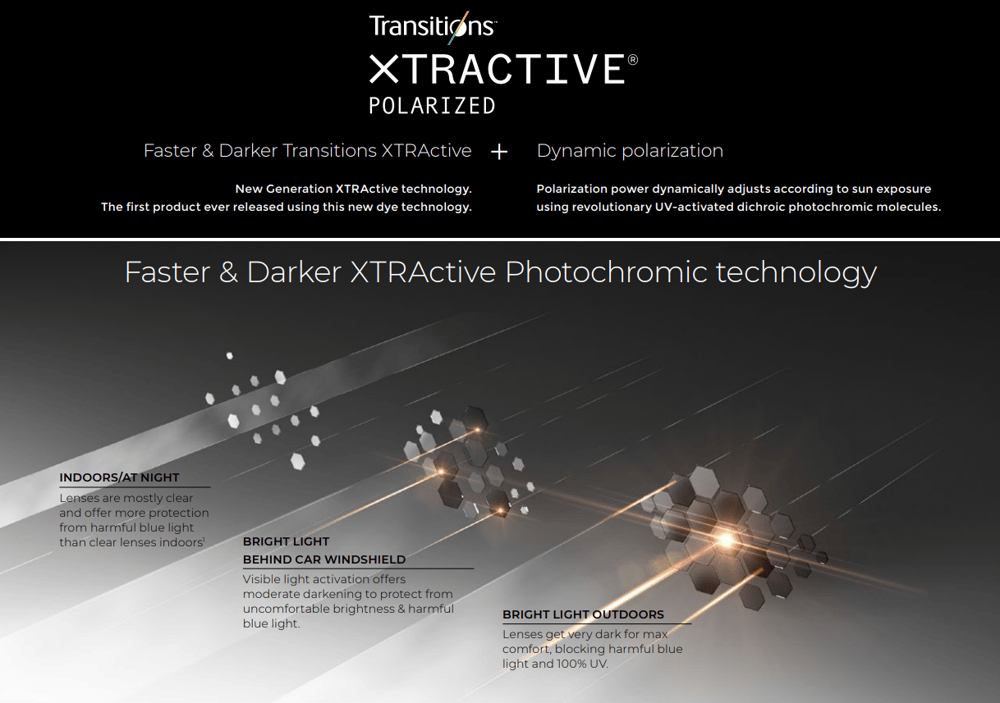 Transitions in partnership with Younger Optics have just introduced a revolutionary new photochromic polarized product. By combining all of the benefits of the proven XTRActive Transition product with Polarization your patients now have a product that performs like no other.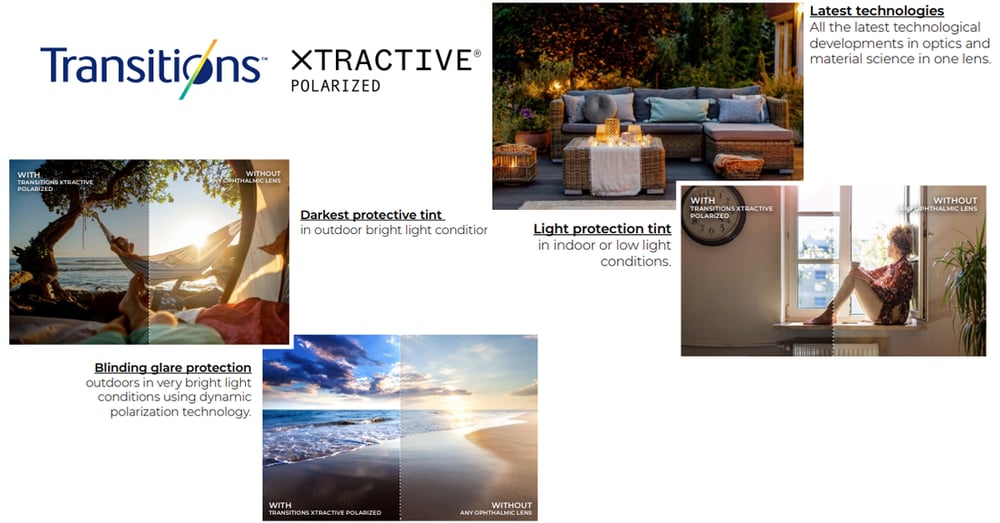 The new XTRActive Polarized is the only and best ever clear to polarized lens. It took over 15 years to develop and represents a breakthrough in vision quality by combining the latest Transitions photochromic technologies with dynamic polarization.
The

XTRActive Polarized

will be replacing the current

Transition Vantage

and outperforms the Vantage in all areas. This is the first

true clear to Polarized

sun lens to hit the market.
Here is how it works: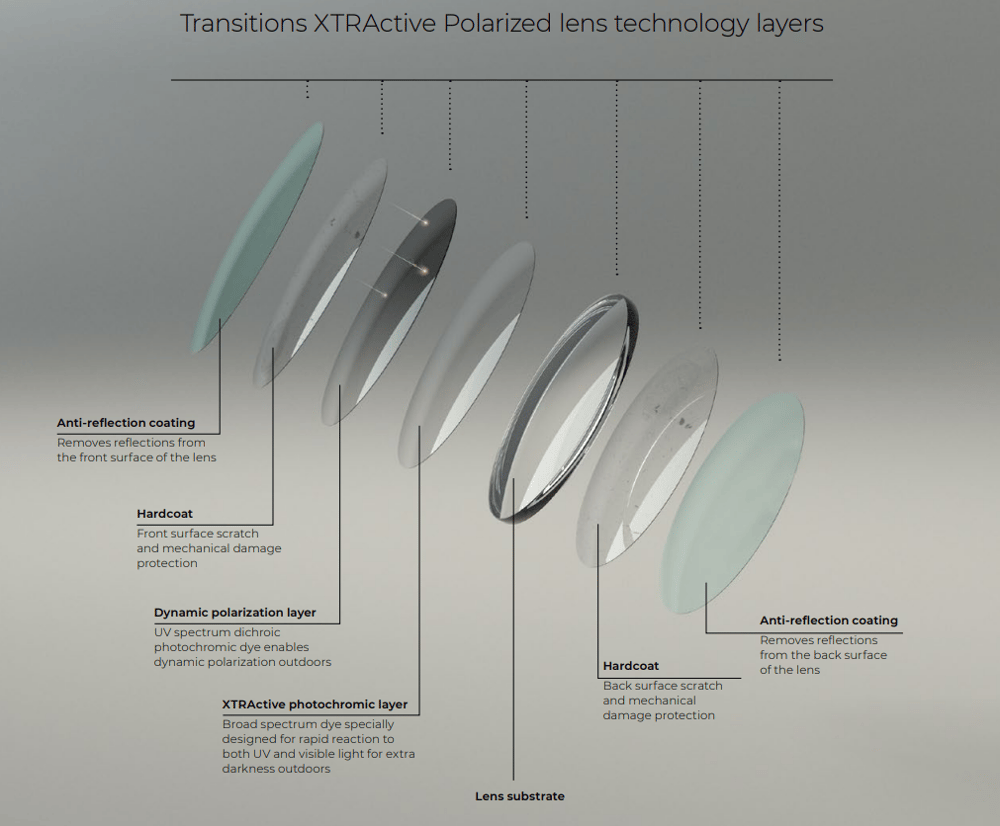 Indoors – Transitions XTRActive Polarized lenses are designed to have a hint of tint inside to protect against harsh indoor light. This also helps in decreasing harmful blue-light exposure.
Behind the windshield of the care – Just like the traditional XTRActive lenses, XTRActive Polarized will moderately darken without polarization. This reduces bright light while driving.
Outdoors – XTRActive photochromic dyes enable the lens to achieve extra darkness in bright sunlight conditions. In bright out conditions, dynamic polarization allows the lens to reach around 90% polarization efficiency when the lens is at its darkest state of activation.
Please keep in mind that photochromic and polarization variation is influenced by temperature, UV exposure, and lens material.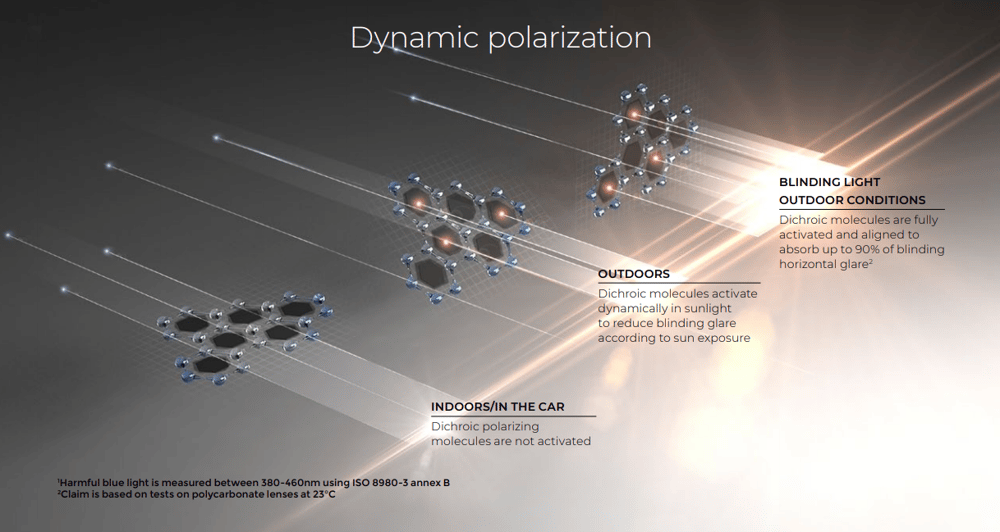 With the upgraded XTRActive technology your patients will experience a faster and darker photochromic lens. Transitions XTRActive plus Dynamic Polarization is the first product released using this new dye technology. Polarization power dynamically adjusts according to the sun exposure by using revolutionary UV-activated dichroic photochromic molecules.
All of this gives your patient a mostly clear indoor product. Offering moderate darkening while driving. Outdoors they will have a lens that gets very dark for max comfort. Along with 100% UV protection and harmful blue light reduction in bright light conditions.
Wearers tests reported high rates of satisfaction including a 100% overall performance satisfaction and satisfaction with rate of change from indoors to outdoors. In what I believe is the most important stat, is an almost 90% satisfaction with glare reduction. This shows the effectiveness of the polarization.
Material options of CR39, Poly and 1.67 and are available in SV and most digital progressive designs.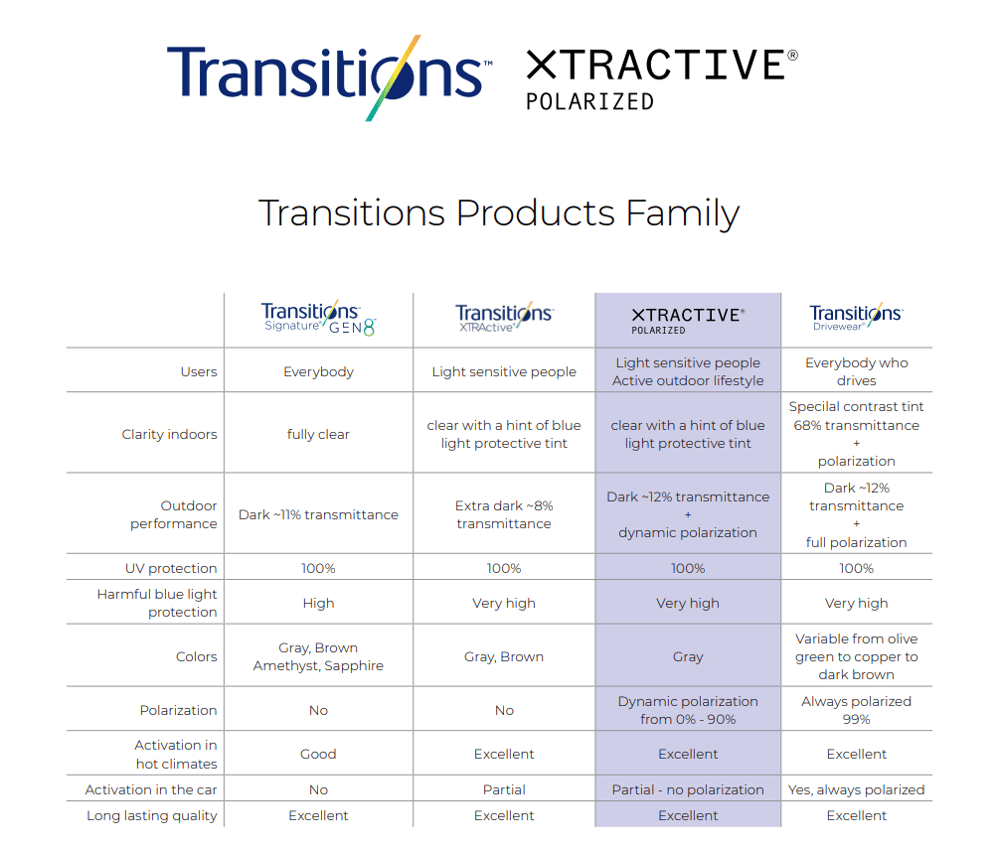 CLICK HERE for the latest on Transitions XTRActive Polarized availability and pricing.
CLICK HERE for the Transitions XTRActive Polarized Sales Aid.
CLICK HERE for a digital download for the Transitions XTRActive New Generation & XTRActive Polarized Poster.
CLICK HERE to learn more about lens add-on options.