Transitions XTRActive New Generation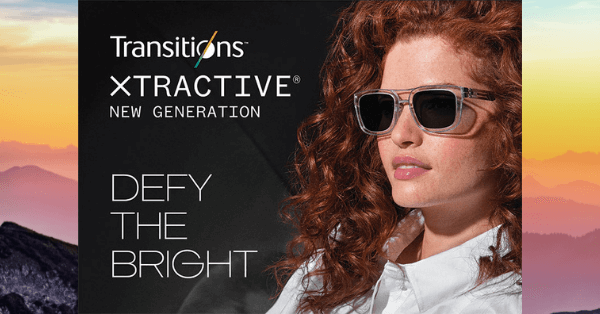 Following up on the huge success of the new XTRActive Polarized lenses, Transitions will be launching the new XTRActive New Generation technology. We'll take a look at availability, features, and the expected launch date in this blog.
The Transitions XTRActive New Generation, along with expanded availability of the Transitions Polarized lenses, will officially launch on October, 13th 2021. This should allow your practice plenty of time to prepare for these new products along with the phase out of older products.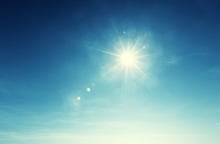 First and foremost, the Transitions XTRActive New Generation will be taking the place of the current Transitions XTRActive line, while the Transitions XTRAcive Polarized will be replacing the Transitions Vantage line. So what are the benefits of these new technologies for your patients?
These lenses will provide patients with the best extra darkness and the best extra light protection in the clear-to-dark photochromic lens category. They achieve up to a 35% faster fade back speed compared to last generation, and level 2 darkness in the car with visible light activation.
They are also the only photochromic lens currently on the market to achieve level 3 darkness at 95°. This is all thanks to the newly formulated extra powerful dyes along with the latest matrix technology.
They will be available in a wide range of lens designs and materials including CR39, polycarbonate, trivex, and 1.67 high index. Colors at launch will include gray, brown, and graphite green.
CLICK HERE to download the Transitions XTRActive New Generation availability chart for Essilor lenses.
CLICK HERE to download the Transitions XTRActive new generation sales aid.
Our freeform digital house brand PALs (Heritage & Legacy lenses) will also have full availability at launch.
Also launching on October 13th, 2021 will be the full availability of the new Transitions XTRActive Polarized lenses for Essilor and Varilux lenses. Many of our customers have loved using our house brands PALs with this technology earlier this year and will be excited to see more lens design options now available.
These lenses provide patients with the only and best polarized photochromic lens on the market. They are 2x as fast to fade back to clear compared with the old Transitions Vantage. When not activated, they are almost completely clear, and once fully activated, they provide patients up to 90% polarization efficiency and extra darkness.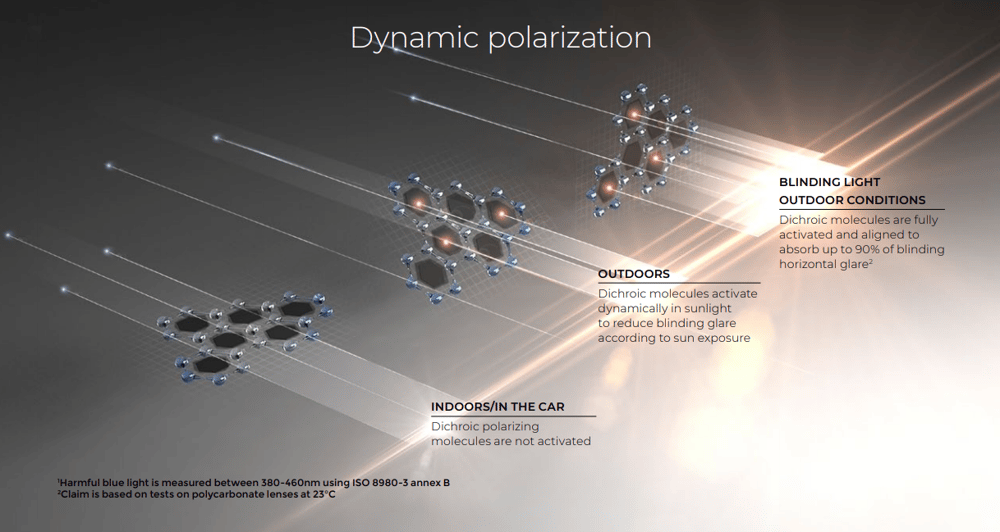 All of this is achieved thanks to a proprietary multi-layer matrix of XTRActive dyes that provide extra darkness along with dichroic dyes allowing for polarization.
Transitions XTRActive Polarized lenses availability will include most back-side designs. Material availability will include CR39, polycarbonate, and 1.67 high index in gray.
CLICK HERE to download the Transitions XTRActive Polarized availability chart for Essilor lenses.
Full pricing is now available for IcareLabs Heritage & Legacy lenses along with most name-brand lenses including Varilux.
CLICK HERE for the Transitions Xtractive New Generation & Xtractive Polarized Poster.
Looking for more information on Transitions lenses? CLICK HERE
Need more information on polarized lens options? CLICK HERE
Want to find out about all the latest lens add-ons for the optical industry? CLICK HERE