The Transitions Eyeglass Builder Will Help Your Patients And Practice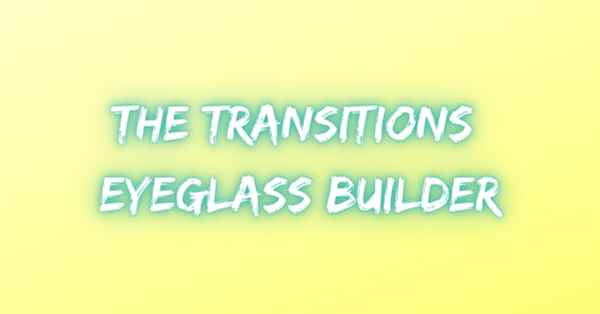 Following the breakout success of the Transitions Style Colors and Transitions XtrActive Style Mirrors and building up to the release of the new Transitions Gen 8, Transitions Optical has launched an exciting new Eyecare Provider (ECP) tool that can help your patients.
The Eyeglass Builder is a free website for your practice that can help guide your patients to the lenses and frames that will best fit their vision needs and lifestyle.
This pre-built website can even be customized with your practice's branding and contact information to help drive even more business through your doors.
By going to the Eyeglass Builder ECP page, you'll be able to complete the simple setup process in 6 easy steps. For practices with multiple locations, you'll be able to have an Eyeglass Builder connected for each location.
You'll be able to customize your practice's information to ensure patients have a completely branded experience including a custom URL for your practice (subject to availability).
Once you setup your admin contact information you'll be able to upload your company logo along with custom messaging which can be updated at any time. You also have the option to include your company website to help drive traffic back to your website if you wish.
Once completed, your practice receives 3 huge benefits:
1) Online presence found via all major search engines like Google.
2) A built-in pre-qualification questionnaire that can be sent to patients prior to their appointment which can help maximize efficiency when dispensing.
3) A tool at your practice for patients to utilize while waiting for their appointment or browsing. Patients can be directed to your custom page via their smartphones or with available tools at your practice.
The Eyeglass Builder is a fantastic tool that you will not only find to be very user friendly, but will also help increase your optical sales with no out of pocket expenses to you!
IcareLabs highly recommends all ECP's utilize this as an easy way to have needs-based questions with your patients.
For more information on Transitions lenses, check out the Transitions page in our Resource Center.