IcareLabs & Your Practice In 2023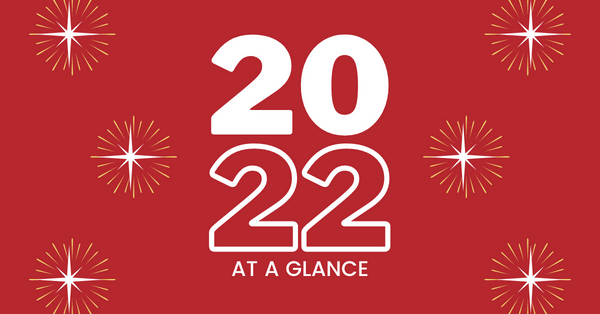 Another year down and many great lessons learned over the course of this past year. We've completed several equipment upgrades and fine-tuned numerous processes within the lab itself. Along the way, we've zeroed in o areas for improvement in the New Year. Let's take a look at what we learned and what it all means for us heading into 2023.
As mentioned in my end of 2021 blog last year, we entered 2022 with a focus on continuing to provide Value+Quality+Service to all our customers. On top of that, I made the conscious decision to challenge the company with a new mantra and an overall goal.
No Job Left Behind
So in that spirit, one of the very first things I asked our team to focus on was our turnaround time and to better manage the outlier jobs. These jobs are simply jobs that for one reason or another fall out of our regular production flow.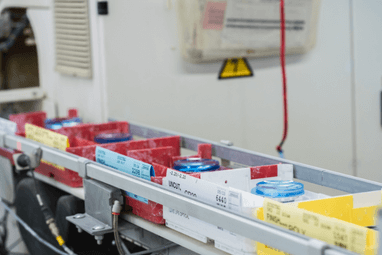 To start, I worked with our Operations team and set turn time goals based on job specifics. Once we had a goal set, I worked with my brother, James Payne (our own IT guru & VP of Technology), and set up detailed tracking. In January of 2022, only 74% of our jobs were getting out the door on time. In November, our on-time percentage had jumped up a full 10% to just under 85%. Increasing our on-time percentage by over 10% was no small feat and I can't express how proud I am of everyone on our team as they are the ones that made this happen.
We've implemented much more granular tracking capabilities within the lab to track jobs from start to finish. We now differentiate between our WIP and on-time percentage. If a job gets stuck or hung up, dedicated members of our team prioritize getting it moving again. On the back-end, we upgraded our old job report to notify the team every 4 hours. This has not only greatly increased eyes on your work, but also allows us to have a better view from top to bottom of where jobs are at all times.
The Easiest Lab To Work With In The USA
Our continued goal is to become the easiest lab in America to work with. A consistent message I heard from our account management team is that our customers were asking for a simplified credits/remake process. So earlier this year we changed most of our policies from the ground up. Gone are the convoluted credit forms and having to return lenses for things like AR warranties or a doctor's Rx change.
We now offer a one-time, no-hassle remake or redo for qualified lenses for their first 90 days. This new process is available directly on our recently upgraded myIcareLabs customer portal. You don't even have to call us to get these started. With a few simple clicks on the job status screen, we will get these jobs started for you immediately.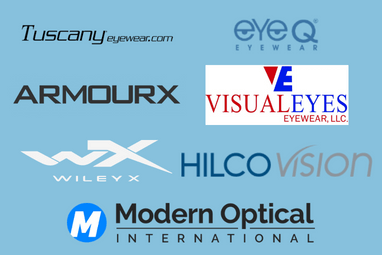 For the back half of 2022, we've expanded all of our supply frame options to now include Modern Optical, Visual Eyes, and Eye Q. For our customers utilizing these frames, they receive faster turnaround time since we keep these in stock with shipments arriving daily directly from the vendors. This means quicker processing and reduced shipping costs for our customers.
We also expanded our safety frame options to include Guardian, ArmouRx, On-Guard, Tuscany Eyewear, and Wiley X. Safety work can now be processed faster than ever before without ever having to send a safety frame to us.
New Equipment & Lab Upgrades
In terms of new equipment, this past year we've installed 2 major upgrades, one in our surfacing department and one in finishing. The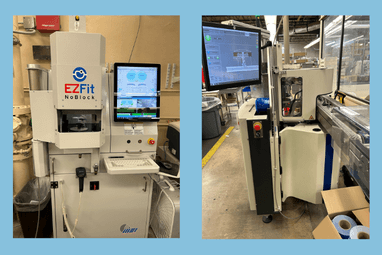 DAC TAPEMatik Auto-Taper can tape up to 130 jobs per hour with one operator compared to the 55-per-hour average we previously had. We also installed the MEI EZFit Edger which can edge without the need of a finish block. This new edger has greatly increased our in-house capabilities for steep wraps, bevels, and drill mount jobs.
In our AR room, we've updated our 1200 chamber to now process the new Crizal Easy Pro and Crizal Sapphire HR formulations here in-house. This continues our commitment to provide our customers with the latest AR coatings.
The IcareLabs Family
Lastly, I want to update you on our team members. They are more than just our team members. We lovingly refer to all of them as the Icare Family because that is truly what they are, from our new apprentices to our longest-tenured employees that have celebrated more than 40 years with us this year! We have come out of the other side of the staffing issues experienced through the pandemic and became stronger as a result of it.
We're proud to offer one of the most competitive compensation and benefits packages in our area. I'm a firm believer in training staff to think for themselves and become more than "button pushers". We strive to train our team to become operators. We've also added clear career paths for our employees which gives them the opportunity to advance within the company. Last year, more than half of our staff had been with us for less than 1 year. Now, most of them have been with us for just over or close to 2 years, giving us a much more seasoned team to complement our senior staff that shares their wealth of knowledge with them daily.
Our customer service team (who is amazing by the way) is also fully staffed. The dedicated account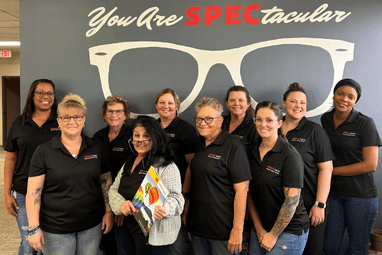 management team is here for you if you need a job rushed out of the lab asap or if you need recommendations on any of our lenses or coatings for your patients. They also work with all of our accounts to help them grow.
Heading into 2023, I can't express how grateful I am that the Icare Family has risen to the challenges presented to us over the last few years. If there is one thing consistent in life, it's change. I know we will have surprises in the New Year. I'm 100% confident that our team will meet them head-on. We will continue our "no lens left behind" mindset and I'll also have a new challenge for them so that we can always meet the needs of our customers.
To all of our customers, whether you started with us this year or have been with us for years, I'd like to personally thank you from the bottom of my heart. We literally would not be here without your continued patronage. To any ECPs that may be in the market for a new lab, what's holding you back from giving us a try? Click the button below and start the New Year with a lab that cares about your needs.