COMING SOON: Crizal Easy Pro & Crizal Sapphire HR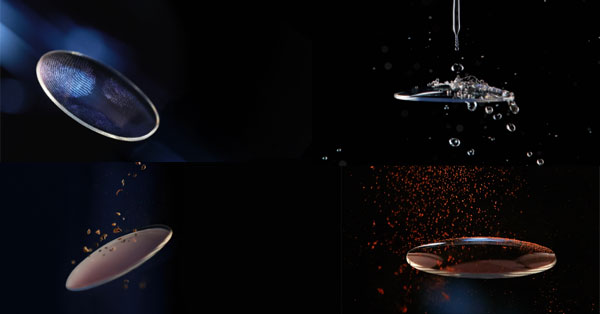 Crizal announced two new coatings with their Sapphire HR and Easy Pro. These new anti-reflective coatings will help you meet your patients' needs better than ever before. These anti-glare treatments include new technology within the trusted Crizal formulations that continue to improve the premium AR brand your patients know and trust.
Crizal Sapphire HR
The new Crizal Sapphire HR boasts improved light transmission which helps reduce ghost images and reflections. They offer the same level of transparency as Crizal Sapphire UV and still include their new patented 360° Multi-Angular Technology which prevents light from hitting the lens at every angle.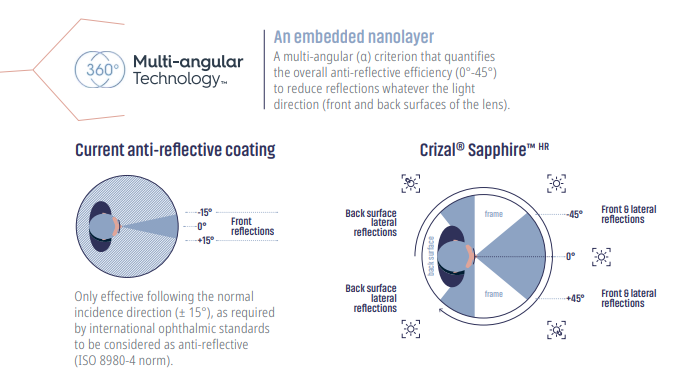 As those who have used Crizal Sapphire coatings in the past know, the new Crizal Sapphire HR coatings will continue their industry-leading capabilities with scratch resistance, smudge repellent, water repellent, and dust repellent capabilities. They'll also carry an E-SPF35 rating to help patients protect their eyes from harmful UV rays.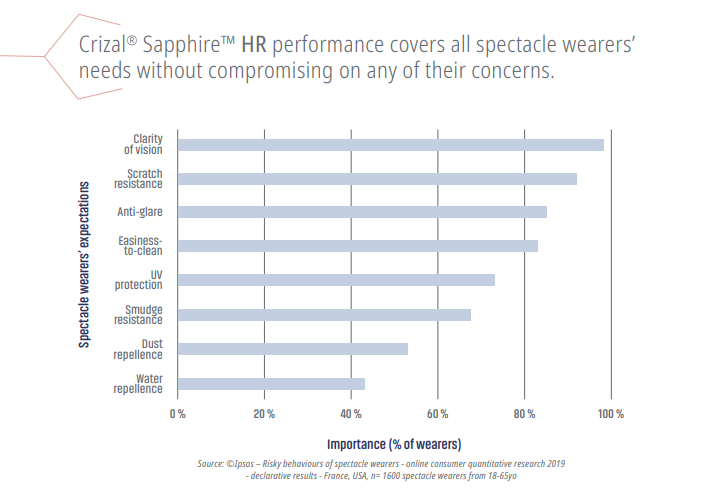 The anti-static layer prevents dust particles from staying on the lenses. Scratch and heat resistance has been improved over previous versions. This is thanks to 4 key components in the new formula:
New thickness ratio of both high and low-index layers providing better resistance to abrasions
Processing optimization which increases the density of the final stack
New stack composition which includes high-resistance technology that combines specific oxides known for their resistance against dust, scratches, and temperature
Smooth fluorinated molecules provide a consistent pattern in the coating which provides superior smudge repellence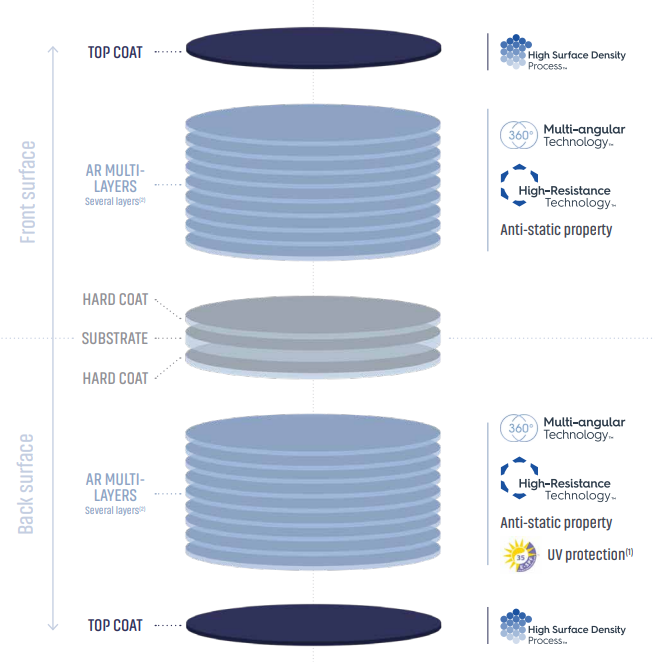 Expected launch for the USA is Q3 of 2022. For more info on the new Crizal Sapphire HR, download the brochure and white paper.
Crizal Easy Pro

The new Crizal Easy Pro is an upgrade to the trusted Crizal Easy formulation that now provides enhanced protection from fingerprints, smudges, scratches, water, and dirt while still providing UV protection. Of course, patients will also still receive the tried and true anti-glare they know and love.
Geared towards patients with an active lifestyle that don't want to sacrifice quality while still not breaking the bank, Crizal Easy Pro is the perfect premium branded AR to meet their needs. The new formulation means patients won't need to clean the lenses as often and their lenses will be easier to clean when they do. The 4 main benefits are:
Easy to clean
Scratch resistance
Anti-reflective
UV protection
More info will be available as both of these new products launch here in the USA. We are also proud to announce IcareLabs will be one of few labs available to process both Crizal Sapphire HR and Crizal Easy Pro in-house! Keep an eye on our blogs and monthly newsletters for exact dates!
Looking for more info on Crizal coatings? Check out our Crizal Resource Center page.