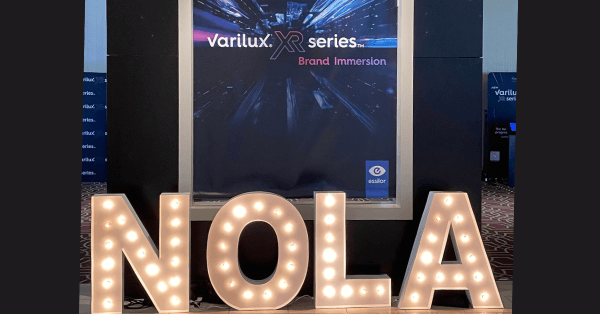 This blog is coming to you live from New Orleans, LA. where Essilor is kicking off training to sales teams on the upcoming Varilux XR and XR track. Tina Farrell, our Director of Account Management, and myself were fortunate enough to be part of these trainings.
I have been around the industry for a long time. Some would even say a long, long time, which I could not argue. Having been the sales guy with IcareLabs for going on 18 years I have been to my share of new product launches from multiple vendors. This one felt very different from others in the past.
As most would agree, Varilux has turned out some great designs in the past and many would say they have the best designs. With the overall success of the aging but still popular, Comfort design, it is hard to argue their success over the last 20+ years. The Physio has dominated sales in that category and digital enhancements to both Comfort (W2+ and Max) and Physio (W3+) have improved the already viable designs.
It has been six years since the launch of the X Series. I know, hard to believe that many years have passed. The X Series has performed well in the market and is truly a successful design for Varilux.
So here we are today with the launch of the Varilux XR just a few weeks away. As I mentioned, this launch feels different. There is confidence in the air that Essilor R&D has created something different, something special, and something that will actually change the way presbyopes see. This just might be the perfect progressive or as close to perfect as we can get today.
I am going to fall very short in explaining the technology that went into designing the XR but will do my best.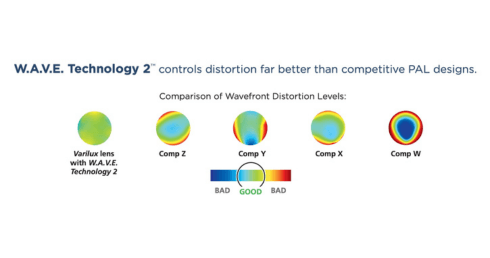 Utilizing some of the proven technologies found in X Series like Nanoptix®, Xtend®, and W.A.V.E. 2® Technology, Essilor has added XR-motion™. This is the game changer and is powered by artificial intelligence. While AI is a buzzword in the industry right now, Essilor has taken it a step above by using over a million data points as a base.
This created a digital twin with which they could begin predictive modeling. This information includes visual acuity loss, postural efforts, head movements, head/eye coordination, and gaze behaviors, which then becomes a 'Visual Behavior Profile.' This allows for a very accurate predictive visual behavior model for each prescription.
Let me share with you an analogy that was shared with me to help you understand the difference in Varilux use of artificial intelligence vs. competitors:
You are going on a road trip and loading your destination into Google Maps. Your phone will give you turn-by-turn directions along with up-to-the-minute routing changes based on traffic patterns, accidents, and bottlenecks. This is done through real-time data input from thousands of other drivers on the road.
You could also get on your computer, type in your destination on MapQuest (remember those days), and print it out. While the turn-by-turn directions will get you to your locations, you will not have live updates. If there is a wreck or heavy traffic, you will not know it until you are in it. Both methods start with the same start and finish location, but one supplies detailed information while the other is very basic.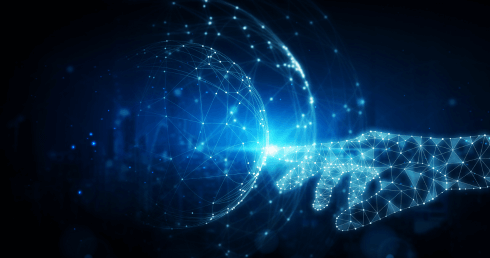 This is how Essilor's AI compares to its competition. The XR Series relies on over 1 million data points to create the "perfect" progressive lens.
On a personal note, while I have not yet tried the new XR, I was able to speak with a few friends from Essilor who were wearing them and their excitement was evident. Keep in mind that I have attended many new lens launches over the last 18 years and have been served the Kool-Aid before, only to be unimpressed as the product was not all that was promised. Again, this feels different. I am feeling this might be a game-changer.
XR-motion™ truly brings back binocular vision to your patient as both lenses work in tandem, regardless of where your patient is looking through the lens. Binocular vision has been robbed by most progressive wearers when they look away from the center of the lens. Only with XR will your presbyope patients have the binocular vision that they experienced in their youth. They will experience more comfort, less eye fatigue, and high visual acuity just like they did when they wore single vision.
The XR Series will be available in two different offerings: The XR Series and the XRtrack. Both will be available with FIT measurements if desired.
XRtrack will utilize a tablet-based program that tracks the patient's eye movements, posture, and gaze. This two-minute test will provide information that will be used to help create a customized set of lenses. I am not sure how all of this will work, but happy to say that you will not need to buy an expensive piece of equipment. You will just need an iPad with the XRtrack application installed.
Essilor has done a ton of wearers tests and the results are amazing:
90% perceived instant sharpness at all distances, even while in motion
95% felt confident or very confident while in motion
95% felt adapted from the first day
We do know that pricing will be a bit more than the current X Series pricing. If it is everything they say it is and is the perfect progressives lens, then it would be worth every cent. How do you put a price on giving your presbyope patients a lens that will make them feel like they are back in their 30s? Based upon a 2-year life span, an $800 pair of glasses breaks down to just over $1 per day. You have customers spending 7 to 8 times that a day on a cup of flavored coffee.
Rest assured that our resource center will be updated with everything you will need. I look forward to trialing a pair for myself and don't worry, I will share the results.
Check out our official Varilux XR launch blog for free downloads on this new lens.