The Varilux Comfort Max Progressive Lens Launch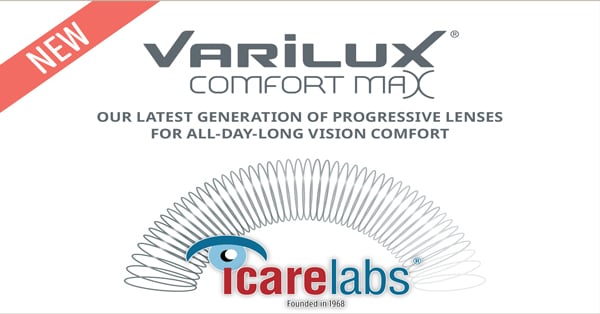 A few years back Essilor shook things up a bit when they released the Comfort 2. There was a bit of panic that they might have made changes to the #1 selling PAL in history that might have not worked. Years later we all know that the changes made to the Comfort not only worked but worked well.
Back then Essilor looked into the "visual needs" changes that had occurred over the previous 10-15 years. Through this research, Essilor was able to update to venerable Comfort design to meet the needs of our modern patients.
Well, they have done it again with the launch of the Varilux Comfort Max. As our lifestyles continue to change so do the needs of our presbyopic patients.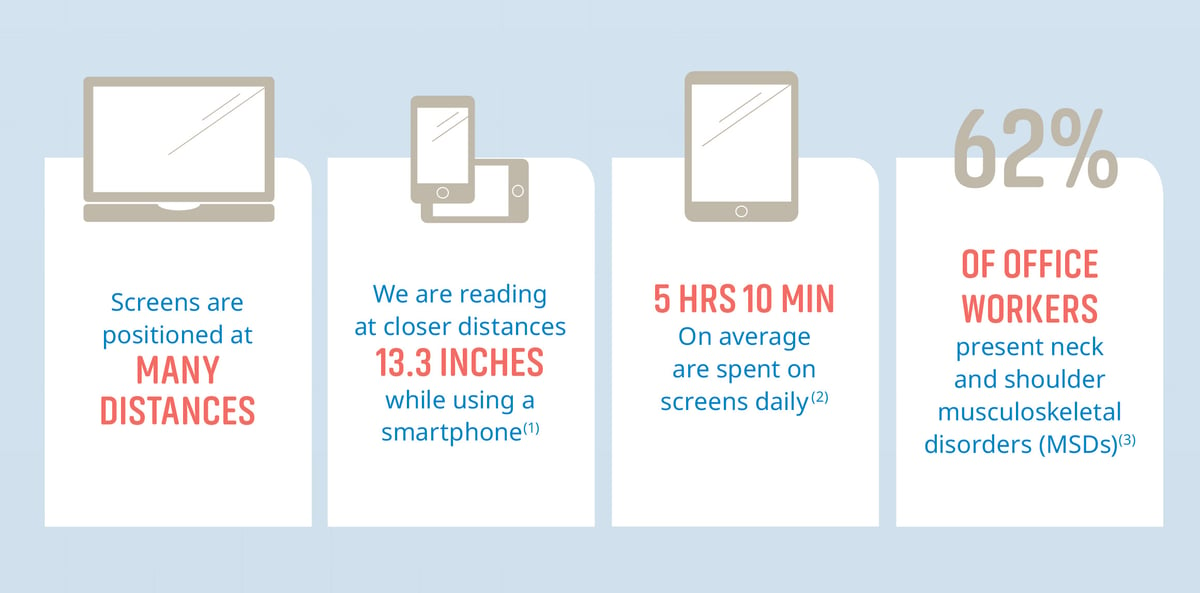 Today's presbyopes are often utilizing multiple screens at different distances. They are reading at closer distances on their smartphones, averaging just over 13 inches. Studies show an average of just over 5 hours a day spent on screens per which leads to over 60% of office workers having neck and shoulder issues.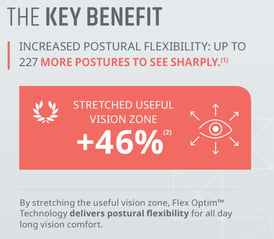 Essilor took all this information and figured that they needed to come up with a lens that would offer more flexibility. The Varilux Comfort Max lens design gives your patients a progressive lens that adjusts to your patients' unique natural posture. While most progressive lens designs dictate your patients' posture for near and intermediate vision, the Comfort Max opens wider fields of view in these zones allowing for more comfort and natural posture.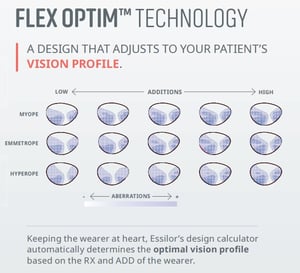 Flex Optim Technology keeps the wearer at heart, creating a design that adjusts to your patient's visual profile. Essilor's design calculator automatically determines the optimal vision profile based upon Rx and Add of the wearer. This ensures that the progression profile is customized to the wearer placing the power where it provides the most useful vision.
Your patient will get a wide range of gaze directions and postural flexibility which will lead to vision comfort all day long. This is done by stretching the useful vision by up to 46% in the near and intermediate zones. More flexibility in posture allows for less neck and back strain throughout the day.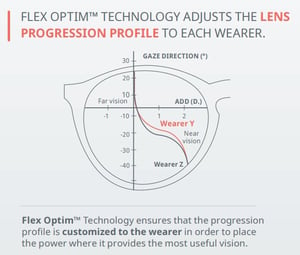 The new Varilux Comfort Max lenses utilize a new design approach that focuses on maximizing the patient's useful vision zone. They wanted to design a lens that went beyond only providing the largest area of 20/20 vision (normal resolution).
This approach, which they have dubbed 20/Happy Vision, goes beyond the normal resolution to take into account factors such as contrast, binocularity, and distortion.
As with all recent Varilux launches, Varilux Comfort Max is powered by LIVE OPTICS. This is simply Essilor's real-world testing done by real wearers. The results were more than impressive.
First-time progressive wearers achieved the following results:
90% wanted to continue wearing it.
83% adapted without even thinking about it.
91% experienced daily satisfaction.
8 out of 10 experienced progressive wearers rated the Comfort Max as exceptional in near, intermediate, and far vision along with experiencing easier adaptation.

The Comfort Max lenses are ready to order on launch day August 11th, 2020 and processed in-house at IcareLabs. Let your patients experience Max comfort today!