The Transitions Virtual Try On Lets Patients Try Before They Buy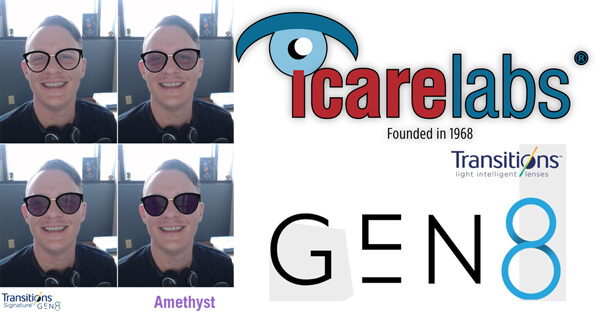 Transitions now offers an amazing and easy-to-use tool to show your patients the numerous color options they have for next pair of Transitions lenses. Being user-friendly and only requiring a computer (or smartphone) with a webcam, your patients can now try before they buy!
Many patients have been familiar with the classic Transitions lenses in grey and brown, but with the success of the new Transitions Style Colors and the new Gen 8 technology, not all patients are aware of how these look. This new tool aims to solve this exact issue by letting you and your patients "try on" these options virtually!
Using it is easy. Simply go to the Transitions Virtual Try On website with your internet browser. You will need a webcam hooked up to your computer and you'll also need to allow the page access to the camera if prompted by your browser. From there, you can choose from 14 different frame styles that will appear on the screen. Keep in mind, the site only works with these selected virtual frames and will not work with frames a patient is wearing.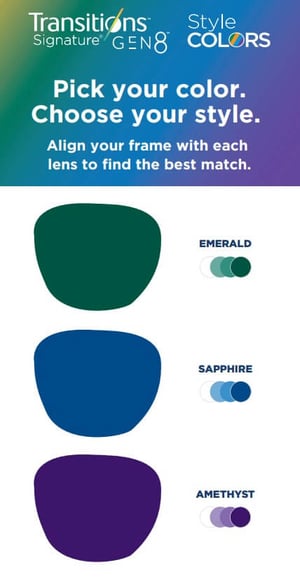 Then you can select grey, graphite green, brown, emerald, sapphire, amethyst, or amber for the Transitions lens color. After choosing a color, the virtual glasses will go from clear to the activated color. You can even use the slider under the picture to manually go from clear to activated.
The website also gives you the ability to take a picture giving you 4 frames with different stages of the activated lens color that you can download and save to give to your patients.
This exciting new tool is very user friendly and an easy way to help boost your Transitions capture rate. This will, of course, help boost your overall sales! It's a fun tool with lots of possibilities. You could even try it yourself or have your employees do a Transitions virtual photo shoot to post to your company's social media pages or website for a fun and easy marketing idea.
You can also use this with a smartphone for an easy way to engage with patients on your showroom floor. Take a few minutes to get familiar with the website today and add it to your bookmarks for easy access when you need it.