Polarized Rx Eyewear For Your Patients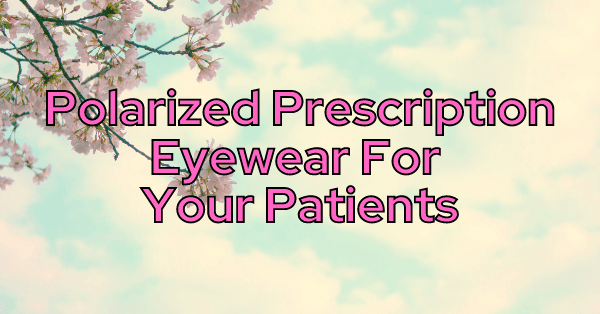 Summer is right around the corner. Many states across the USA reopening (yay). There has never been a better time to offer prescription polarized sunwear for your patients. Understanding how to communicate the benefits of polarized glasses to your patients is the key to dispensing their next favorite pair of sunglasses.
Have a look at the available options here at IcareLabs and questions you can ask them to find the best pairing for your patients.
First, here are the basics. What is a polarized lens? The AAO defines polarized lenses as "having a special chemical applied to them to filter light. The chemical's molecules are lined up specifically to block some of the light from passing through the lens."
Think of light from the sun as a straight line coming down from the sky. Now think of that same line bouncing off of a surface here on earth (like a body of water or pavement) that creates a reflection that is no longer straight. Simply put, polarized lenses do not allow the non-straight lines to be seen through them.
So now that we know the basics of polarized lenses, what options do you have available for your patients to choose from?
KBco Polarized and Mirror Polarized Lenses
KBco polarized lenses offer 12 polarized mirror colors, 3 matte polarized mirror colors, 15 solid polarized colors, and gray or brown gradient polarized colors. A huge benefit of KBco lenses is consistent colors. They arrive as pre-colored, semi-finished blanks that allow us to process them in-house for faster turnaround time.
KBco lenses are available in single vision, bifocal, trifocal, and house brand progressive lenses.
Refer to the 2021 KBco availability chart. Here you can view the complete list of material options.
Questions to ask your patient:
Are you hard on your sunglasses? Do you need them as quickly as possible?
If the answer is yes to either, then KBco polarized lenses are their best option.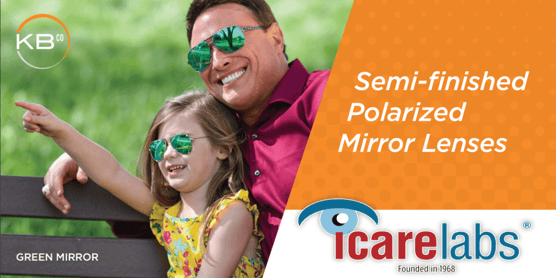 Essilor &
Coppertone Polarized Lenses
Essilor polarized lenses are available in CR39 and polycarbonate material options. Lens styles include single vision, flat-top 28 and 7 x 28, select Shamir lenses, IcareLabs Heritage and Legacy house PALs, and the Seiko FX3.
Coppertone polarized lenses are only available in polycarbonate material options with the same lens availability as above.
Question to ask your patient:
Is a brand name they trust vital to their purchasing decision?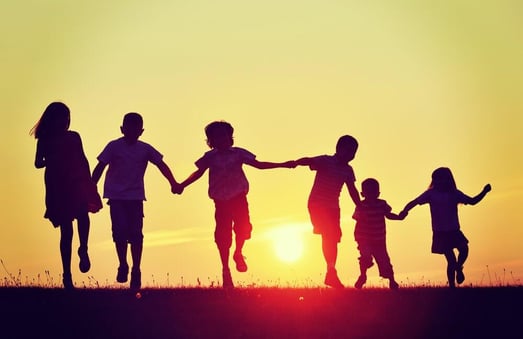 Polarized Photochromic Lenses
Polarized photochromic offers the best of both worlds with clear lenses that activate by UV rays to a darker polarized lens. There are three versions which include:
Knowing the differences and benefits of each can help you guide your patient to the best option available for their lifestyle. Vantage is being phased out with the new release of the XtrActive Polarized. Drivewear is the best option for patients that need lenses to activate behind the wheel.
Material options for Vantage and Drivewear include CR39, polycarbonate, and trivex. XtrAcvtive polarized material options include CR39, polycarbonate, and 1.67. All three options are available in SV, branded PALs, and house brand progressive lens options. XtrActive polarized is currently unavailable in flat-top.
Questions to ask your patient:
Do they go from inside to outside frequently? Do they need photochromic lenses that activate behind a windshield?
Its also important to let patients know that as great as photochromic polarized technology is, they should still own a dedicated pair of polarized Rx eyewear as well.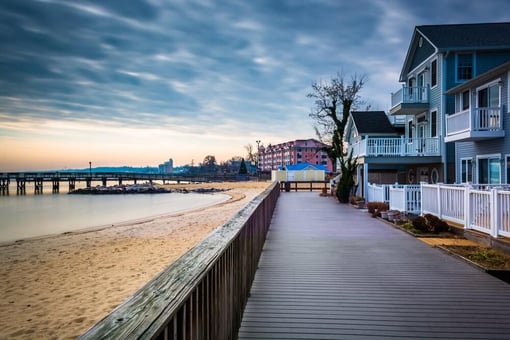 Polarized Gray C and Brown C
Of course, we also offer classic polarized lenses in gray or brown-tinted options. These have more flexibility with mirror coat options but as of the writing of this blog, we are seeing significant increases in turnaround time for these jobs that customers taking advantage of KBco mirrors are not experiencing.
Questions to ask your patient:
Are they looking for the widest selection of branded progressive lenses? Are they looking for the most budget-friendly option?
These have the widest availability in numerous material and lens styles across the board.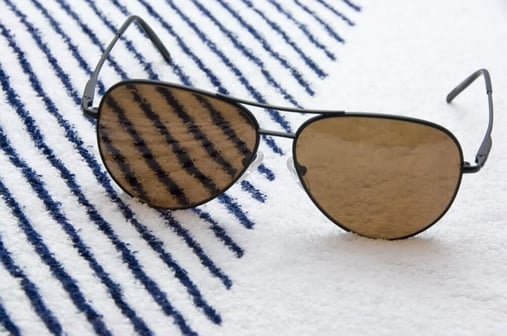 Polarized lenses are a great 2nd pair offering that will help increase your bottom line for your practice. Knowing the pros and cons of available options goes a long way when recommending them to your patients. We always suggest ECPs educate and advise patients that a good pair of polarized sunglasses will make a huge difference in their quality of life.
If you'd like to see our full price list for all of the polarized lens options listed above, along with all of our other offerings, then click the button below.
CLICK HERE to view more information on all of our available lens add-ons.