How To Utilize KBco Polarized Mirror Lenses For Higher Optical Sales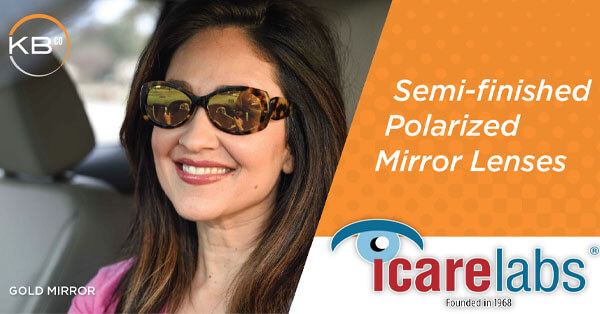 In 2018, the US lead the world in sunglass sales. These sales generated over $5.8 billion dollars in revenue.
A 2016 survey found that about 86% of Americans wear sunglasses on a regular basis but only about 12% of Americans wear prescription sunglasses.
Why are we not capturing a larger portion of this lucrative Sunwear market? Where are we missing out?
Over 215 million people in America wear Plano Sunglasses. While some are cheap frames, many are high-end designer or sports type of Sunwear.
Much of these higher-end plano sales are being driven by companies like Costa and Oakley who rely heavily on mirrored lenses.
I am convinced that much of why we don't sell more Rx Sunwear is because we are not offering the same options to our Rx patients as our competitors in the plano industry. Many ECPs will avoid offering add-ons like mirror coating because of fear of long turn time and inconsistency with the color.
We now have an option that gives you a consistent polarized mirror that can be processed in a couple of days.
Last year KBco, a long-time leader in polarized lenses, introduced their pre-mirrored polarized lens blanks. These offer consistent mirror color and fast turnaround time in a top-quality polarized lens.
Available in poly, 1.67, and a rainbow of color options. Because these come in semi-finished blanks with mirror already applied we are able to produce them in a couple of days in a variety of lens and design options. No outsourcing needed!
We offer the KBco Polarized Mirrors in single-vision along with freeform digital progressive designs including Shamir and our house brand Heritage and Legacy lenses.

Polycarbonate is available in 10 high-gloss mirror colors and 3 matte mirror colors. 1.67 has 4 gloss mirror options.
All mirrors are on a gray base except gold, red, and the matte sunny mist which will be on a brown base.

We even make these easy to order. Simply sign on to our easy to use customer portal at myIcareLabs.com then login to your account and go to the Rx order page. Under the "Material" drop-down you will find, as an example: Poly Polarized Mirror Blue (shown below) or Ultra-Index (1.67) Polarized Mirror Green.

Just choose the color you want and then pick out the design you would like to use of the available "Seg Styles" pictured above.
In many cases, we have the lens blanks in stock and will process these in a day or two. Backside AR options include Standard AR, IceAR and IceAR with Silk in-house.
If you have an IcareLabs account and need assistance placing KBco mirror lens orders, feel free to reach out to one of our knowledgeable account managers today.
If you'd like to join the Icare family or would like to request our full price list, then click the button below. One of our new business representatives will reach out to you within one business day. See the Icare difference for yourself!