Eyezen Lenses Can Bring New Patients To Your Practice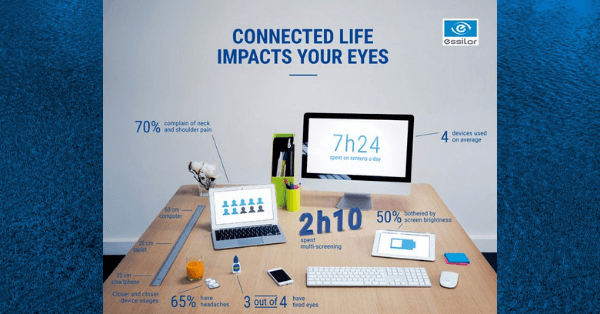 In 2015, Essilor launched the Eyezen+™ lenses giving patients across the world a better alternative to traditional single vision lenses in prescription glasses. These lenses are geared toward the modern digital lives of your pre-emerging presbyope patients to help provide eye relief due to eyestrain.
While it's hard for me to admit, this year I reached the point in my life where my phone, tablet, and computer became a challenge to see thanks to small fonts. I started noticing at the end of my work day my eyes were tired and I had to come to grips with the reality that I needed help. In what seemed like overnight, I had become a pre-emerging presbyope.

As I have recommended the Eyezen+ lenses to our customers over the last few years, I knew it was time to give in and get a pair for myself. The difference was amazing! My eyes actually felt fresh at the end of the day again. I believe the combination of the additional add power in the bottom for close vision, along with the blue light protection for harmful blue-violet light simply allowed my eyes to work less throughout the day.
With four options available, patients under the age of 17 to 45 or 50 can find great benefits form the Eyezen™ line, even if they don't need prescription lenses for vision correction yet, just like myself.

Eyezen™ lenses come with the Essential Blue™ protection built-in to the lenses themselves giving your patients up to 20% filtering of harmful blue light. You can also add Crizal Prevencia anti-reflective coating for even more protection which also provides your patients with a better overall experience.
As the world becomes more connected to our digital devices seemingly everyday, we're learning more about the blue light emitted from those devices (and even the sun itself) that can have long lasting effects on our vision. This means your practice is no longer restricted to just patients that need single vision or progressive lenses for vision correction!
This can help increase your optical revenue by being able to drive 2nd, 3rd, or even 4th pair options for the entire family. You can also help drive up revenue with targeted ad campaigns via the internet or social media on 1st pair sales for those looking for relief from digital eye strain resulting in "tired" eyes and/or light sensitivity.
Let's take a look at the Eyezen™ family of lenses and who is best suited for each option:

As you can see above, almost everyone can receive benefits from these lenses just like I did. Younger patients can greatly benefit from the blue light protection which will significantly reduce the symptoms they may be experiencing from digital eye strain. Often, these patients aren't even aware of these symptoms until it's brought to their attention.
Young adults and middle aged working professionals also tend to spend a significant amount of time in front of digital devices throughout the day. Not only will they benefit from the blue light protection, but getting the small bump in add power with the 1, 2, or 3 can also provide them with significant relief at the end of the day (I can attest to that).
So, if you're looking to help bring your practice into the 21st century along with attracting an entirely new segment of potential patients, then the Eyezen™ lenses should be something you seriously consider adding to your dispensing table.
Eyezen lenses also qualify for the any current manufacturer promotions being run to help drive even more patients into your practice.
Your patients will notice the difference with their eyes and your practice will notice the difference with its bottom line!
CLICK HERE

to download the Eyezen™ availability chart.

CLICK HERE

to download the Eyezen™ dispensing guide.

CLICK HERE

to download the Eyezen™ cut out chart.
IcareLabs is proud to be able to produce Eyezen lenses here in-house. If you already have an account then talk to your account manager today about adding the Eyezen™ lineup to your practice.
You can also go to our Essilor Resource Center page to find all of the ECP tools you'll need to dispense Eyezen lenses. We also have the new Eyezen Start lenses now available too.
If you don't have an account with us then click the button below to give us a try and see the Icare difference for yourself!
Looking for me lens designs? CLICK HERE
Want to learn more about Eyezen Start lenses? CLICK HERE