Safety Glasses Made Easy With IcareLabs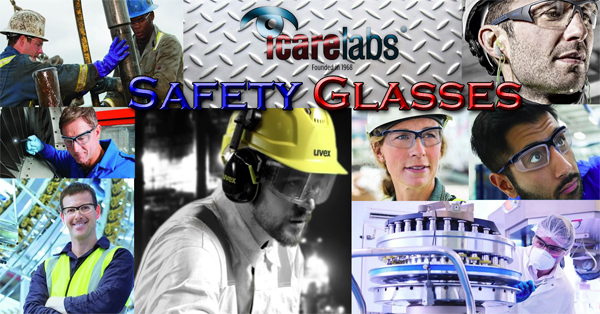 What are you doing with your safety business? While many opticals utilize industries in their area to sublimate sales others seem to shy away from safety work.
ANSI prescription safety glasses are required at many businesses and worksites. A vast number of jobs across the country require their employees to wear specialty safety glasses to be able to do their job safely every day.
Safety work is not that much different from regular work as long as you let us do the job complete. We will surface to safety thickness, edge and mount into a Z87 safety frame. We also stamp lenses showing that they are ANSI approved (at no extra charge). We even offer multiple lines of supplied safety frames right on our website.
Safety work could not be any easier. If your optical isn't offering this for your patients then you could be missing out on sales. Let's take a look at how easy it is to order safety jobs with IcareLabs.
The first step in making sure your optical is ready to offer non-prescription and prescription safety glasses is to have a selection of approved safety frames ready for your patients to try on. We offer Uvex, Titmus, and Guardian safety frames. You can CLICK HERE to view the Uvex/Titmus catalog or CLICK HERE to view the Guardian Safety Rx catalog.
Talk to your Icare account manager to get demo frames for your showroom floor. By using these brands you'll be able to process safety jobs quicker by using our supply frame option with our myIcareLabs customer portal. Our safety frames start as low as $10!

When placing the Rx order, you simply select the appropriate industrial thickness required as shown below: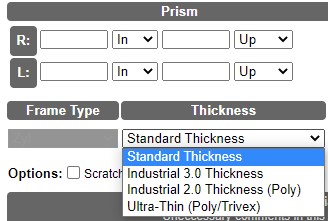 To be OSHA compliant, we are required to process all safety jobs as complete jobs. This allows us to provide the required safety stamp on the lenses as required by law once the job is completed. This stamp means your patient knows they have a quality pair of safety eyewear to help them stay safe while wearing them.
IcareLabs DOES NOT charge anything extra for safety jobs. Your price is simply our standard edge/mount fees and the wholesale price of the safety frame if you select one from our frame offerings.
Safety glasses are available in single vision, progressive, and bi/trifocal safety lenses. They are also available in the full range of materials and options such as no-glare (AR) coatings, blue light protection, polarized, etc. Adding safety frame options to your optical is a great way to drive additional sales into your office.
Talk with local contractors, construction workers, electricians, factories, local sports teams, and more to setup or bid on contracts for their safety work. These allow you to build a steady stream of revenue you can depend on.