Non-Traditional Marketing For Eyecare Professionals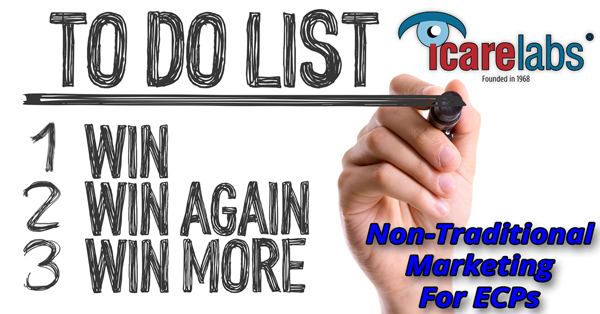 Here at IcareLabs we strive to provide ECPs across the country not just with the best selection of high quality lenses for the best prices, but also with tools to help elevate your optical business. We understand that when one optical does well, everyone in our industry benefits from it!
That's a big part on why we write these blogs and provide our Resource Center to all ECPs at no cost, regardless of having an account with us or not. Most opticals across the country are spending a good chunk of their budgets on various marketing techniques, but what are some non-traditional marketing options you could be using to augment your other marketing efforts?
Many of our long time readers/customers love our Marketing Boot Camp For ECPs eBooks which are still available as free downloads to all (book 1 and book 2 can be found at the links) and we recently covered the basics of social media marketing for opticals earlier this year. Tried and true methods of marketing such as recall cards or manufacturers promotions like NextGen should always have a good slice of your marketing pie.
Non-traditional marketing can not only be a great way to help increase your optical sales with new patients, but can also be a lot of fun!
Connect With Your Neighbors

As a business owner yourself, there is a high likelihood your business is located very close to other businesses. How familiar with them are you? Have you purchased or browsed their offerings? Is there a local eatery that you or your employees frequently visit nearby?
Try to build a relationship with these fellow small business owners in your area and see if they are interested in cross-promoting. This can be something as simple as your business cards or a promotional flyer on display customers can grab. Doing the same in your optical allows you to be able to make great recommendations to your patients.
Get Involved With Your Community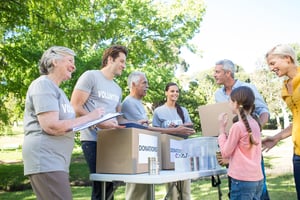 Our recent blog on boosting your employees' morale mentions that getting involved with your community and volunteering your time as a company can be great team building experience. This can serve double duty as great exposure for your optical while also showing your team cares about your community.
You could choose to help your community through volunteering at local schools, soup kitchens or food banks, by being active with your church, and any other services in need of assistance in your community. Volunteering and the act of giving should always come first so it's not a good idea to pass out flyers or anything like that. Simply wearing matching custom printed shirts is a good way to have your company stand out above the rest.
You can also sponsor a local little league team or buy advertising space with high school sports teams. These are a great way to reach a wide range of different age demographics, from young to young at heart!
Donate Your Services
There is almost nothing that can simultaneously endear and promote your business to the community around you than being able to donate your services to the less fortunate in your area. We've all seen similar stories on the local news and by doing so there's a good chance the next story could be about your practice (don't be afraid to reach out to local reporters in advance).
You have several ways you can do this. If your practice can, you could choose to run and do everything yourself. Providing patients with free eye exams and/or dispensing their glasses at no charge can greatly help those in need. You can offer a limited frame selection by buying bulk closeout frames or low cost frames from China which can help minimize your costs.
While this route can be pricey, you may be able to enjoy some tax write-offs for qualified goods (e.g. frames) provided during these volunteered days. Of course, local and state laws do vary so please consult your CPA or tax consultant for these specifics.
You could also choose to partner with a service such as the Essilor Vision Foundation. By partnering with a registered charitable organization they can provide you with many tools and resources as well as possible discounted goods for services provided.
These ideas are just the jumping point for non-traditional marketing at your optical dispensary! Feel free to explore new ideas that speak to you and try them out. Keep the ones that work and learn from the rest. In 2020, the more you can stand out means the more chances you have for patients to remember your optical for their next pair of glasses.