Take Your Optical's Transitions Sales To The Next Level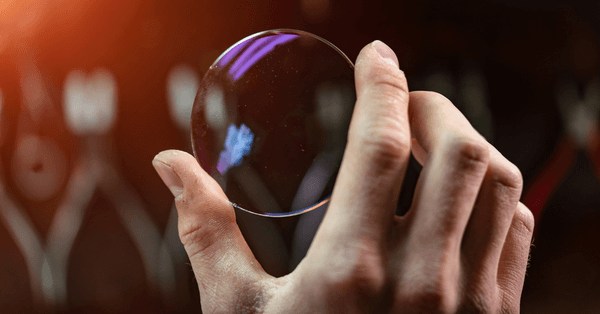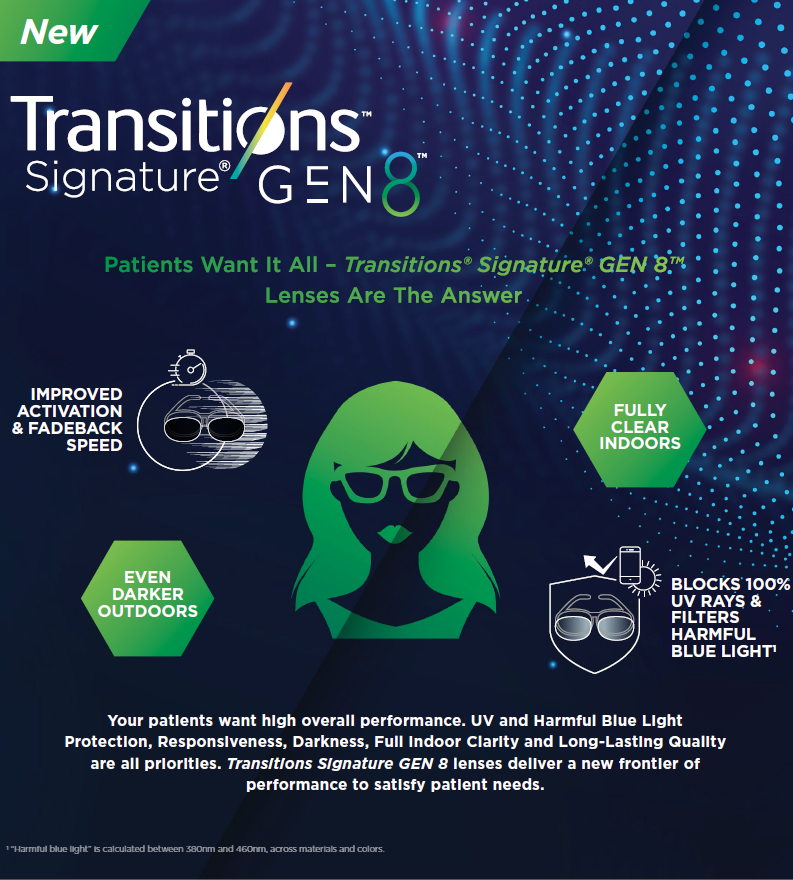 With the launch of the new Transitions Gen 8, IcareLabs wants to make sure your practice has all the tools necessary to make 2019 your best year yet. Our previous blog on the Gen 8 launch has the availability chart and much more.
This blog will go over some key strategies and best practices to help your optical dispensary sell more Transitions lenses than ever before!
All too often practices leave money on the dispensing table either due to misguided notions like Transitions lenses can encroach on sunglasses sales (they don't), or from a bad past experience based on outdated technology from several generations ago.
Transitions Gen 8 is the most advanced formulation yet with up to 30% faster activation and three minutes faster fade back than Transitions Signature 7.
Let's start by having you look at your current Transition sales percentage. Is it where you want it to be? While the national average of Transition sales is still below 20%, a recent survey found that 75% of current eyewear patients would purchase Transitions prescription lenses if offered.
Online retail far outpaces brick-and-mortar in Transition sales for one reason only: they offer it to all patients. You could easily see a 20-25% growth in Transition sales by simply offering it to all your patients.
As we've touched on before, by implementing a simple three-pronged approach to increase your Transitions sales you can quickly see a dramatic increase to your optical sales as a whole.

1) Lead Nurturing

Reach out to your patients with recall cards. This will be the first step in a consistent message about their benefits. Patients can't buy what they aren't aware of, right?
Simply letting your patients know you now carry the same product they're seeing commercials for allows you to take advantage of the new marketing pushes for products like Gen 8.

2) Education and Training
Take advantage of all available training for your staff. Use your Essilor brand rep for in-house training and get signed up with Essilor's excellent ECP University online training.
There are several free classes available. Make sure all staff members are on the same page and sell the benefits to each patient, every time.
You can also utilize the IcareLabs Resource Center and our Optical Sales Coach video series.

3) In-store Customer Experience
Have point-of-purchase (POP) and sales aids available. You can request these from your IcareLabs account manager or Essilor sales rep. Being able to see and feel the benefits of a product can go a long way for most patients.
Once you start the conversation, it opens up opportunities in all areas! Offer Transitions to all your patients and base your recommendations on your patient's needs.
Asking your patients the right questions to uncover their needs, and using patient-friendly language focusing on the unique benefits only Transitions provide can gently guide them into their perfect pair of glasses.
Instead of focusing on what they DO NOT do, try focusing on the amazing benefits they DO PROVIDE such as:

Convenience - free from the hassle of switching prescription glasses.

Protection - against damaging UV rays with 100% UV Protection, along with at least 20% harmful blue light protection indoors, and up to 88% outdoors.

Comfortable vision - see your best inside and outside, in overcast or sunny conditions, at dusk or dawn.

Transitions Gen 8 are also now the darkest photochromic lenses on the market. Making use of these strategies and best practices will guarantee not just more Transitions lenses being sold, but also ensure higher optical revenue overall.
For more information on Transitions lenses, check out the Transitions page in our Resource Center.
Now that you're selling more Transitions lenses, you'll also want to make sure you're getting the best price available. Click the link below to request our price list.