Varilux Lenses And Your Practice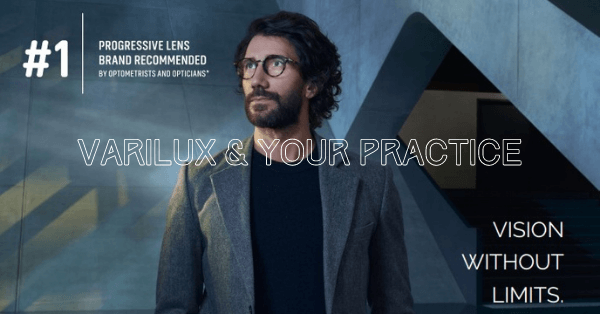 Varilux progressive lenses have been a juggernaut in the optical industry for over 6 decades, and for good reason. Constantly building upon and improving progressive lens technology, they are not a company that rests on their laurels. Let's take a look at why the Varilux family of PALs is still one of the best options available for discerning patients.
Varilux originally made a name for themselves all the way back in 1959 as the very first progressive addition lenses on the market. This is were our industry gets the "PAL" abbreviation from. Since then, they've made several leaps and bounds in cutting-edge progressive lens technology with the introductions of W.A.V.E. & W.A.V.E. 2, XTend, Nanoptix, Synchroneyes, and Flex Optim (just to name a few).

The Varilux brand has consistently been voted the #1 lens design by optometrist and opticians alike thanks to their exhaustive Live Optics R&D process which tests lenses in a variety of real world scenarios among large swaths of various patients and prescriptions.

One key factor is patient satisfaction. Whether you have a new presbyope or longtime progressive wearer getting their next pair updated with their new prescription, there is a Varilux progressive lens design that will work for them. From cutting down on remakes to helping increase referrals from satisfied patients, the Varilux brand is one your patients know they can trust.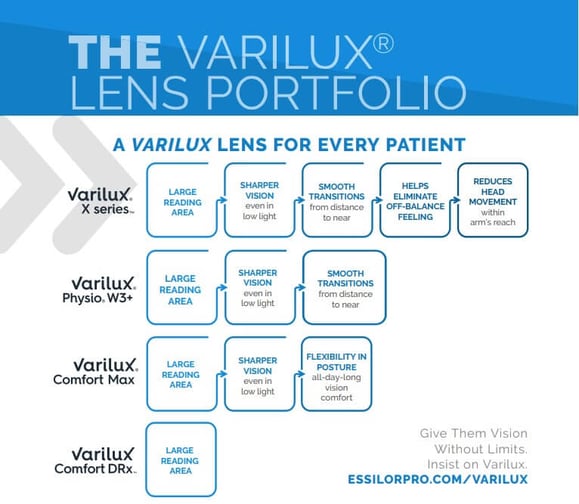 Dr. Andy Yaryan owns and runs a practice with 3 offices in rural Indiana and was recently featured by Eyecare Business magazine on how utilizing Varilux lenses has affected his bottom line:
"I don't let that stop me from prescribing what I feel is best. For any presbyope, I always start with Varilux lenses. The right product is there in the Varilux portfolio. It just comes down to showing value. We talk to patients about Varilux. That's important because it's about a customer experience, not customer service, which in retail is more about putting out frets. The experience you provide your patients is really what is going to differentiate you from the rest."
What are his results? According to Dr. Yaryan, "77% of our PAL wearers are in Varilux lenses. We achieve that by prescribing in the chair, knowing our products well, telling patients their value, and, of course, our opticians back that up. For patients, it's a trust factor and it really allows us to keep them here."
IcareLabs is proud to be a certified digital processing lab capable of producing the complete Varilux lineup here in-house. This includes the Varilux X and new Varilux Comfort Max. We also process Crizal anti-reflective coatings in-house, including the Crizal Sapphire 360 UV, Crizal Prevencia, and Crizal Rock (coming soon).
Looking for more info on Varilux lenses? CLICK HERE to visit our Varilux Resource Center.