Google My Business For Optical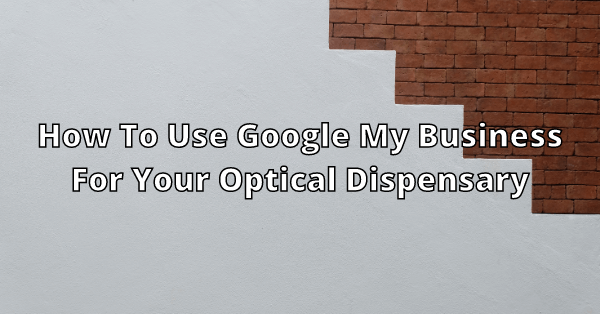 Few retail businesses around today can get by without having some presence on the world's most popular search engine. Of course, we are talking about Google. Did you know there are several free features Google My Business makes available to business owners?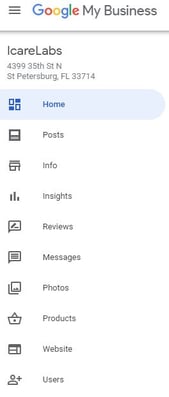 As I've covered before in my blog on social media for ECPs, you will need to claim your Google business account if you haven't done so yet. Once you do, you'll have full access to your Google business dashboard.
The example shown to the right is what you'll see when you log in to your Google business profile. We'll briefly cover each option along with the free option compared to paid services you may want to use to help further drive more patients and sales to your optical.
The home screen tab is where you will see an overview of all your Google My Business options. This screen will give you recommendations and summaries of your current performance statistics such as views, searches, and your latest Google reviews.
Posts
From the Posts tab, you can provide your patients with updates like your company's Covid-19 procedures or a change in your business hours. You're also able to add a new product to be featured on your company's Google Contact Card. This can show patients that may be interested in your services, new frames, or lens options that could drive them to your doorstep. You're also able to add offers like a Spring Sale or new promotion.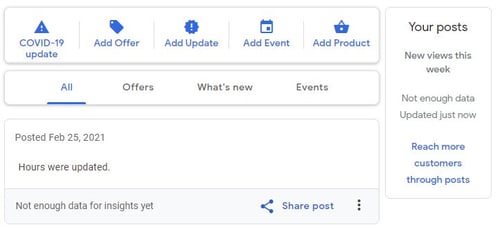 Make sure to include pictures with these updates to increase their visibility which will help your organic search engine optimization (SEO). Google post content can also help your business reach for the top spot in searches for those products in your area.
Info
The Info tab will allow you to ensure everything is correct with your business info along with several advanced options. You're able to set your standard operating hours for your business. There is also a separate option to add more hours for services like pickup, senior hours, or online service hours among others. These can help ensure patients understand the full picture of when they can utilize your services.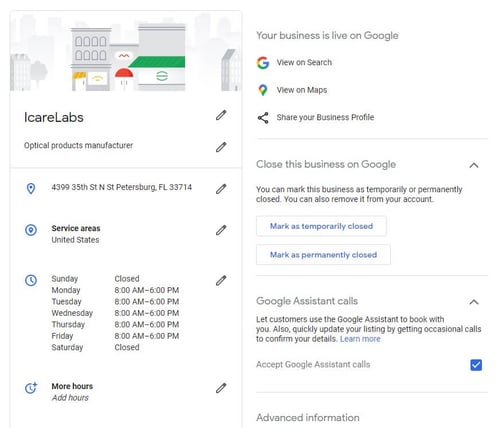 If you're having a special event you can add the date and times which will appear alongside your Google contact card. These are great to use along with the aforementioned posts to maximize your potential reach to patients which can help boost your overall sales.
Make sure to utilize the add attributes function to let customers with special needs know if your business is wheelchair-accessible, has a wheelchair-accessible parking lot, a wheelchair accessible restroom, and seating.
This section also allows you to specify if your business identifies as black-owned, veteran-led, or women-led that allows Google to add a sticker designation to your contact card.
Don't forget to add your company's starting date along with a brief biography to help patients learn more about you!
Insights
The Insights tab provides you with free information regarding how patients search for your business (e.g. direct search, discovery, or branded products). This can help you decide on which areas you may want to focus your online marketing efforts. You'll also receive a breakdown of views by Google search listings and Google Maps listings. Having an up-to-date Google Contact card automatically carries the information over to your Google Maps listings.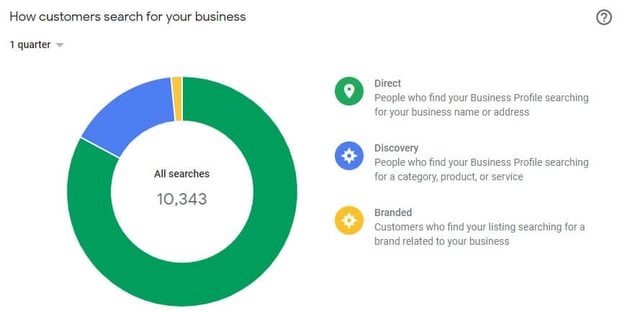 You'll get a break down of patients' actions from your Google Contact card such as visiting your website, requesting directions, and phone calls. They'll also further breakdown your direction requests by area code which you may find useful for any targeted online ads you run in your area. Phone calls and photo interactions are also provided in this section.
The insights tab is fantastic but does come with a big caveat: it is designed to run in conjunction with Google Analytics/Google Ads which are paid services. That's not to say you won't find useful information here, of course, but if you decide to run a Google Ads campaign you will find it adds even more robust features for that additional cost.
Reviews
In my humble opinion, the Reviews tab should be one of your main focuses as a business owner. Here you're able to see and respond to all reviews posted to your Google My Business account/Google Contact Card. In the digital age, businesses live and die by their reviews. If you're anything like me, I'm sure you've looked over reviews to decide on going to a particular business (or not).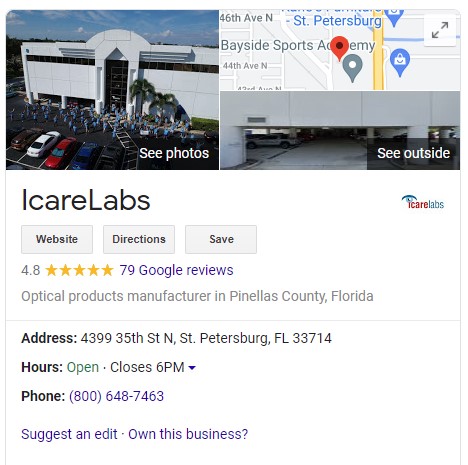 We've covered how to get more online reviews and how to deal with negative online reviews for your optical in the past so we won't dive too deep in that regard. Just know that having a constant stream of real, positive reviews can be one of the single most important things your optical business should be striving for.
A key aspect to remember about Google's review system is even though this is your business, Google is in charge of which reviews are featured on your contact card along with removing reviews. You are not able to delete a negative review without completing their review process. Ultimately, they are in charge of a review staying on your page so focusing your efforts with employees to always have customers get a 5-star experience should be at the top of your list every day.
You should also respond to every review (good and bad) so that potential patients can see you take an active role in interacting directly with your customers. This also encourages them to leave their own review since they'll know their voice will be heard and appreciated.
Here at IcareLabs, we launched an internal campaign to have more of our customers leave us a genuine review on Google. We used the direct review form on our Google My Business home page and then simply asked our customers to leave us a review along with their experience with our customer service team. We went from 21 reviews to almost 80 reviews in just over a month and now have the coveted 5 stars on Google when anyone sees our Google Contact Card.
Messages
By enabling the messages feature, customers can send you a direct message that you'll receive through the Google Maps app on your mobile device. This is a great feature that gives your patients another avenue to communicate with your business.
Photos
This section allows you, as the business owner, to both post photos and manage photos posted by your customers. You should encourage customers to add photos of your business and staff along with their reviews.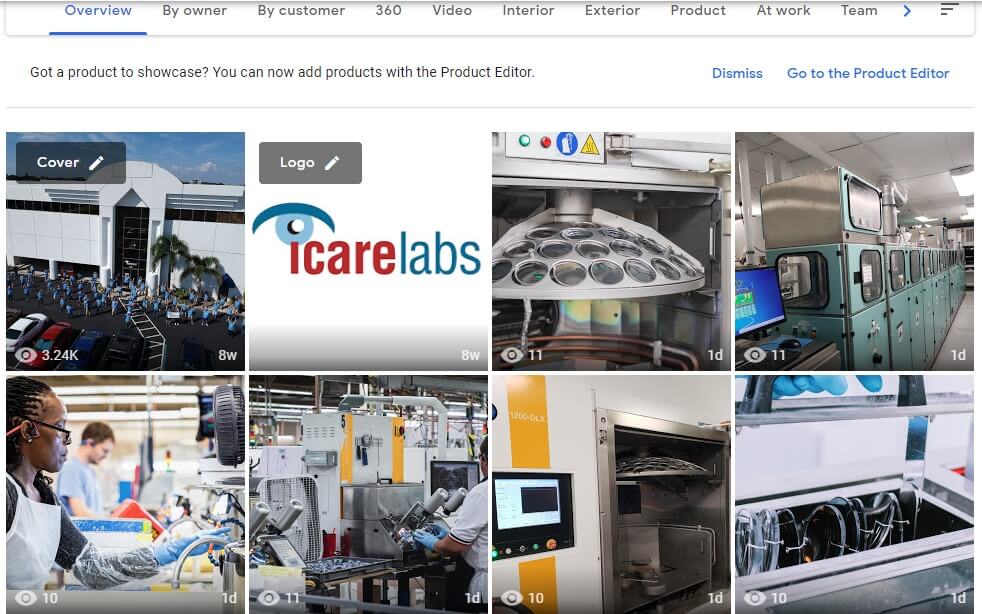 Similar to reviews, photos posted by patients are managed by Google so you don't have direct control of their photos but can flag them for removal if they are not appropriate or not related to your business.
Posting regular photos can keep patients engaged and updated on products or services at your optical dispensary.
Products
This is an amazing newer feature Google has added which allows you to not only include product listings but also feature pictures and links for patients to learn more. You can add products by category and include product options within that category.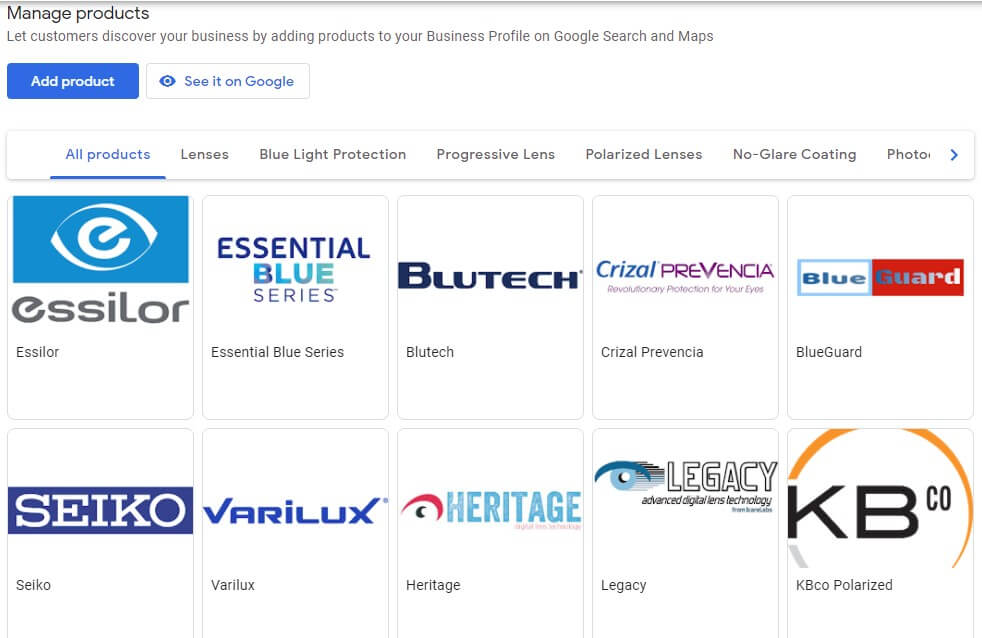 Keep in mind, space is limited on your Google Contact Card so adding several categories may not be the best use of this feature for your retail store. We recommend adding only 3 options: lenses, frames, and contacts (if your office offers them).
From there you can add the brands you carry along with photos to the relevant category. You can add and delete products as needed. Adding a link to your website or online store within the product listing is also recommended to help further drive sales and website traffic.
Website
The website tab allows you to buy, build, and host your company website. If you already have an established website you most likely will never use this feature.
Users
This tab allows you to add employees that can then gain access to your Google My Business account. You can manage their level of access or add/remove them as needed.
---
Hopefully, this blog has helped you start getting the most out of your Google My Business account. Whether you're a new user or have an old account that hasn't been used much over the years, there are a plethora of features that can help your business get more traffic from Google.
Google business profiles are a fantastic and (mostly) free way to effectively market your goods or services. There are new features and ways to use Google My Business added all the time, so be sure to pay attention to any notifications on your home screen.
Looking for more ECP marketing tips? CLICK HERE