Transitions GEN 8 Launch Completion and the NEW Varilux Comfort Max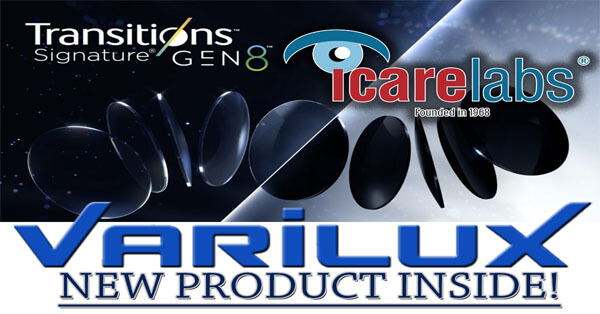 Essilor has announced the release of the third wave of Transition Signature GEN 8 lenses. This follows the first 2 waves of GEN 8 released in July and October of 2019. This is great news as the roll out for GEN 8 is now complete.
We also have a sneak peek of the new Varilux Comfort Max progressive lens that you won't find anywhere else!

On Tuesday, February 11, 2020 Essilor launched the following:
Transitions Signature GEN 8 lenses in Style Colors in Plastic 1.50, Airwear® Polycarbonate and Thin & Lite® 1.67
Transitions Signature GEN 8 lenses in Graphite Green Plastic 1.50, Airwear Polycarbonate and Thin & Lite 1.67 

Transitions Signature GEN 8 lenses in Thin & Lite® 1.74 in Gray and Brown
There has been much anticipation with the new GEN 8 lenses in Style Colors. From what we hear, there will soon be sample lorgnettes available. We will make sure to update you on how to go about getting these as soon as we know.
If you'd like to receive GEN 8 sample lorgnettes in brown and gray along with the new Transitions UV Activation Lamp, we have them in stock and are ready to send out. Let your account manager know so we can mail it out to you.
For more Transitions GEN 8 tools, check out our Transitions Resource Center page.
Varilux Comfort Max
On August 11, 2020 Essilor will be launching the all New Varilux Comfort Max and New Varilux Comfort Max FIT. Backed by the New Flex Optim technology, the Comfort Max lenses will address postural constraints of presbyopes delivering flexibility in posture for all-day vision comfort.
Working alongside the Varilux X Series, which is Essilor's most premium and advanced progressive lens, the Varilux Comfort Max will help you elevate your progressive lens offering to your customers.
The Comfort Max is positioned to be above the Comfort W2+ in performance and pricing. This appears to be an add-on product and not a replacement to any other designs. Comfort Max will be positioned as the ultimate product in the Comfort family of lens designs.
The Comfort Max launch will be heavily supported with a media blitz and official announcement at Vision Expo East. Essilor will be supplying marketing resources at both the lab and ECP levels. We will have these up on our Varilux Resource Center page as soon as they become available. You can also request display ready copies directly from your IcareLabs account manager as soon as they are available.
We will bring your much more information as we get closer to the August 11th launch date.
Don't miss out on any of the latest industry news. Make sure you sign up for the Icare Newsletter below!