KODAK UVBlue™ Lens Now Available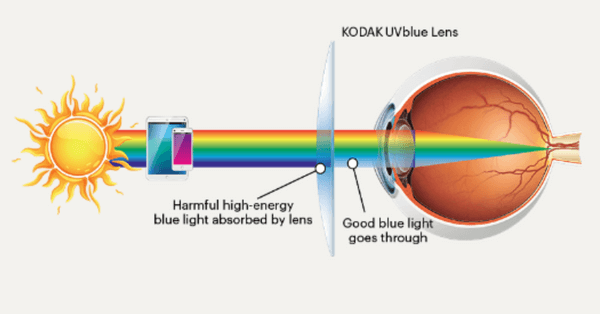 Signet Armorlite has just introduced KODAK UVBlue Lens, a prescription lens designed to filter out harmful High Energy Visible (HEV) Blue Light. This new lens will be perfect for most patients concerned about the many hours spent staring at the latest streaming content or TikTok trend. For ECPs, it means KODAK Lens blue light technology you trust is now available in two levels of protection:

New! KODAK UVBlue™ Lens

A blue light lens that uses an optimized clear lens material to deliver up to 2.5x more protection from harmful blue light than standard plastic lenses. Your patients can get clear, comfortable vision and blue light filtration in a progressive, single vision or computer lens design. KODAK UVBlue delivers:
100% protection from UV rays while filtering 20% of High Energy Visible (HEV) Blue Light between 400-455nm
A Blue Cut Lens Material, not a coating, available in plastic, poly and 1.67 high index
Compatible with Crizal® or KODAK No-Glare Coatings
KODAK UVBlue is a value blue light lens that can be perfect for patients wanting a more standard level of blue light filtration.

KODAK Total Blue® Lens

A premium blue light lens featuring a hybrid lens material plus coating technology to significantly reduce harmful blue light exposure indoors and out. With Total Blue, patients wearing progressives, single vision or computer lenses can enjoy superior blue light filtration thanks to: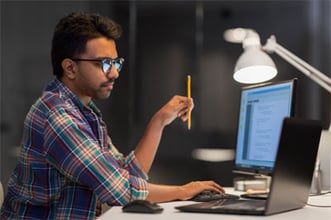 100% protection from UV rays while blocking up to 80% of HEV Blue Light at 380-440nm.
Available in clear and polarized materials
Includes Silk® topcoat for superior lens cleanability and durability
KODAK Total Blue Lens is the premium blue light lens for patients wanting a higher level of blue light filtration.
Download the digital brochure here & order today!
Contact IcareLabs to order the blue light filtration your patients want: KODAK Total Blue or KODAK UVBlue Lenses.