IcareLabs Heritage Xtreme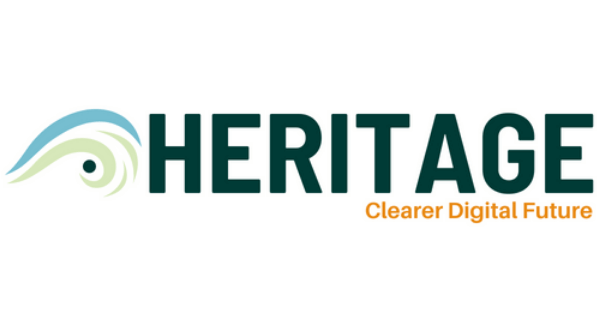 Over five years ago, we launched our Heritage line of digital progressives with three offerings. These three designs very quickly became some of our best-selling lenses. Today we are very excited to announce that we have launched six new Heritage freeform digital designs. Along with our proven Heritage, Heritage Plus, and Heritage Ultimate lenses, we have added an ultra-premium design with our Heritage Xtreme.
On top of these four everyday designs, we have also added the Heritage Single Vision, Heritage Office, Heritage Desk, Heritage Sport, and Heritage Driver lenses. These new options will better service SV patients, occupational lens wearers, and patients looking for lenses best suited for playing sports or driving.
While we are excited about our new designs, we are most excited about our new Heritage Xtreme design, and how it compliments our other Heritage PAL designs. This new design will provide your patients with an ultra-premium freeform design while still giving your lab bill a house-brand price tag. It's a win/win for everyone.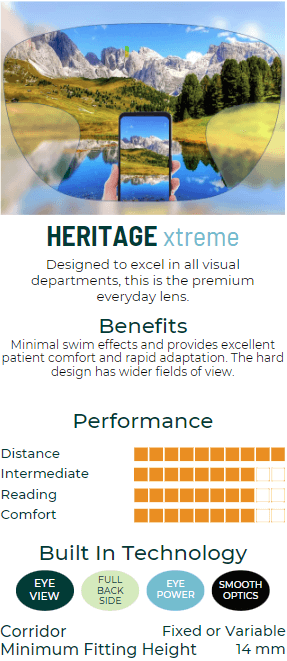 Heritage Xtreme
The new Heritage Xtreme is an ultra-premium design offering wider fields of view in all three zones - near, intermediate, and distance. It is the perfect lens for your patients seeking more out of their lenses and an excellent design for those demanding better everyday performance.
The built-in technology allows for minimal swim effects and provides superior patient comfort. Heritage Xtreme will give your patient almost instant adaptation, making dispensing one less thing you have to worry about for most patients.
Built-in Technology
Digital Eyeview:
Allows for more consistent optical performance over the range of the prescription - wider fields of views for both hypermetropes and myopes. Improved image quality in principal viewing areas, giving your patient the sharp, crisp vision they are wanting.
Digital Eye Power:
Compensation that is ideal for sports and fashion wrap frames.
Smooth Optics:
The technology that you will love most. Smooth optics allows for superior comfort, sharp viewing in all directions, and minimizes blurring or "swim." Faster patient adaptation times and overall patient satisfaction.
The Heritage Xtreme is our top-of-the-line house-brand design that will compete well against branded lenses costing twice as much.
With the addition of the Xtreme, we now give two different options for those using a 3-tier (good, better, best) progressive lineup.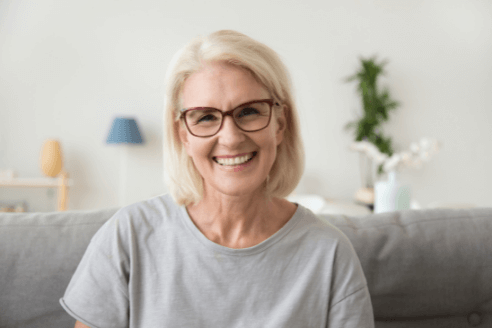 For those needing a more value targeted approach we recommend:
Good - Heritage
Better - Heritage Plus
Best - Heritage Ultimate or Xtreme
And those needing a simple 3-tier approach, we recommend:
Good - Heritage Plus
Better - Heritage Ultimate
Best - Heritage Xtreme
Either way, you are fully covered with our Heritage family of lenses. A modern digital design that merely works with pricing for more profitability and competitiveness in your marketplace.
The Heritage Xtreme is available in the full range of materials and add-ons such as Transitions, polarized, and blue blocking. AR choices include our house brand IceAR or IceAR with Silk and the full range of Crizal no-glare coatings.