How You Can Give Back With The EVF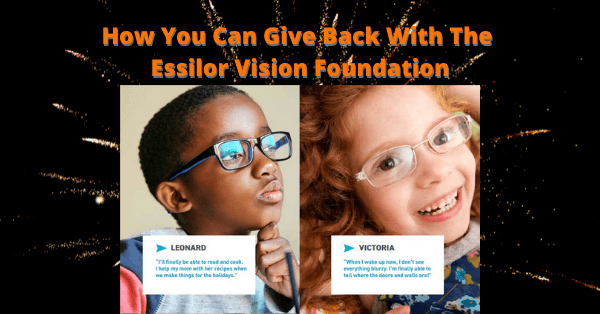 One thing we have consistently been asked over the years is how small business owners in the optical industry can give back in a meaningful way to their community. Being able to utilize your unique skills as an OD or an optician is only one step in the process. The Essilor Vision Foundation can partner with you to help provide frames, lenses, and eye exams at no cost to underprivileged children and their family members in your area.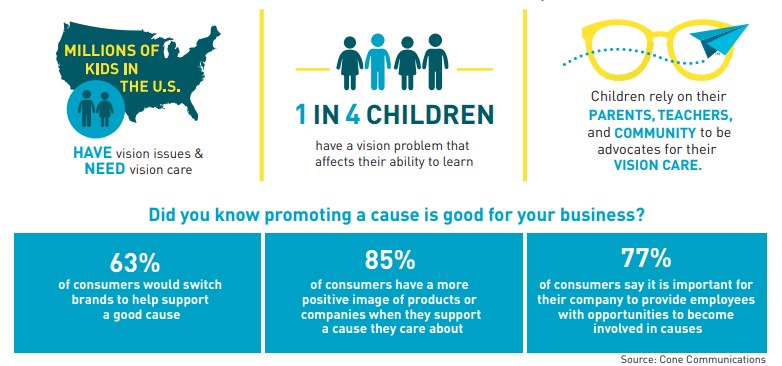 There are many reasons to be proud of our industry. Day in and day out we get to help recreate perfect vision for our patients at pricing that is less than a daily cup of coffee. Helping people see better is an honorable calling and I am honored to be a small part of this process.
Our IcareLabs customers rock! I hear great stories ranging from medical mission trips to 3rd world countries to days spent in the local school serving those in need. I believe that we would see even more doctors stepping up if they had some guidance.
What really makes me proud is the amount of volunteerism I see with our customers. I believe that any child that walks into an office in need of glasses will get taken care regardless of the ability to pay. I get calls often looking for partnership in helping a child in need.
The EVF and the Changing Life through Lenses program provide your practice with an online account that allows eye doctors and non-profit organizations to provide Essilor lenses, frames, and lab services at no cost to your practice or to the patient.
The 2019 EVF Impact Report shows that over 1.5 million people globally have received the gift of eyesight in the last decade.
How Does It Work?
Getting started with the EVF is a simple process. You can CLICK HERE to register for your free account. You'll need your National Provider Identifier (NPI) or license number and estimated forecast/pledge of the number of patients to be served annually.
The program requirements are as follows: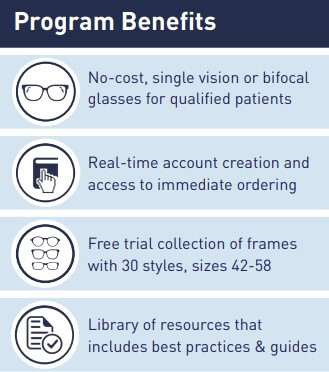 Patients must be living at or below the poverty level without vision insurance for this pair of glasses as reasonably determined by the provider
Services are available for US-based doctors and non-profits
No charge can be assessed for in-kind hardware (lenses and frames)
The EFV is focused on youth, but there are no age restrictions for qualified patients
Since the EFV provides the lenses (single vision or bifocal), frames, and lab services your practice is expected to donate the time for the exam. There are endless possibilities to start promoting your new charitable services that are now available at your optical such as local news, social media advertising, and many more non-traditional marketing options.
Your showroom floor will also receive a free frame kit with 30 styles sized between 42-58 with several color options available representing the entire 57 frame collection. You'll be able to easily place these orders online after creating your account. And you always have the option to donate or use one of your own frames as well.
If you're not sure how to get started serving in your community, you can find guides and tips from CLTL on how to do everything from partner with a local non-profit to hosting your own vision fest.
Not only can you get free glasses, but for a limited time you can receive up to $1,500 to support your efforts to provide vision services for charitable patients through the Changing Life through Lenses Relief Fund. Sign up for CLTL Relief when you register for your Changing Life through Lenses account and take advantage of this campaign which runs from June 1 through December 31st, 2021.
By giving back to your community in this way you not only help those who need it, but also provide positive brand awareness for your company which will indirectly help increase your sales. Think about doing an annual or monthly event at your business to help bring the gift of sight to those in need. You can also partner with a local Title 1 school or non-profit clinic in your area to refer patients to your practice that failed their vision screening.
The numbers don't lie. Studies have shown 61% of customers would choose an ECP who supports a charitable cause over one that doesn't.
Here at IcareLabs, we've been avid supporters of the Essilor Vision Foundation over the last several years as we've seen the good they do in the real world. We strongly encourage you to get involved with EVF and the Changing Life Through Lenses program to help bring positive change that can have a huge impact on members of your community!