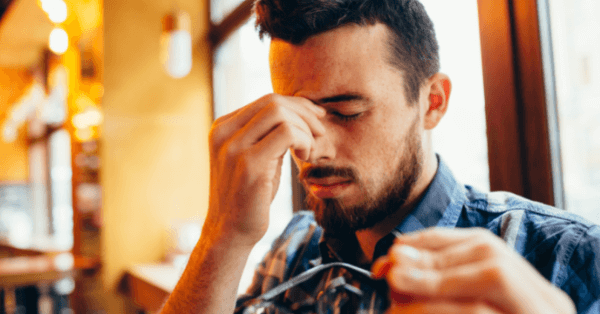 Never in the history of optics have your patients had so many options to choose from. With hundreds of progressive designs, multiple photochromic options, and a vast array of materials it is easier than ever to fill their needs.

With all these options, we still see some ECPs stuck in the past with not only lens designs but also materials. As an industry, we still see too many CR39 jobs. While CR39 does offer superior clarity, it falls short in many other areas such as UV protection, lower impact resistance, and higher thickness.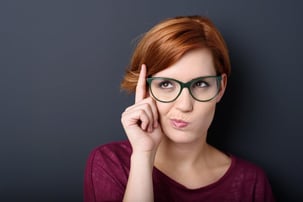 It is time to move your patients into higher index lenses. Polycarbonate and high index options offer your patients benefits that standard plastic just cannot. Thinner, lighter lenses give your patients a wider selection of frame choices. Built-in UV protection and impact resistance make everyday life a bit safer for them.

Some of the fear in selling poly is built around Chromatic Aberration. While this is a real thing, it is also fairly rare for your patient to experience an issue with it. Often an ECP will have 1 bad experience with a lens or a material and lose confidence. They will stop selling what is good for the patient out of fear of having another bad experience. This robs their future patients of products that they could benefit from.

The benefits of High Index Materials far outweigh the drawbacks.
Lens Material Guide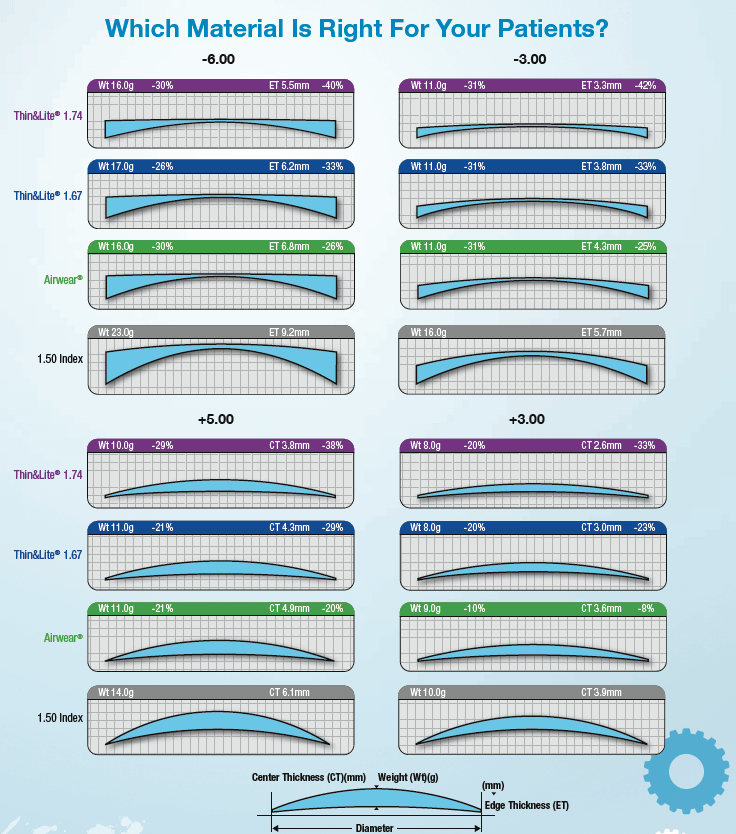 As you can see from the above chart, high index choices will give your patient a thinner and lighter lens than CR39. This allows for a much more cosmetically appealing pair of glasses while offering a wider range of frame options for high-prescription patients. As with most things in life, there is a risk-reward with high index materials. The highest "risk" is the price. To make sure your patients get the biggest bang for their buck we will break down the 3 most used higher index options with suggestions for when to recommend.
Polycarbonate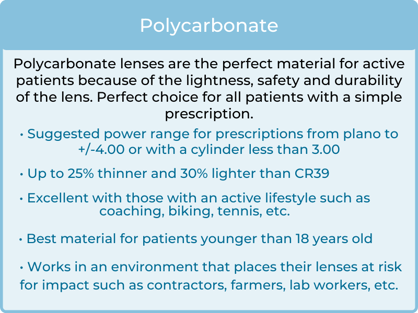 An extremely versatile material. Available in the widest range of lens designs, Transitions, and polarized options. High impact resistance offering superior protection for those with an active lifestyle and safety frames. Has the added benefit of built-in UV protection which is not provided by CR39.

1.67 High Index
By reducing decentration and lens magnification 1.67 is an excellent choice for patients that are seeking frames that highlight their individuality. A great option for drill mount and larger stylish frames. Expands frame options for patients with higher prescriptions. Also has the added benefit of built-in UV protection.
1.74 High Index
High-prescription patients have been held hostage when it comes to frame selection. Over ¾ of high prescription patients have a desire for attractive and discreet eyewear. For too long many very high prescription patients have had to deal with limited selection when it comes to frame choice. With 1.74 index many of these patients now have the freedom to go "stylish". Built in UV protection.
CLICK HERE for more dispensing tips.