SeaVision Prescription Dive Masks By IcareLabs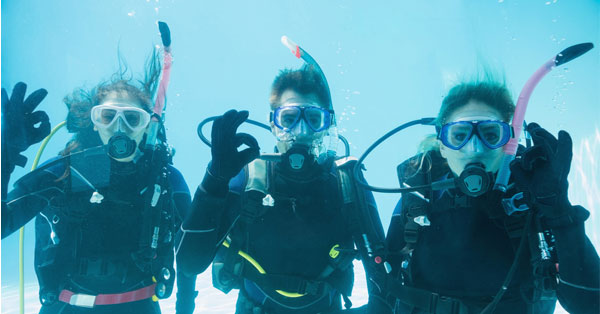 SeaVision was founded in 1991 and has been manufacturing innovative and market-leading prescription dive masks and swim goggle lenses for divers and swimmers all over the globe.

In 1994 when one of our employees and his son were scuba diving off the coast of Florida, he noticed the brilliant colors that his underwater camera had captured. Research showed how light and filters affected the human eye and he came up with a way to use Magenta and Yellow lenses in his dive mask that brought a whole new underwater experience into view.

Fortunately, he worked for one of the largest independent optical lens laboratories in America and was able to put his ideas into production. This allowed other scuba divers, snorkelers, and swimmers that same opportunity to see the underwater world in a whole new light.

Our state-of-the-art lens manufacturing laboratory is located in St. Petersburg, Florida. It has been producing the highest quality prescription eyeglass lenses for opticians and optical shops all across America since 1968.
SeaVision and IcareLabs are a family-operated business where customer care is "job one". You get the quality prescription dive mask your patient wants and outstanding customer service from the moment your order is placed (and any time you need us after the sale).
Why SeaVision Masks?
With SeaVision, underwater enthusiasts and professionals can do away with the hassle of prescription glasses or contacts. Now, your patients can leave their glasses and contacts safely in their cases. They don't have to worry about the harmful chemicals, minerals, or bacteria in the water.
At SeaVision we

custom grind prescription lenses. This

allows scuba divers to experience the same vision underwater as on land.

Available in

single vision

or

bifocals

Maximum field of view from edge to edge as the prescription is ground right into the lens

NO gluing or bonding of the lenses into a mask. The prescription is custom made in our laboratory, just the way the eye doctor ordered, and not a simple one-size-fits-all drop in lens

Patented

color and vision corrective lenses

, made from the highest quality materials (CR39) that are stronger, and more efficient than glass. Our filtered lenses allow divers to maximize their underwater experience whether it's in the rich vibrant waters of the ocean or lower light situations such as lakes, rivers, or night diving

Add to this, great features like

purge options

on all our masks and outstanding service (including 48 hour processing available), there is no doubt that SeaVision will change the way you see when diving!
SeaVision prescription dive masks and swim goggles have been featured in Outside and Forbes magazines, as well as the live set of Fox Television. No other company offers the variety of custom options, superior vision correction, and breath-taking color correcting features.
The company's unique and patented technologies are being used by thousands of active people all over the world every day, and the innovations keep coming!
SeaVision will manufacture high-quality CR39 lenses specifically for your eyeglass prescription that are stronger and more efficient than glass. Even with astigmatism, we can create the perfect prescription lenses for your patients. Even for patients that are able to see things far away, but need help with reading their gauges, we can create a lens that takes away the worry of seeing up close and frees them to enjoy your dive even more!
One of the earliest methods for adding vision correction to dive mask lenses involved bonding a prescription lens to the diver's existing mask lens. There are several disadvantages of this method. First, the bonded lenses can only approximate the shape of the existing mask faceplate.
This means the bonded lenses may not cover the entire window, reducing the in-focus portion of the field of view. Second, the second layer of glass adds weight to the mask. SeaVision's lenses are not glued or bonded to regular lenses. Each SeaVision lens is custom ground according to the specific eyeglass prescription. This creates a much more efficient, light-weight lens that allows your patients to enjoy seeing the great underwater world clearer than ever.
Diving Mask Lens Choices
Custom Single Vision Lenses

These lenses correct for nearsightedness (myopia) or farsightedness (hyperopia), either of which may include astigmatism. They have the same focal power throughout the entire lens, from top to bottom. This is not a simple drop-in lens. It is made to the exact prescription the Optometrist ordered. Available in Clear, Color Correcting or MaxVision Filters.
Custom Bifocal Lenses

These lenses are designed for those having difficulties seeing their gauges AND seeing in the distance (may include astigmatism). If the prescription has an add power or the patient would normally wear bifocals/no-line bifocals/progressives, then these lenses are the perfect choice. The bifocal portion of it is placed near the nasal portion of the mask, providing optimal viewing of close objects when diving. Available in Clear, Color Correcting, or MaxVision Filters.
Gauge Reader +2.00 Lenses

This lens is a non-prescriptive bifocal lens with a +2.00 power designed for the diver who is experiencing difficulty seeing close up objects such as watches or gauges. It also provides a mean for clear sight at distances.
These lenses are available in all SeaVision masks or most two window masks, and of course available in Clear, Color Correcting or MaxVision Filters.
Color Filtration
Color Correction

This magenta lens is designed for use in waters to see more rich and vibrant colors. This unique product is designed to filter out blue wavelengths in the water, allowing your eyes to see the brilliant reds, oranges, yellows, and green colors that are lost as a diver descends. For example, at a depth of 25 feet, red is no longer visible to the naked eye. At 75 feet, yellow looks greenish blue because the yellow light has been absorbed by the water. The SeaVision© technology adjusts the color bands to allow users to actually see and enjoy the colors there in front of them at lower depths.
MaxVision

This yellow lens is for use in low light situations such as lakes, quarries, caves, rivers, and night dives. It helps to optimize available light and help improve vision at the same time.
For more information on SeaVision prescription dive masks, check out our SeaVision Resource Center page or go directly to www.seavisionusa.com. To order SeaVision dive masks for display at your practice or for a patient, contact your account manager today!