How To Deal With Negative Reviews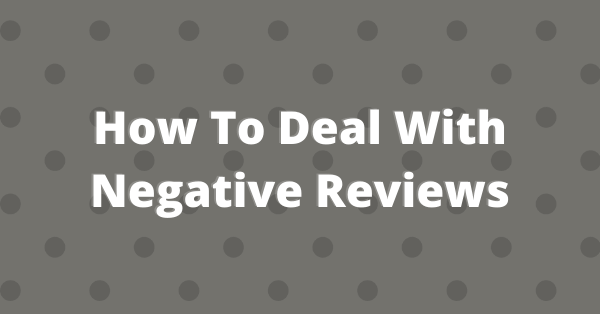 It can be hard to get reviews for your practice in general. But when a negative review comes through, it can be easy to regret asking your patients to leave one in the first place.
Negative reviews are bound to happen, so when they do, here's how to deal with them.
Why Bad Reviews Matter
For many people, reviews are the deciding factor. There are probably multiple practices in your area that offer similar services. So if you have better reviews than a competitor, that gives your practice an edge.
Likewise, 94% of consumers say that bad reviews convince them not to choose that business. Reviews, good or bad, have a huge impact. And patients expect you to respond to reviews, especially if they're bad.
Is It a Real Review?
The first thing to determine is whether the review is from a real patient. Especially if you're in a competitive market, spammy or fake reviews can happen. If you get a flurry of bad reviews all at once from patients you have no record of, chances are they're spam.
If they are spam, you'll need to report the reviews as spam to Google, Yelp, Zocdoc, or whatever other platform the review is on. Even after you report it, it's still a good idea to reply. Here's how to do that.
How to Reply
If reviews are good or bad, real or fake, you should always reply. Reviews have a similar format to comments on social media. The expectation is that you interact with users.
Especially if the review is negative, you need to get on top of the situation right away.
Personalize Your Message
When you're replying to a negative review, first make sure you're using the reviewer's name. Everyone likes the sound of their own name, and you also don't want the response to sound canned.
So, personalize your message with their name. Another way to personalize the message is to mention their specific issue.
Show You Understand & Apologize
Read the review carefully and identify the issue. Whether it's a customer service issue or a product issue, you should try and understand your mistake and mention it in your response.
The customer isn't always right, but don't be defensive either. Potential readers of the review don't know the full story, so the last thing you want to do is validate a negative review with a rude response.
Take criticism gracefully, and most importantly, apologize. Even if you weren't in the wrong, you can still be sorry the patient had a poor experience. And remember, if you wouldn't say it to a patient in person, don't say it online.
Put the Ball Back in Their

Court
Give the reviewer an avenue to contact you privately. Whether it's a phone number or an email address, this achieves two things:
Helps you avoid further public negative comments
Keeps any relevant patient information private
From there, you can do whatever you need to do to try and keep the relationship, whether it's a discount, refund, or another incentive.
Example
The Review:
I had an appointment here last Tuesday and was not impressed. The receptionist I talked to was incredibly rude and condescending. I will not be returning. - Ivan Doe
Your Reply:
"Hi Ivan,
We're so sorry your experience didn't meet our expectations. Our clinic is known for our customer service, so we want to do everything possible to make things right. Please reach out to us by emailing name@example.com so we can find a solution.
- [Your Name]"
In this example, you are:
Using the reviewer's name
Addressing the reviewer's issue
Offering a line of communication
Even if the reviewer doesn't end up reaching out to you, a response like this helps reduce the impact a negative review can have on your practice.