NuPolar CR-39 Mirror Coat Polarized Lenses Now Available!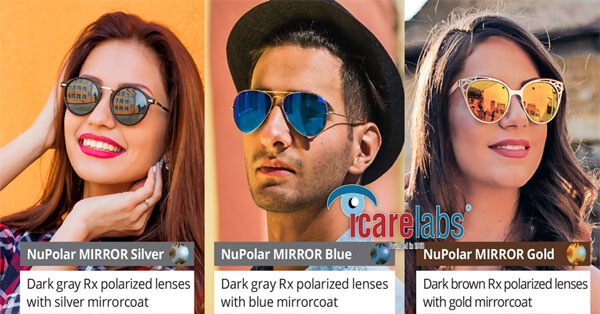 IcareLabs is proud to now offer the new CR-39 semi-finished NuPolar mirrored lenses. What does this mean for your practice? Consistent colors assure you that your patients will be happy with their glasses and redos will always match.
Let's dive into the NuPolar line to see exactly what makes them such a great product for patients looking at polarized lens options.
NuPolar lenses continue to be an industry leader and a top seller here at IcareLabs. Now you can have the quality of NuPolar lenses with a pre-mirrored front surface allowing faster turn time for your patients.
A common complaint of many patients receiving remakes on mirrored lenses is having a lens that doesn't quite match their original one. This is due to the older process of dipping the lenses for the mirror coat with slight variations in the chemicals used that cause inconsistent colors.
Now, with these new semi-finished lenses, even your plastic polarized mirror lenses can benefit from the color consistency and faster turnaround time these provide.
As with all NuPolar polarized lenses, they block 100% of harmful UVA and UVB light and blinding glare too. NuPolar lenses mesh well with our digital processing capabilities thanks to their proprietary design that allows for one of the thinnest polarized finished lenses on the market today.

Their in-house polarized film capabilities help give your patients "true colors". They're also built to stand up to the heat involved in the digital lens surfacing process which helps prevent fading or color change during surfacing.
Their unique bonding process between the lens and the polarized film itself also creates a chemical reaction bonding the two. This eliminates lens/film delaminations. Your patients won't have to worry about the polarized film separating from their lenses.

Here at IcareLabs we completely agree with Younger Optics that every patient should have at least two pairs of glasses. One pair of clear or photochromic lenses for their indoor use and a quality pair of polarized lenses like these fantastic new mirror coat options for their outdoor use.
Your patients come to you for your expertise and they trust your guidance. Having a needs-based conversation allows you to emphasize the benefits of a quality pair of polarized lenses to help them combat glare while outside and UV light damage. Of course, this will help drive your optical sales while also providing a real-world solution to a common problem all of us face while outdoors.

For more information on what NuPolar lenses can do for your practice, check out our Younger Optics Resource Center page or reach out to your Icare account manager today.
Not part of the Icare family? Feel free to request our price list below and ask one of our friendly new business representatives to help you get NuPolar lenses into your practice for a great price today!