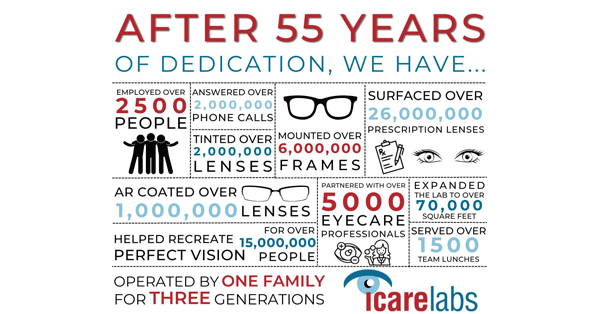 Today we celebrate 55 amazing years thanks to our amazing team members. We would also like to thank the many eyecare professionals across the USA who have supported us over the years.
Let's take a look at what 55 years looks like in numbers.
When my grandfather started this company back in 1968, it started with one job from one customer. Things have certainly grown for us since then. These numbers are part of our story.
Over 5,000 eyecare professionals have ordered lenses with us
26 million Rx lenses surfaced
2,500+ amazing employees have been part of the Icare family
A million anti-reflective coatings processed in-house
6 million frames mounted with lenses
While these numbers alone are amazing, we know it's really all about the people. We often think about the small part we have played in enhancing people's lives through good vision. We are only able to do this through the partnerships we have shared with thousands of opticians, optometrists, and ophthalmologists over the last 55 years. We know that every pair of lenses tells a story and thanks to our customers, we get to be a part of these stories.
As we celebrate the last 55 years we remember and honor those that came before us. We are reminded that on May 17, 1968, my grandfather, John Payne, started Icare Industries Inc. in a small auto repair shop in St. Petersburg, FL. The story that he often told was about how the first pair of lenses took over a day to complete properly. He had a dream that he did not give up on.
We have come a long way in 55 years but we still have the same dream.
Here's to 55 years and 55 more years to come!