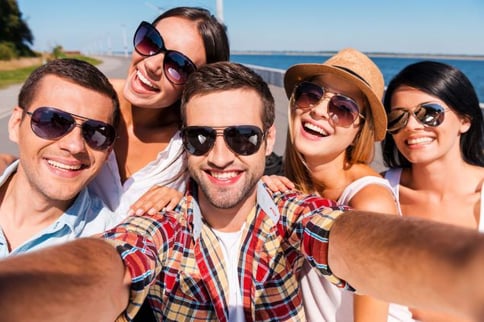 If you have been in the dispensary area of your store, you may have heard a conversation between a couple of millennials that went something like this:
"Hey Joe, my new glasses with the anti-reflective coating make taking selfies easier!"
"Really? What about Instagram filter compatibility?", and so on. It's all about being able to shop for their eyeglasses on their smart phone and digital devices.
The millennial customer is unique and they are looking for products that appeal to their interests and lifestyle. They want the latest fashions with bold style, color and textures. The more choices they have to make it unique to them, the better.
Selling to Millennials with Technology
Millennials can really relate to digital lens process. Just as they can customize their music stream on their smartphone, ODs can customize a patient's vision with proper measurements, including position of wear, frame parameters, etc. The digital process can optimize the Rx based on the position of wear measurements and frame specification with wider field of view.
The result is a highly-customized pair of eyeglasses that is comfortable to wear and attractive. The more you can get across this concept of completely customized eyewear according to their unique specifications, the more the millennial mind will appreciate and enjoy the process.
#NOWWHAT
Begin with informing and educating the potential millennial customers about computer/office lenses available in various brands. HEV blue light coatings or lens materials are available for their digital viewing lifestyle. Provide them information on the vision health risks and benefits of wearing eyeglasses. This type of lens will optimize visual acuity when going from one screen type to the next.
It is a good idea to use monitors and laptops for playing videos in your waiting area. The vendors videos will provide web addresses with information about the most recent findings on long term effects of blue light and High Energy Visible light (HEV). Talk about new tools which can measure the degree of blue light-related damage to the eye from their electronic devices. Encourage them to get sunglasses with the HEV protection for driving or outdoor sports as well. Two pairs of eyeglasses means more sales for your business!
Be aware that millennials are going to the Internet to order eyeglasses, sunglasses, latest trends and more. Capture your potential millennial customers by having the virtual try-on apps on your website for both sunglasses and ophthalmic frames. When making their eye exam appointment, tell your staff to point them to this feature of your web site, so they can shop in advance of their office visit. Millennials are style conscious and like making their selections from many brands, shapes, styles, colors and finishes. Make certain you have in stock all of the frames you show on your website.
After the eye exam, the millennials will be making their final frame choices by taking selfies and posting, texting, pinning, tweeting, Instagraming, them to their friends and family for feedback. Once they make their choices for the eyeglasses and sunglasses, encourage them to post their photo on your Facebook page and Instagram, the same way they did before choosing their frames.
The savvy dispensers will keep up on the newest technologies. Find out who the leaders are in social media and be sure they are in it and not left behind! I agree with the prediction that the smart phones will be gradually replaced with wearable technology. The development of new technology is accelerating. Be where your millennial customers are and be able to speak their language. Schedule time each week to look and see how the technology, market and fashion trends are changing.
---
Want to read more?

Related Blog Post: Selling to Millennials: What the Optical Industry Needs to Consider