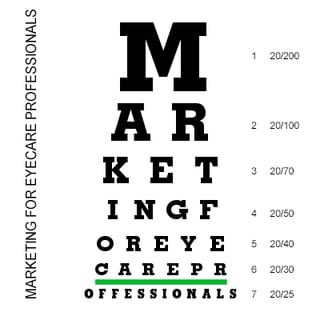 Introduction
If you're an eye doctor or an optician, you probably did a lot of studying about eyes, optometry, chemistry, biology, anatomy and biochemistry. However, if you're like most eye care professionals (and other doctors, chiropractors, pharmacists, lawyers, etc.), you may have only had one or two marketing classes.
So, you're an expert at taking care of people's eyes. But, how do you get patients in the door?
This blog series contains excerpts from our e-book entitled, "Marketing Boot Camp 2 for ECPs". For more information about how to download your own free copy, click here.

This free resource is a follow-up to our first popular Marketing Boot Camp e-book for eyecare professionals. This new e-book gives you a great intro to Facebook and gives you some ideas on how to utilize this platform to grow your optical practice. As before, this is not meant to be an exhaustive Facebook guide, but hopefully, it will inspire some ideas you can use immediately, especially if you're new to Facebook.
You might be wondering why your business even needs a Facebook page. What is Facebook anyway? Let's start there.
Why Your Optical Business Needs a Facebook Page
Facebook is not just for lonely college students looking to waste away hours stalking ex-girlfriends and posting pop culture cartoon clips. Okay, there is a lot of that. But, if you can grasp some of the statistics I'm about to share with you, you'll see that Facebook can be an excellent platform to reach potential local customers and start dialog about your products and services. You might even attract new customers with affordable advertising that is targeted and trackable.
That's why Facebook has surpassed 400 million users. If Facebook were a country, it would be the third largest country in the world!
Have you heard of the TV show American Idol? On a good night, during the final episodes, American Idol may average 20 million viewers. Facebook has 100 million users in America alone.
Let's bring it a bit closer to home. Consider this - the average Facebook user has 130 "friends." That's getting very close to Dunbar's number! (British scientist, Robin Dunbar, suggested that the maximum number of actual friend relationships a person can maintain is 150). That means for every person who "likes" your business on Facebook, there are 130 other people who may see your posts, contests, videos, pictures and memes. If one of them likes or shares something they find interesting, then another 130 people could view your content - and so forth.
Keep in mind that Facebook's news feed algorithm displays content it thinks people want, based on their actual past interactions and their friends' interactions. Just because a person is a fan, they may not necessarily see your post. That's why it's critical to learn how to post engaging content that will be "liked" and shared by many. More on this later.
The good news is that Facebook content is now publicly available. In other words, if someone searches for something on Google, for example, information on Facebook may now show up on the Search Engine Results Page (SERP).
Okay - let's make it practical. At a minimum, you might consider building a Facebook page simply because that's where many people go to find something first. It's pretty simple to set up a page, and it's completely free. Those who go to Facebook to find you, now can.
It doesn't take much effort to log on once a week and post an article your customers may find interesting. Post an article you wrote on eye health occasionally. Share information you found on an eye health website. Share a funny cartoon that has to do with eye exams. While this isn't the best plan to grow a loyal following who will interact with your content, it's a start. At least you won't be "conspicuously missing" from Facebook.
Now, how much time you spend on Facebook is another matter. As you'll see in the remainder of this e-book, there is much you can do to optimize your clinic's presence on Facebook. It really depends upon how much time you want (can afford) to spend. Content marketing isn't about spending money. It's about investing time. You have to figure out your ROI for your social media efforts.
Next Steps
Hopefully, this has provided some marketing ideas for using Facebook for your optical business. Now, spend some time thinking about how your patients spend their time online. Think about your competitors - do they use Facebook? Ask your staff what they think. Then, ask some of your favorite patients if they use Facebook and would value a page for your shop.
Part 2 will focus on the basics of Facebook, and will look at Facebook terminology and give you an overview of the components of a business page on Facebook.
---
Download the entire e-Book!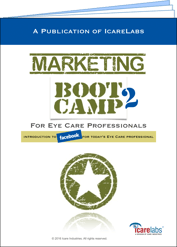 Everything you've read here is an excerpt from our e-Book entitled, "Marketing Boot Camp for ECPs 2." Read the rest by downloading the entire e-Book.
You'll learn:
- Basic Facebook Concepts
- Introduction to Facebook Ads - The Facebook Insights
- Facebook Tips & Tricks
- Much More
Click here to request your FREE copy:
http://info.icarelabs.com/marketing-boot-camp-2-for-ecps
---

Want More Information?
Need more than just marketing ideas for optical stores? Learn how Icare Labs can help you with significant savings on your monthly lab bill.