The Email Conundrum
It's easy and very economical. Just fire up your favorite email program and in minutes, you've got a shiny, new marketing email ready to send to your entire database of eye care patients.
But, before you click "SEND," you pause. You're wondering what your patients really feel about your marketing emails. Afterall, you have your own opinions of marketing emails that pour into your inbox each and every day. What makes us think marketing emails from us make anybody feel differently?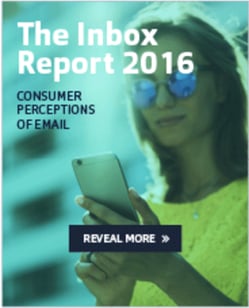 There's a new study published by Fluent called "The Inbox Report 2016: Consumer Perceptions of Email" that might give us some useful perspective on the issue.
The study was based on a survey of nearly 2,000 consumers from 18 years old and up who live in the United States. The report provides new data and analysis on questions like how often Americans check email, what impact emails have on consumers' purchase decisions, the motivations behind subscribing and unsubscribing from email lists, and more.
In the report, we see that overall, only 15% of Americans feel the emails they receive from marketers are "frequently" or "always" useful. Only about 7% of survey respondants say the marketing emails they receive are "always" useful. And, 8% say they're "frequently" useful.
Furthermore, nearly 33% say marketing emails are "rarely" useful and a full 29% say marketing emails are "sometimes" useful. "Never" useful was the term used by 24% of the respondants. It's important to note, however, that those between the ages of 18 - 29 said they found marketing emails more useful in general than those respondants over the age of 30.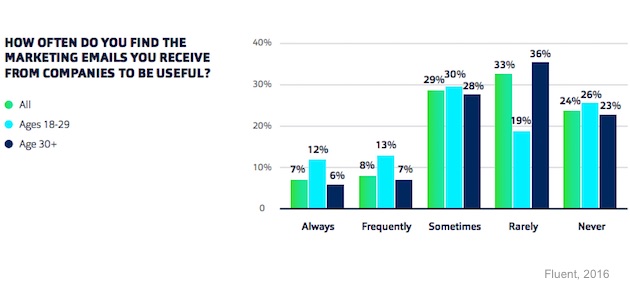 As you might expect, nearly 56% of consumers say they receive "way too many" marketing emails. 23% say they receive "a few too many" marketing emails. About 12% say they receive the right amount, and 8% say they receive too few. Gotta love those 8%!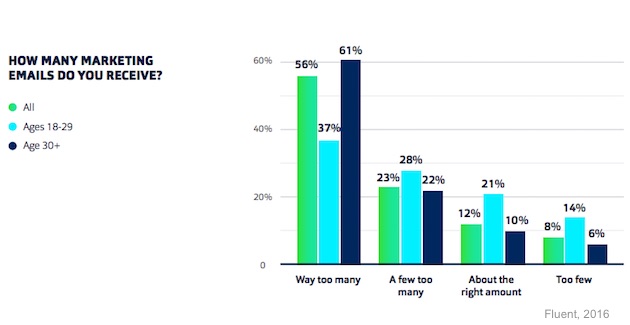 About 41% of respondents reported they will ignore unwanted marketing emails. The same number, 41%, say they will unsubscribe from the sender's list. Somewhere around 11% of consumers say they will move unwanted marketing emails to the spam folder, and 7% said they would report it as spam.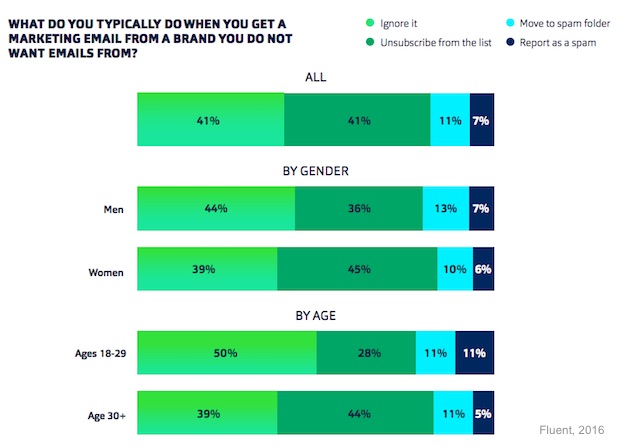 It's interesting to compare your own personal feelings with those found in this study. It might help you to know you're not the only one out there who may feel like you do. So, what do you do now? Perhaps you can take these findings into consideration when crafting your next marketing email masterpiece and that may help you come up with content that is more interesting and satisfying to your patients.
Rather than give up on email completely, why not spend a bit more time being creative and delight those on your email list with useful information? You and your patients will reap the benefits.
Happy Marketing!