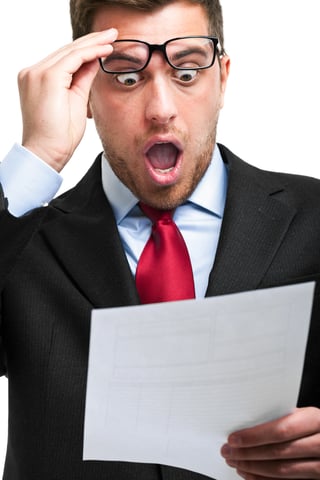 You've made sure that you and your staff are educated about the many important features and benefits of high-end designer eyewear, protective lens coatings and the latest digital technologies available for your patients' ever-changing eyeglass needs.
I remember my experience with my first pair of progressive prescription eyeglasses. I was not in the eyewear business at the time. The sign read "2 Pair for $49" and I needed new glasses. When the optician told me my shiny, new glasses would be $400, I was a bit taken aback, to say the least.
Fortunately for me, the eyecare professional was able to explain my options and the reasons for the price in a way that educated me and helped me appreciate the quality product I was getting.
So, how do you do that? How do you communicate to your patients in a way that changes their perceptions and makes them happy they came to see you?
There's a teriffic article in the March 2017 edition of Optical Prism magazine that's written by Trudi Charest, Co-Founder and CTO of 4ECPs, an eyecare resource company. Trudi offers some great advice when dealing with the situation where your patient looks at you and says, "You're too expensive!"
Here are three ways Trudi offers to overcome objections such as this:
1) OWN IT! WHAT TO SAY...
"Depends what you are comparing it to. Our prices are very competitive when you are comparing apples to apples. We carry only the latest high-quality designer eyewear and newest technology in high-definition lenses. We want you to have the best vision possible so we only sell the best products that stand up over time. Just like other products (use cell phones or TV's as examples), you can buy older technology or no-name products, but you wouldn't buy a flip phone now, would you?"
2) EDUCATE! WHAT TO SAY...
"Yes, some products online are less expensive, some are even downright cheap, but understand that you always get what you pay for. Really investigate the site you are buying from to ensure you are buying from somewhere in [this country] and not another country. Look at return policies and ask about quality and lens technology. Do you really want a generation of lenses from four years ago? Last, please realize that your vision is very important to us and we want to ensure you are getting properly measured and fitted for eyewear. That is almost impossible to get online. When you buy from here, you get us - including all of our service, warranties, follow up and guarantees. We will always make sure you are well looked after."
3) OFFER AN ALTERNATIVE! WHAT TO SAY...
"Well, we have chosen one of our latest designer frames and I have quoted you on the latest technology in high-definition lenses which is why the price is what it is. You are getting the best of the best which does come at a higher price point but we could certainly look at some lower-cost frames and we even have some designers on clearance. We also offer a layaway plan. Put 50% deposit down today and pay $100 a month until the balance is paid. You're going to wear these every day for the next few years, so get the ones you really want. These look fabulous on you so I hope we can find a way to help you afford them."
Remember how you feel when a good salesperson is able to connect the amount you're spending on a benefit or need in your life. Quite understandably, your patients need to be educated on why it's important to have the features they need to protect their eyes and enhance their life. If they're not prepared to do that, you can always provide different solutions that are more reasonably priced.