How To Plan A 2021 ECP Marketing Calendar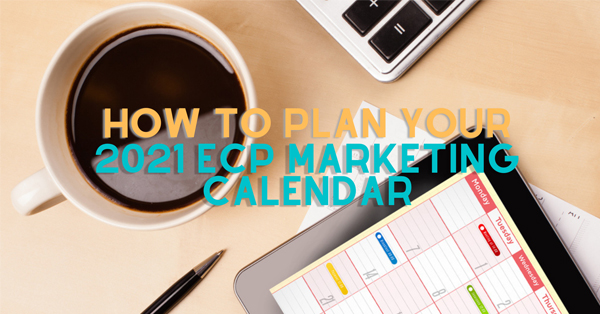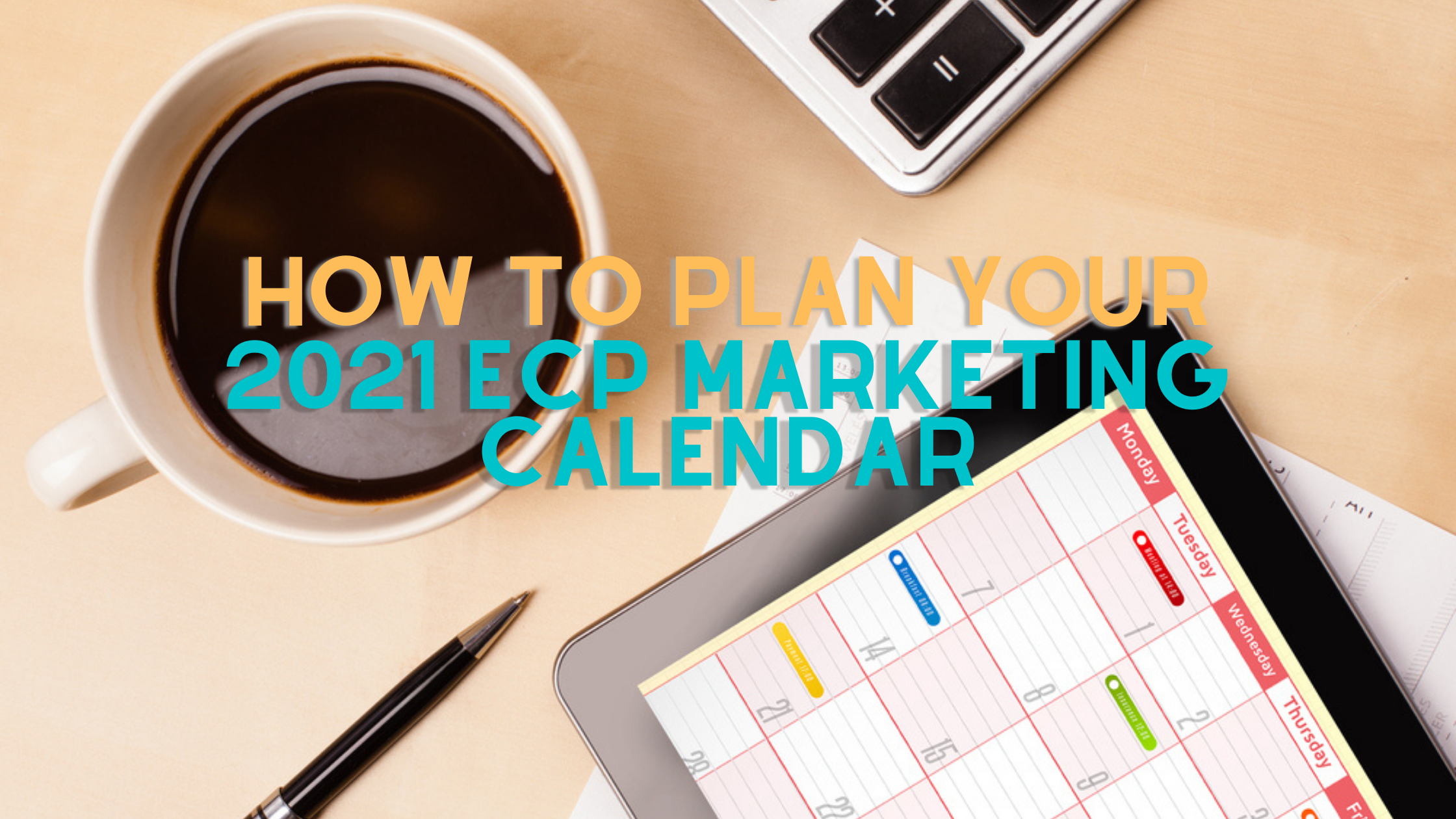 A marketing calendar is an excellent internal tool you can use to plan out your year and keep everyone in your office aware of your plans and next steps. Having everyone on the same page is essential to ensure processes and goals are common knowledge. When everyone involved is fully aware of expectations and how you'd like to get there, the chances of success are maximized.
So, how do you begin?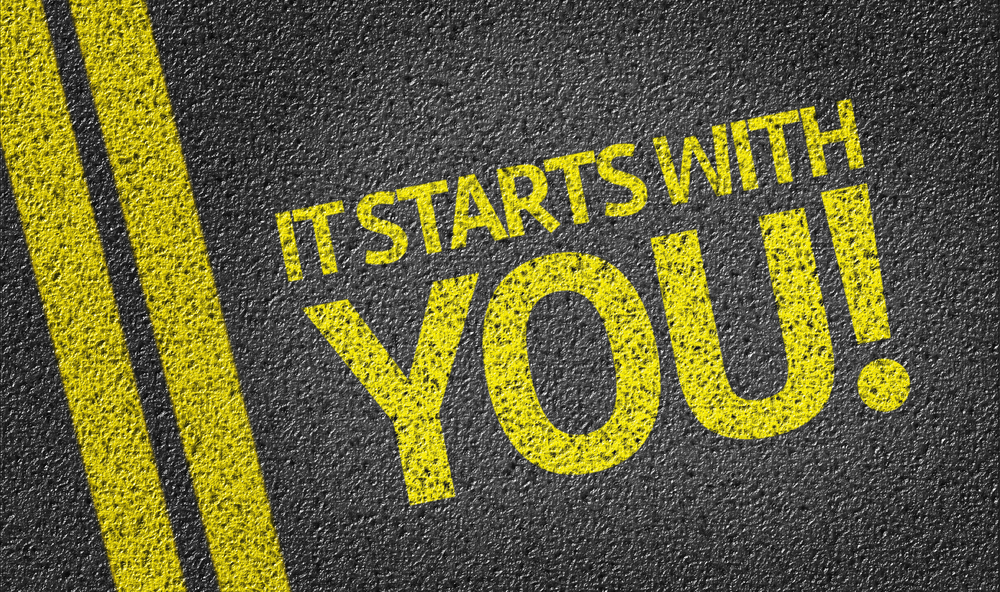 When you're laying out your 2021 marketing calendar, be sure to start with a blank template that allows you to edit it and make it your own. It's recommended to choose a digital format so you can make changes easily without needing to start over.
You can find blank calendar templates in Excel, Google Docs, Google Calendar, alongside some 3rd party apps. Check out one or all of them and then decide which you feel will be best for your unique marketing strategy and your business.
Once you've found a template that will work best for you, you can begin planning your calendar.
Step 1: Strategize
A marketing strategy is always where you should start. The less time you spend strategizing and editing your approach, the more time you can commit to content creation and execution.
When you're etching out your strategy, consider:
Who your target audience is

How you want to communicate with them

What type of content you want to create
From there, you can begin executing your strategy, measuring what's working, and adjusting to achieve results.
Step 2: Who's Doing What
Figuring out where each person fits into your plan is imperative. Depending on the complexity of your prospective projects and your goals, be sure to figure out who will wear what hat and why.
When you know who will do what and why it'll make it easier to start creating your content and sharing it appropriately.
Step 3: What Story Do You Want To Tell
?
When your audience is looking at your content, what do you want to convey? Example: maybe you want a more family-oriented conversation, maybe you're trying to grow a medical niche like Dry Eye, or maybe you want to concentrate on optical sales. Knowing your focus helps in planning out your year. Planning a year-long marketing calendar can be daunting, but knowing central themes can make brainstorming much easier in the grand scheme of things.
Make a list of 3 themes that are in line with your business. If you're unsure what might be best, think of what type of message your current website sends. Think about what you want your branding to say and develop a few ideas from there.
Themes:
More Booked Appointments

Communicate More About Our Dry Eye Center of Excellence & Treatments Available
Think about your patients' challenges, what opportunities your industry holds, and what makes you the most revenue. Having 3 strong themes to your content will make it infinitely easier to plan a successful marketing calendar.
Step 4: What's Most Important?
When you have an idea of what messages you want to convey to your audience, you can start coming up with projects that will positively impact your business. You want to keep in mind the overarching purpose of your content calendar - whether that's getting more patients through the door, more high-end frames sold, or anything else that will boost your practice.
A great tactic to use is to rate your future projects on a 3, 2, 1 scale by what type of market they are targeting. For example, something that sparks interest could be ranked a 3, whereas something that will encourage immediate action could be a 1.
Based on what you've ranked, you can begin placing each project into the calendar to correspond with your yearly goals and important events.
Step 5: Start Planning

!
Once you've completed all your preliminary work, you can start placing projects into the calendar. Be sure to consider any seasonal holidays or important events your practice may be involved in. At this stage, be sure to evaluate how much content (articles/ graphics/ social posts) your team can produce and how often you want to be publishing content.
Pro tip: Plan your content around various keywords that your target audience frequently uses. (example: Optometrist/ Eye Exam/ Optician) Although your content will be following 3 of the central themes you've developed, you want to use unique keywords to keep your content fresh and connected to your audience.
Pro Pro tip: Marketing done well needs expert help! Don't try to do it all yourself. Reach out to experts in the eye care industry who truly understand the business.
With all of your research and planning now complete, you can start creating a successful marketing calendar for 2021!
Need help with your marketing? We do it all, practice websites, Google Ads, SEO, Facebook & Instagram ads, Videos, YouTube, Email Marketing & more! We offer a FREE marketing consultation to IcareLabs clients. Book one here: