Is Facebook Still Important To My Practice Marketing?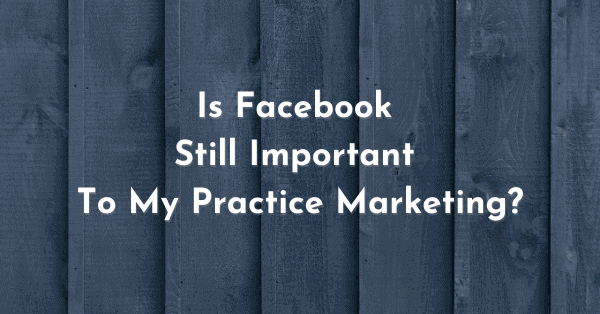 Facebook certainly isn't dead. In fact, it's the world's third most visited website. And even though almost 2.7 billion people actively use Facebook, the answer to "should I use Facebook" is still: it depends.
Key Factors to Consider
The basis of any marketing strategy is that it reaches potential patients. So if your potential patients aren't on Facebook, then you shouldn't use it.
In the United States, the average Facebook user is 40.5 years old, with the vast majority being 35 or older. The fastest-growing age group is users 65 or older.
If your practice's target patient is young adults, you should focus your marketing efforts elsewhere. However, if your ideal patients are middle-aged or seniors, then Facebook might be an untapped goldmine for your practice.
Using Facebook in 2021
If your target patient demographic is on Facebook, it's not as simple as just making an account. You need to make sure your practice is using Facebook properly in order to actually reach your patients.
Where You Post
There are 4 main ways to use Facebook:
Pages
Ads
Groups
Stories/Facebook Live
Pages
Business pages have been the main way businesses have existed on Facebook. However, the effectiveness of business page posts is down, while user's fatigue of branded posts is up. In fact, Facebook has been lowering un-paid reach for brands since 2018.
Just because you make a post on Facebook doesn't mean your followers will see that post. On average, less than 35% of your followers will see any given post. Facebook says this is to amplify posts from individual users, but it also pushes businesses to buy ads.
Ads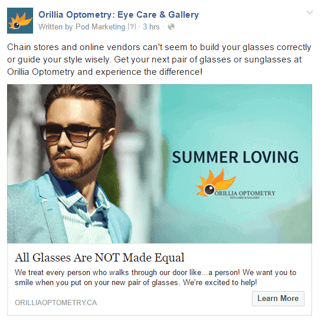 Ads are posts you pay for to be shown to Facebook users. There are 2 main types of Facebook ads: You can either boost a post from your page so that it reaches more people, or you can make an ad from scratch.
Either way, it's another tool you can use to not only make your posts reach more people, but ads give you a greater ability to target the right people through location, age, interests, and more.
Groups
Groups are growing, and it's no surprise. Facebook groups give users an easy way to connect with people who have similar interests. And as of 2018, business pages can join Facebook groups.
Joining a group can allow you to target a specific group of people in a space where people are less wary of advertising. However, be aware that many groups have strict rules about advertising and self-promotion.
Another option is joining groups through an OD's or optician's personal Facebook account, just be aware that you're still following your college's marketing guidelines, even on a personal profile.
Stories & Facebook Live
Facebook stories have 300 million active daily users, and people are 4 times more likely to watch a live video than a pre-recorded one.
The other advantage to stories and live posts is that they automatically appear at the top of users' news feeds. It's also a great way to engage with your Facebook followers and build a personal relationship.
How You Post
No matter where you're posting on Facebook, make sure you:
Focus on local users: It's a waste of your marketing efforts to target patients outside of your physical location since it's unlikely they'll visit your practice. Especially when creating ads or using groups, make sure the users are in your area.
Encourage engagement (likes, shares, and comments): The best way to get your posts to show up for users is if other users engage with the post in some way. Encourage likes and shares and always reply to comments.
Add value: Promotions are great to share every once in a while, especially to reward patients for following you. However, the best way to build a dedicated following is to add value for patients. The vast majority of posts should be educational in nature to show patients following you is worth it.
Like any marketing tool, Facebook has to be used correctly to see the results you're looking for. But as long as you use Facebook properly and recognize its limitations, then it can definitely be a valuable part of your practice's marketing.
Looking for more ECP marketing tips? CLICK HERE