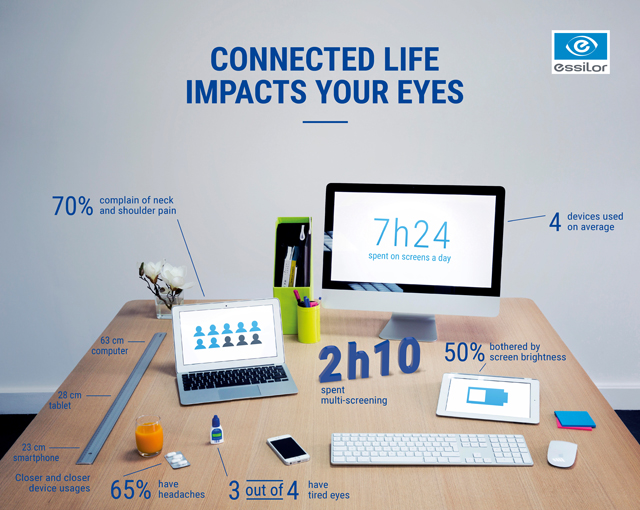 In 2015, Essilor launched the Eyezen+™ lenses giving patients across the world a better alternative to traditional single vision lenses. These lenses are geared toward the modern digital lives of your pre-emerging presbyope patients.
While it's hard for me to admit, this year I reached the point in my life where my phone, tablet, and computer became a challenge to see. I started noticing at the end of my work day my eyes were tired and I had to come to grips with the reality that I needed help. In what seemed like overnight, I had become a pre-emerging presbyope.
As I have recommended the Eyezen+™ lenses to our customers over the last few years, I knew it was time to give in and get a pair for myself. The difference was amazing! My eyes actually felt fresh at the end of the day again. I believe the combination of the additional add power in the bottom, along with the blue light protection simply allowed my eyes to work less throughout the day.
With four options available, patients under the age of 17 to 45 or 50 can find great benefits form the Eyezen™ line, even if they don't need prescription lenses, just like myself.