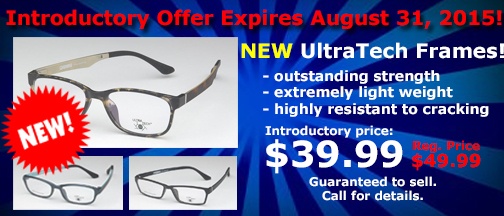 Did you know you can order your frames from IcareLabs?
It's simple and can save you time and money on shipping. Now, instead of sending your frames to us, you can simply select the frames from our online ordering portal when placing your lens order. We will then send your complete eyeglasses order to you. This saves you time and additional expense of shipping your frames to us.
SPECIAL INTRODUCTORY OFFER
Our frame selection will be expanding, too! We've recently added twelve new styles from UltraTech. These frames are made from the highest quality Ultem™, a resin that is heat and flame resistant. Ultem was originally created for applications in the aerospace industry, and offers excellent stability of physical and mechanical properties at extreme temperatures, outstanding strength retention, strong dimensional stability, high resistance to stress cracking, and inherent flame resistance, all while being extremely light weight compared to other resins and 50% lighter than metal frames. There are many styles and colors to choose from.
From now until August 31, 2015, we are offering the Ultra Tech frames at just $39.99 each. That's a savings of $10. And, we are so sure your patients will love these frames, we will buy back any unsold frames.
You can't lose with a great offer like this.
Hurry! UltraTech Frames Offer ends August 31st!
Call your account rep at 1-877-422-7352